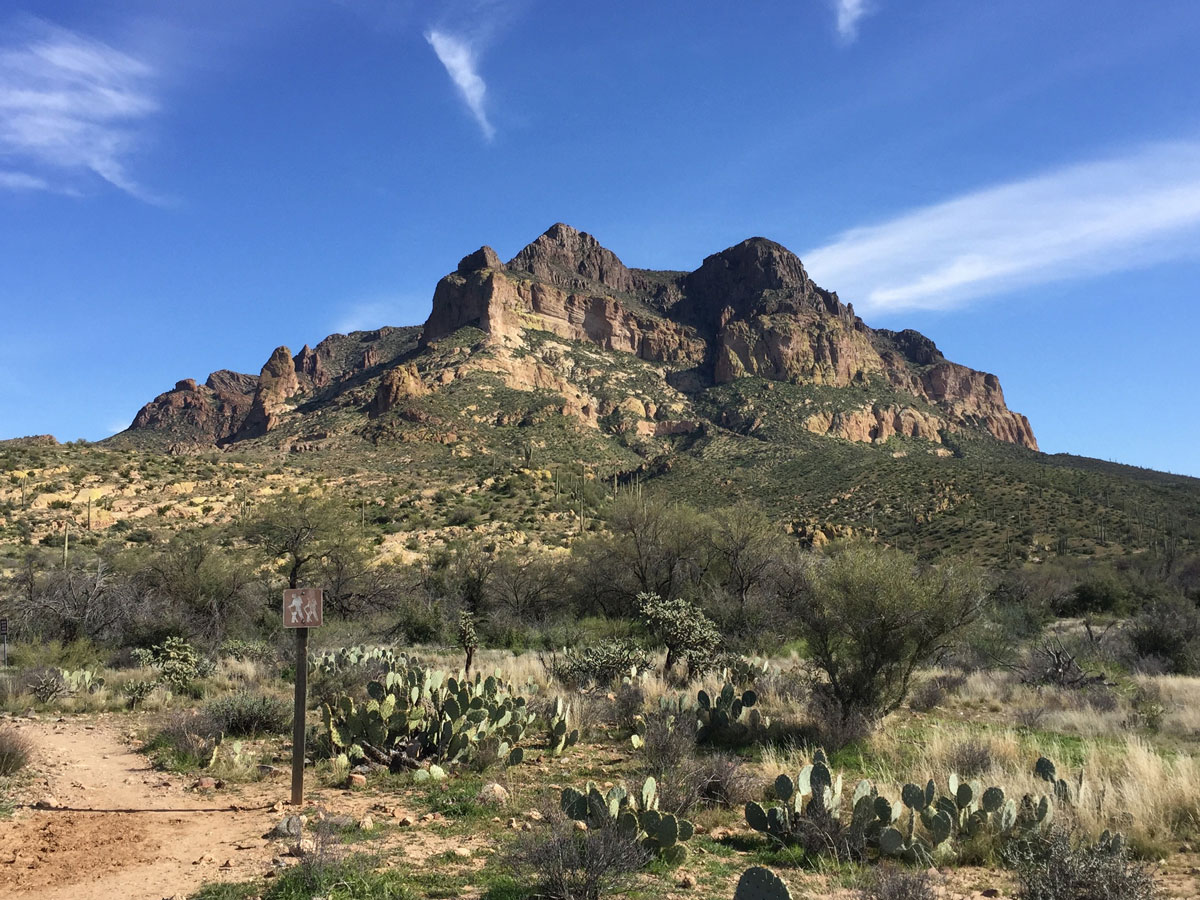 TRAIL STATS
Mileage: 3.9
Elevation gain: 2129 feet
Time to complete: 4-6 hours
Stars: ★★★★½
Strenuous, scrambling, route-finding
There's a certain grandeur about Picketpost Mountain, one of the most beautiful mountains in Arizona. Sitting just outside the city of Superior, Picketpost delivers a fun workout and scenic beauty. If you're lucky, a mailbox will be at the top filled with notes. Many people have trouble staying on the trail and finding the summit, but if you stick to the general route and keep going straight back on top, you'll find it!
---
Trail Description
If you've ever driven to Superior from Phoenix, you"ve no doubt been captivated by the stunning beauty of Picketpost Mountain, also sometimes written as Picket Post Mountain. This hike is often compared to Flatiron in terms of difficulty, but I think it's the easier of the two.
Arizona Trail
From the parking lot, you'll start off on a section of the Arizona Trail. This part of the trail is easy to follow and relatively flat, and horses sometimes share the trail with you. Just when you think you've got this, you'll get to "the sign." It has an arrow pointing left for "Picketpost TH," but I'm telling you now. . . walk right on past that sign, keeping right.
Tip Watch the video at the end of this post to see what the signs look like and get yourself a little more familiarized with the route.
Picketpost Mountain Trail
At just over half a mile, keep a sharp eye out for a left turn on Picketpost Mountain Trail toward the mountain. The only indication that it's the trail is the sign trying to keep people on the Arizona Trail, but the spray painted arrow below that is your cue.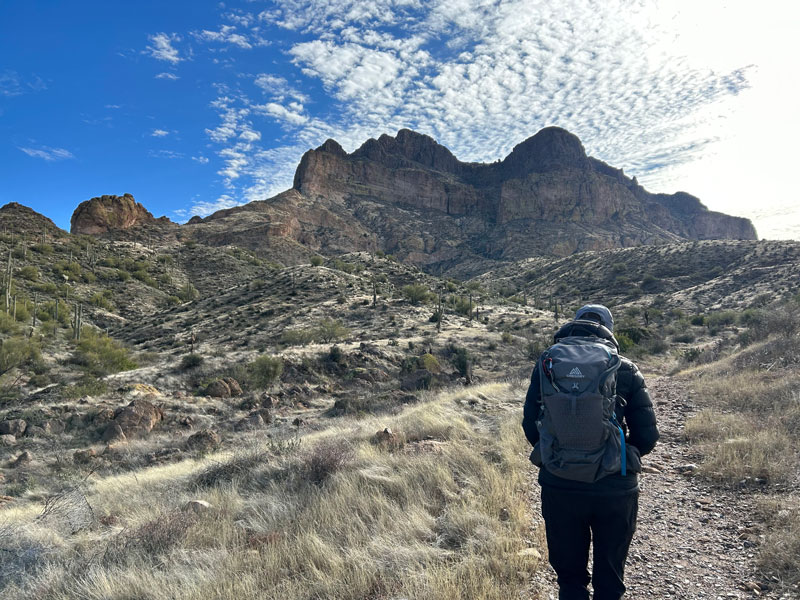 It seems like every time we hike Picketpost Mountain, we take a slightly different route because there are several trails all over the place. There are white dots, white arrows, red arrows, and cairns everywhere, and a bunch of unmarked trails, too. Even though I HATE the spray painted red arrows, they do generally mark the correct trail.
Please! Do not paint on this beautiful mountain!
The best resource for staying on the trail is GPS, but the general idea is to ascend the lower formations and then move to the right as the mountain tightens up and gets more vertical. Really important here is to stay out of the main ravine and hike along on the left side. The hiking gets more fun as it soon turns into scrambling. Don't worry if you don't get this exactly right. Chances are you'll soon intersect with another trail that will get you there.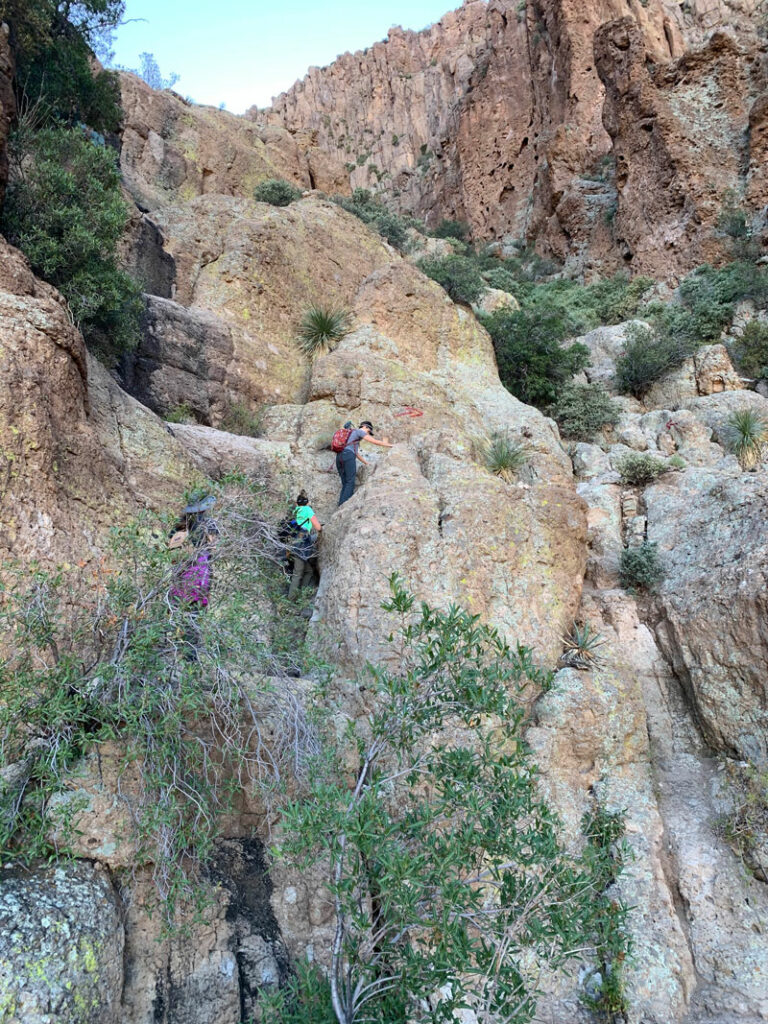 As you get closer to the top, the trail will start to pull away to the left and go up what seems like a left fork. You'll know you're on the route when you arrive at what I like to call "the basin."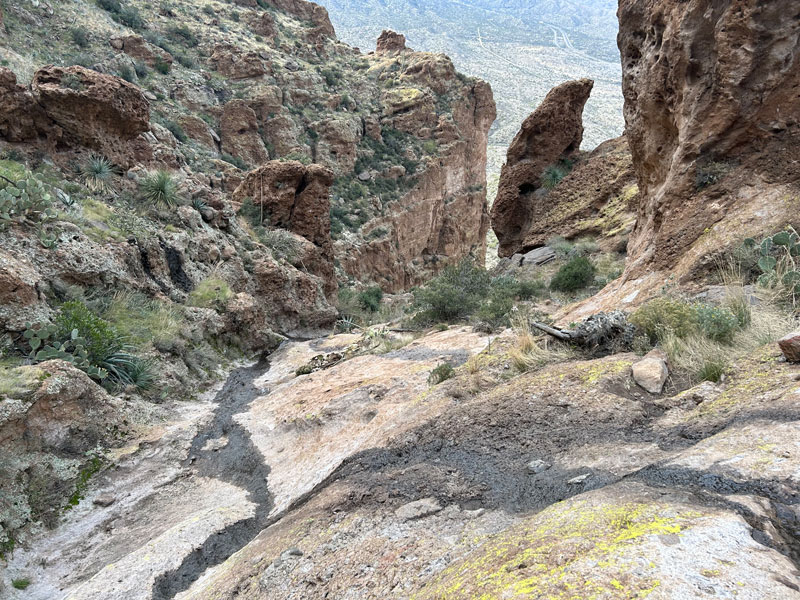 Finding the Picketpost Mountain Summit
Now here's the important part. When you get to the flattish part, you're not there yet. And even more confusingly, the "top" is not those cool looking castle towers to your left and right—it's actually straight ahead, and you need to follow a pretty decent trail along the flat(ish) section before you'll be there. Trust me, I've heard so many people who have done this hike and never found the "top" because they didn't have GPS. You won't be that person.
If you're lucky, you'll find a mailbox with notes and treasures left by other hikers, but if the mailbox grinch has been there, it'll be gone (don't be a grinch).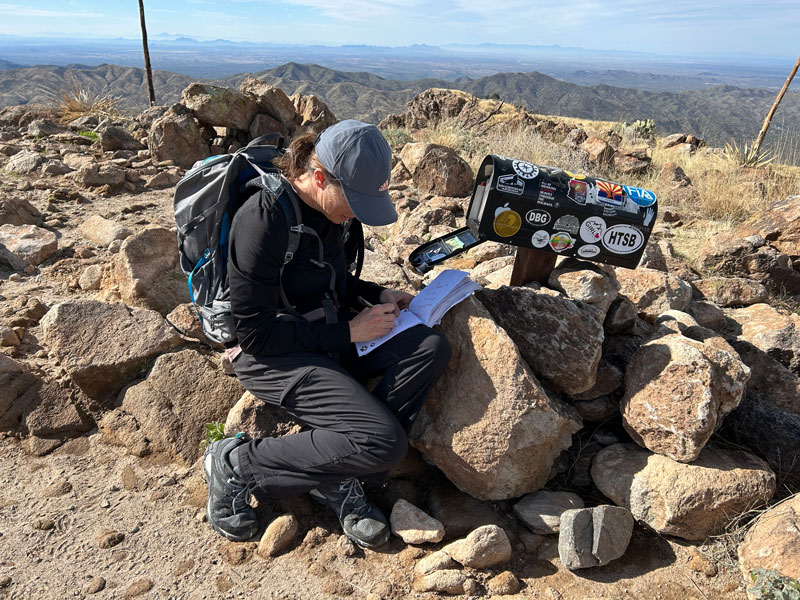 The summit used to have a different mailbox and cool little bench that someone worked very hard on (and I can't even imagine hiking up with it). I'm not sure if the LNT people or the riffraff got to it, but it disappeared one day. That means we need a flashback picture to the good ol' days. Awww. . .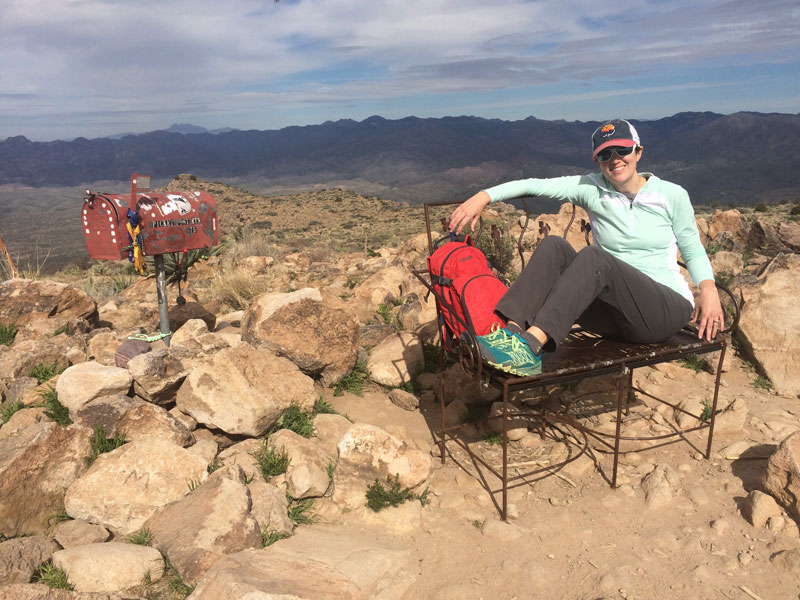 When you get back to the parking lot, don't forget to turn around and behold that magnificent mountain! Hopefully, it's bathed in afternoon light and begging for you to take its photo.
---
Map & Directions
Location Tonto National Forest, Superior, Arizona
Take US60 to the turn off for Picketpost Mountain. Follow this dirt road to the T, make a left, and then follow that road to the trailhead. This road should be fine for all passenger vehicles.
Trailhead Facilities There are pit toilets. No water.
Preview this Hike
---