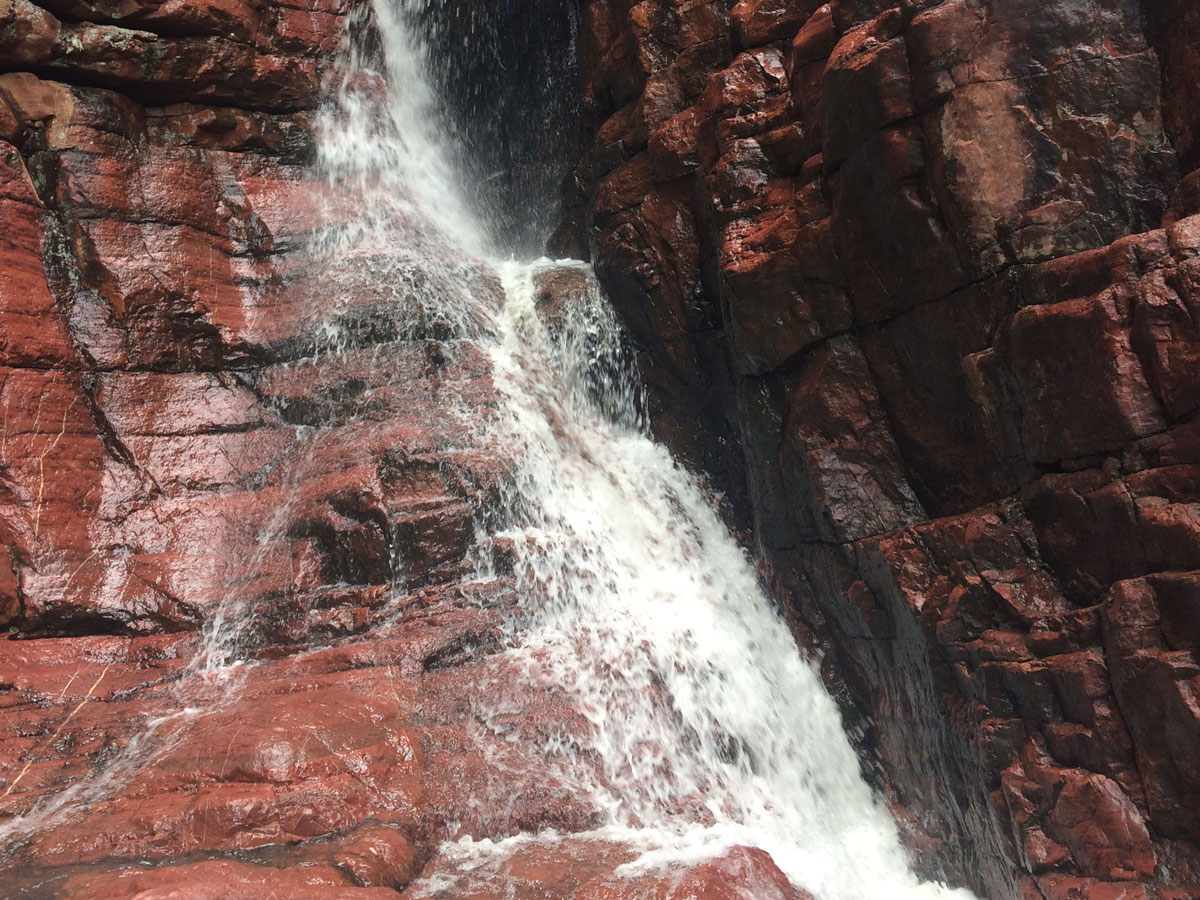 TRAIL STATS
Mileage: 6.3
Elevation gain: 1726 feet
Time to complete: 3-5 hours
Stars: ★★★★
Moderate incline
Barnhardt Waterfall is a multi-tiered waterfall tucked back into a colorful rocky alcove just three miles from the Barnhardt Trailhead. The falls can be running any time of year, but they are seasonal, so you should try to catch them during spring snow melt or after heavy rain. The dirt road to the parking area is not too bad, but we were glad to have high clearance with the mud after the rain.
---
Trail Description
Okay, okay. I didn't take the cover photo on this latest trip. After a couple days of nice rain showers, I hoped the Barnhardt Waterfall would be running, and it definitely was, but not quite as vigorously as hoped.
Still beautiful.
And that's a lesson to all. This waterfall is seasonal, and while it is likely to be gushing during spring snow melt, it can be quite spotty the rest of the year.
Barnhardt Trail
From the parking area, head directly back from the large information sign on a well-maintained trail. Pass through the livestock gate, and you're on your way!
The trail is easy to follow and a very moderate grade as it begins making its way up the canyon. Sections of dense vegetation will soon give way to cliffs dropping off to your right and thrilling vistas of the canyon ahead, the valley behind you, and the tree-filled creek below.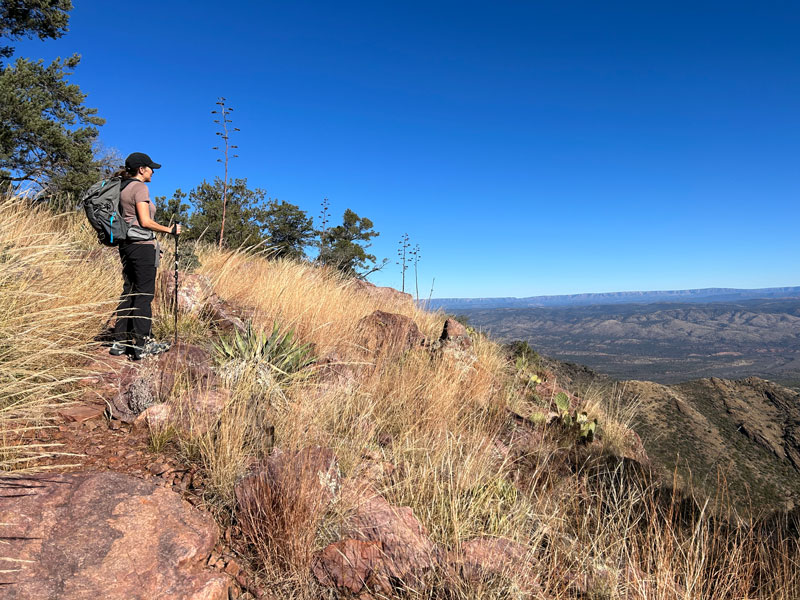 Hopefully you can hear the water at some point to let you know those falls are flowing!
Waterfalls are nice and all, but if you rush to get there, you're going to miss some of the special things about Barnhardt Trail. For one, I've never seen such a rainbow of colors in the rocks in my life. You'll go from chunky red to thin layers of green to a kaleidoscope of shale. The rocks are truly a work of art.
I feel like a serious rock nerd right now.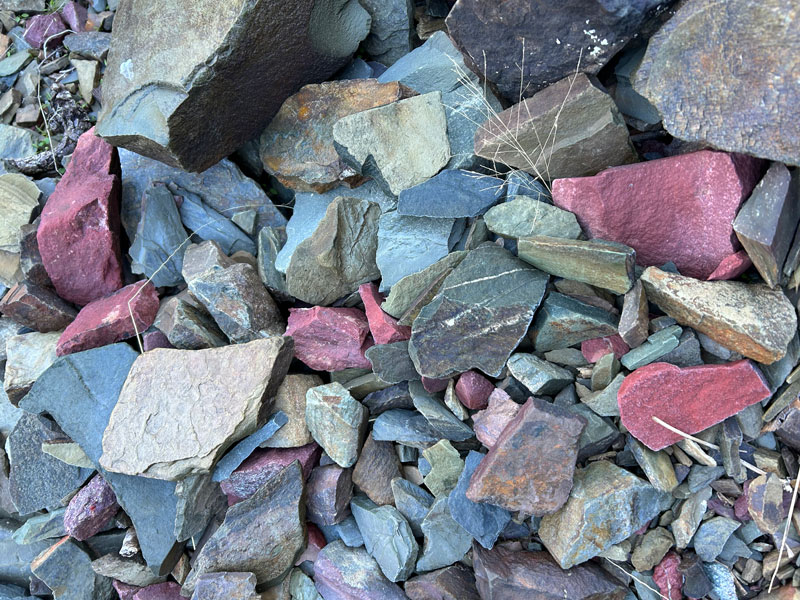 Enjoy the journey because the switchbacks are coming. Is there anyone in the world who actually loves switchbacks? But they're for a good cause. They'll take you up higher on the side of the canyon until finally you start going up canyon again over a few small drainages.
(No, Heather, that dinky, lame one isn't it. Put your camera down.)
Camping We saw just one small campsite on the way up to the waterfall with room for one small tent. It had a really nice viewpoint, though! I marked it on the map below.
Barnhardt Waterfall
The waterfall itself isn't visible from the trail, so be on the lookout for water flowing into some pretty pools and the sound of gushing water to your left. You'll know it when you get there.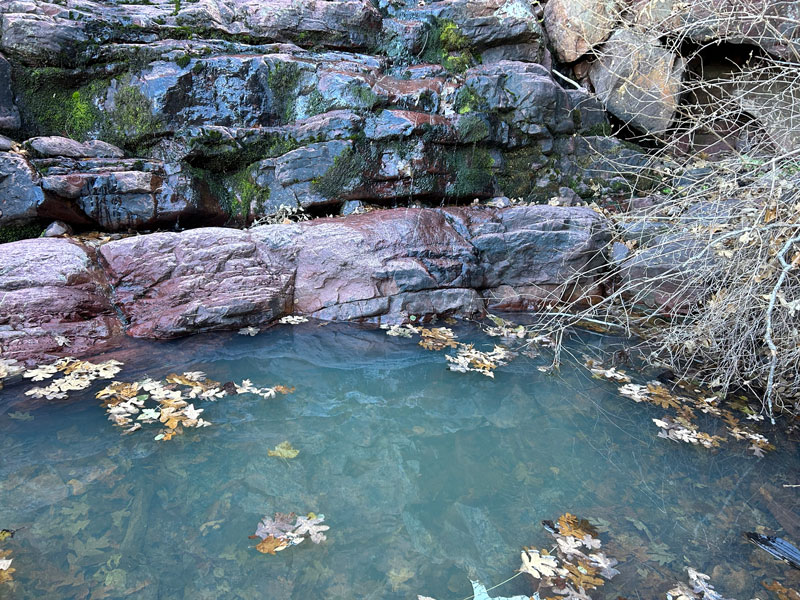 You might have to hop on a rock or two, but you'll want to follow the water, hugging the left side as you go. And then. . .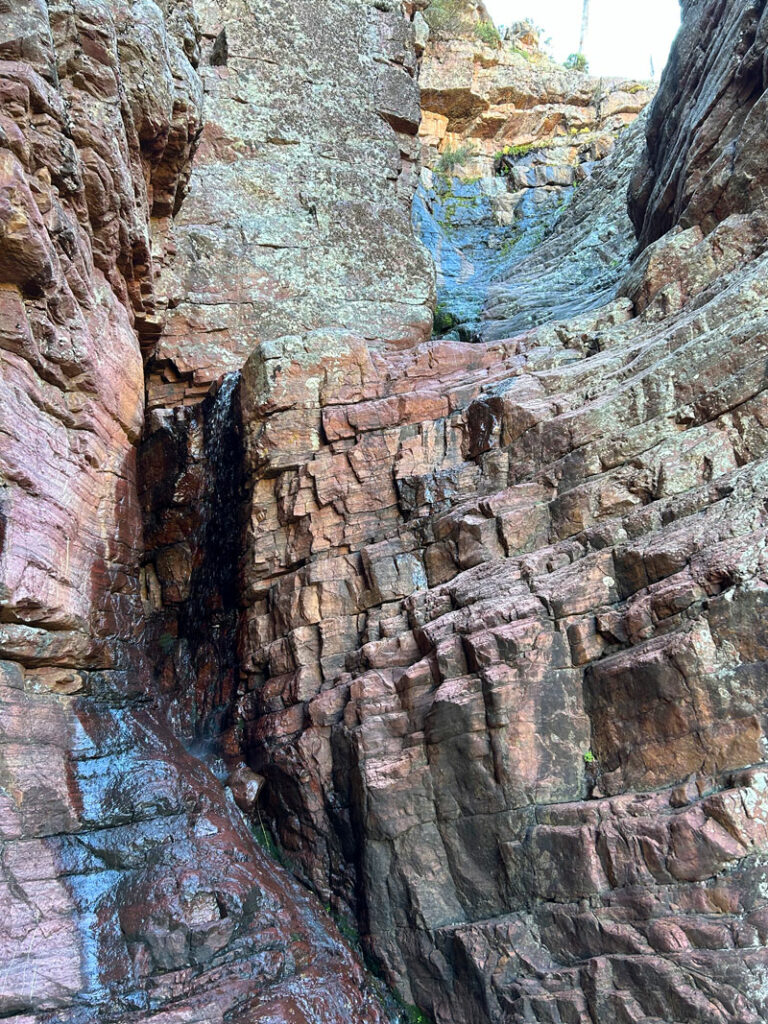 All right, I'll admit that was kind of anti-climactic. In person, even this small flow was very delightful, but it just didn't show up in the photo.
When you're finished there, you can continue on the Barnhardt Trail deeper into the Mazatzals to see what you can see. There are more stunning views up ahead and mountainsides covered in manzanita.
Sandy Saddle Trail? I think not.
If you're feeling super spontaneous and a little bit crazy, you can consult your GPS to find there is a trail called Sandy Saddle and then try to follow it to Castersen Seep. And it'll seem like a not-too-bad idea until the faint trail fades into a thick jungle of manzanita with a few random cairns that only seem to be there to assure you a human has been there before.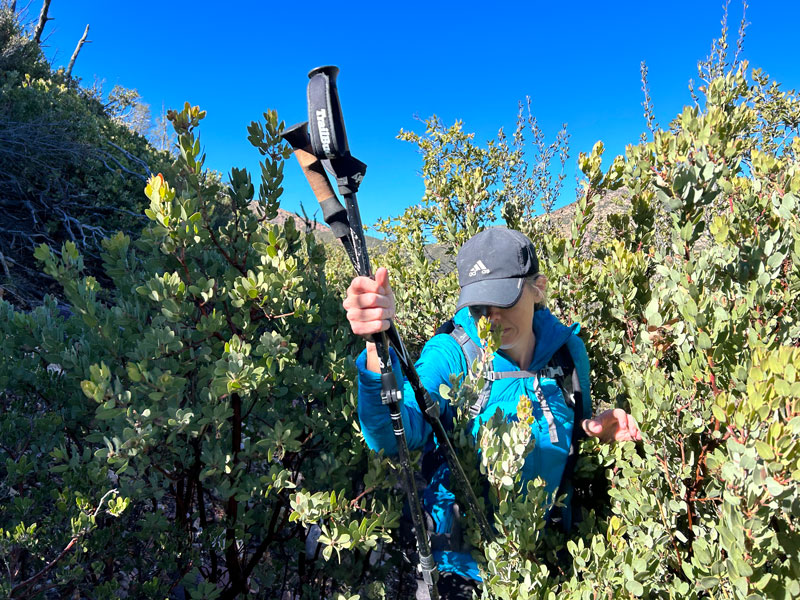 We turned back, but I was still curious about Castersen Seep, so I googled it and found this blog post by Jacob Emerick that had some pictures showing an old camp near the seep.
Interesting, but I can't say it'd probably be worth it.
---
Map & Directions
Location Mazatzal Wilderness, Tonto National Forest, Payson, Arizona
From Payson, head south on Highway 87 to Barnhardt Road and turn right. Follow the dirt road to the parking area.
Fees/Passes None
Trailhead Facilities None
Preview this Hike
---
Share this