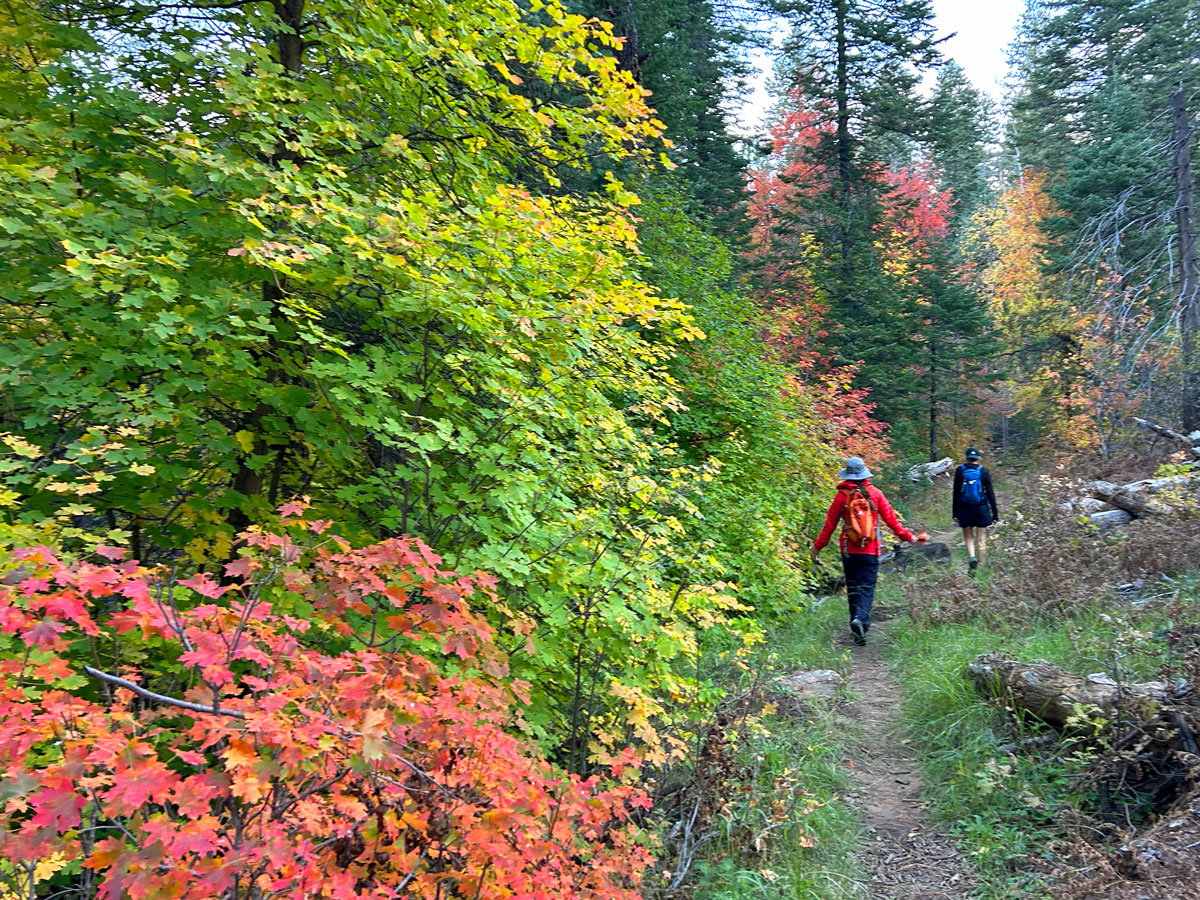 TRAIL STATS
Mileage: 6.7
Elevation gain: 2144 feet
Time to complete: 3-7 hours depending on how long you frolic
Stars: ★★★★
Fallen logs, creek crossings, steep up to the rim
See Canyon is a beautiful alternative to the ever popular Horton Creek. With a creek running through it, it's filled with dense vegetation that bursts into glorious shades of orange and yellow in mid to late October. A short side trip to See Spring is well worth your time and yields a couple great campsites if you're backpacking. The trail ends on top of the Mogollon Rim, though you won't get any great views up there, so only go up if you want to get your heart pumping. Or if you started up there like we did.
---
Trail Description
Though you can begin this trail from Forest Road 300 on the Mogollon Rim like we did, most will choose to begin at the See Canyon Trailhead below the rim and skip the steep hike up to the rim entirely.
See Canyon Trail
From the See Canyon Trailhead, you'll begin to walk through a forest of pines interspersed with more open grassy areas. There are a few creek crossings, but we managed to keep our feet dry by hopping on the rocks.
If you're looking for fall color, you should be able to see some in the lower reaches of the canyon, but the real show is farther up the trail, so keep pressing on.
There are big logs across the trail every now and then, so be prepared to climb over or crawl under them.
Beyond the junction with the trail to See Spring, there's one point where the autumn splendor spreads out gloriously before you. How can this be? We are in Arizona!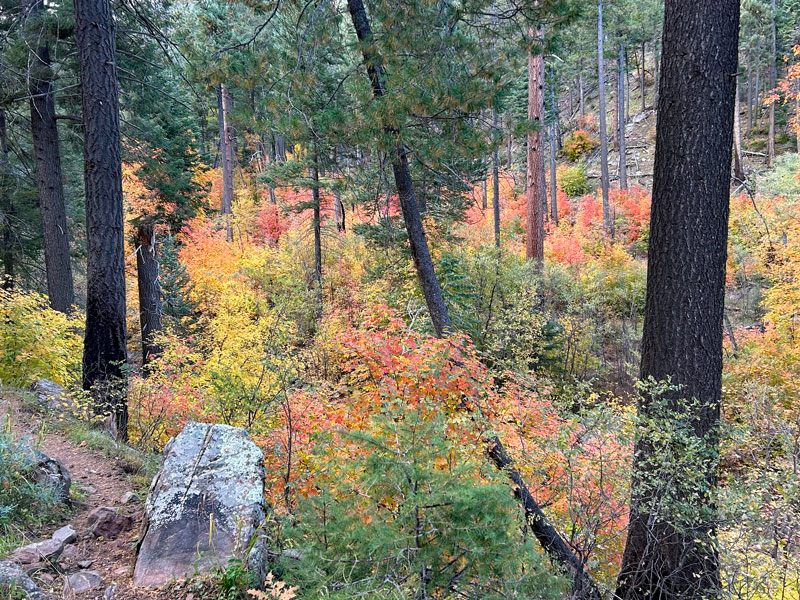 When the trail begins to steepen as it gets closer to the rim, most will want to turn around and visit See Spring if they haven't already.
The first time I did this hike, I expected great views when I hiked up to the top of the rim, but that wasn't the case because there are so many trees in the area. If you do find a small break in the trees, stop and see if you can get a little glimpse of the valley below.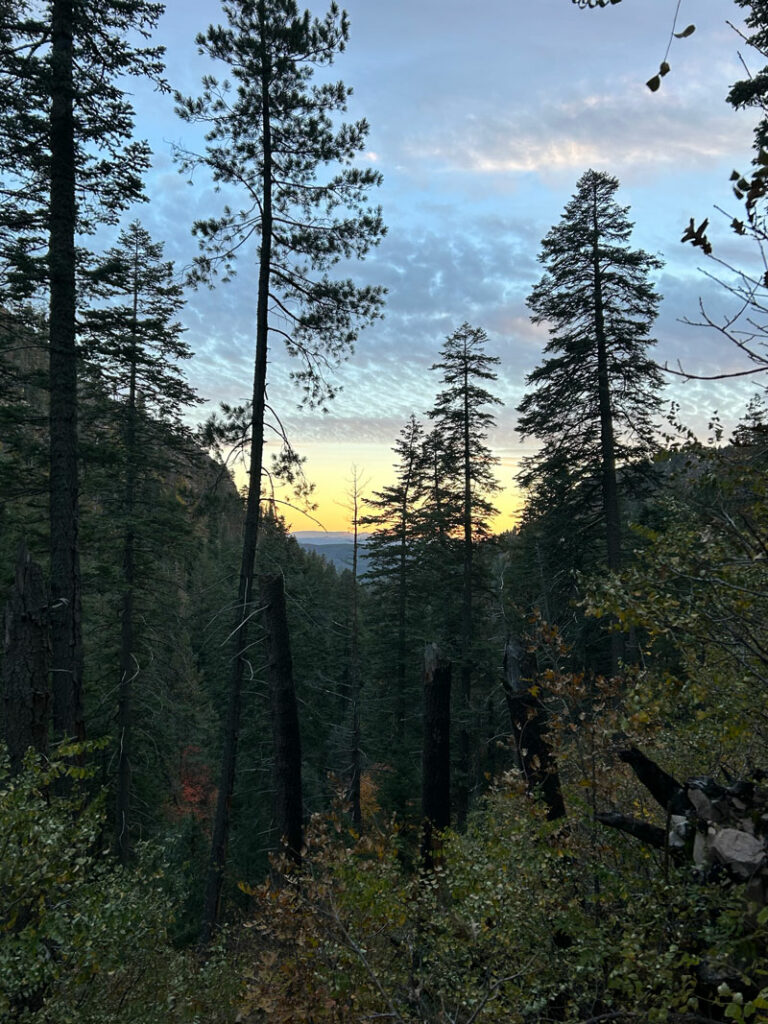 And if you started at the top like we did, got plenty distracted with fall leaves like we did, and ended your hike around sundown, you might also be treated to a beautiful sunset on the drive out.
Optional Trip to See Spring
Added mileage 1.2
Added elevation gain 312 feet
When you reach the junction for See Spring, take it! Not only is there a lot of fall color over there, but there's also water gushing out from under the boulders and down a small waterfall. You want to drink straight from it? April did! She also put a tarantula on her face, so do what you will with that information.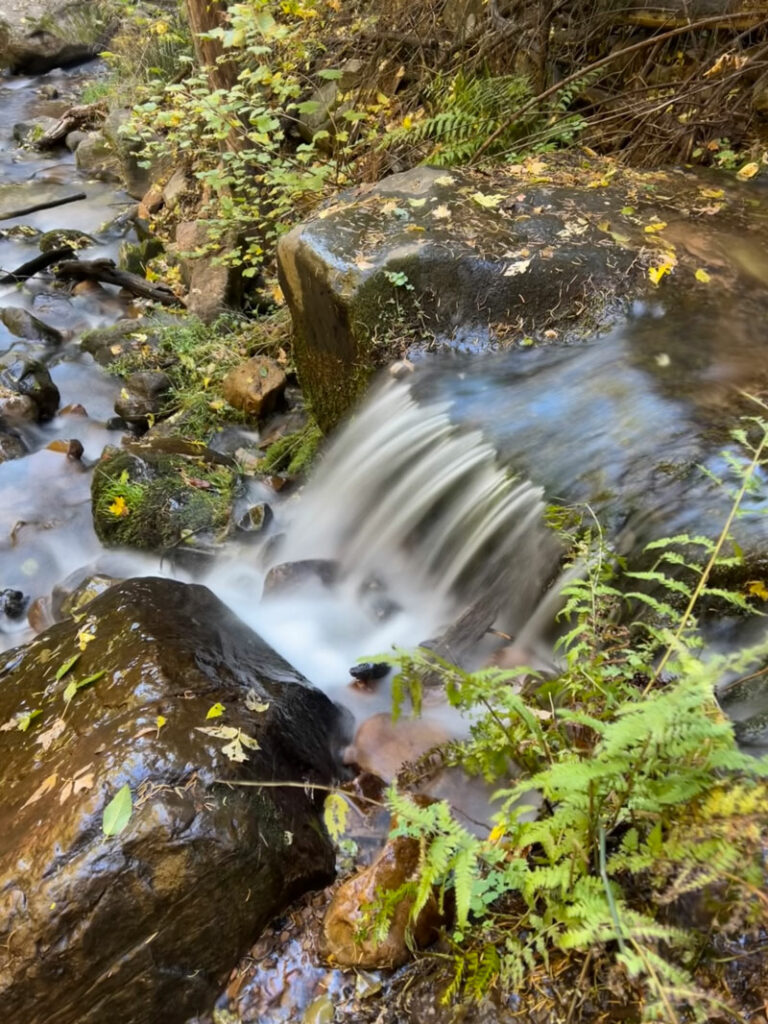 There are a couple of great campsites near the spring that would make awesome backpacking destinations. I've marked them on the map below.
Optional Hike along Highline Trail
Added mileage 2.5 (or more, depending on how far you wander)
Added elevation gain 414 feet
If you want even more fall color (yes, please!), you can extend your hike along Highline Trail. About a tenth of a mile from the parking lot, you will arrive at the junction with Highline Trail. We got a tip from a fellow hiker that we could see a lot more fall color a couple drainages over if we turn right (east) at that junction and hike about 20 minutes.
At first you won't believe it because it has absolutely no foliage, and your hiking mates (mostly Heather) will think you and that guy who gave you the tip are crazy. Especially since it took more than 20 minutes.
Keep the faith! Eventually you'll come to a drainage that has a little bit of color that'll give you hope, and if you keep going even farther, you'll come to a fall color wonderland.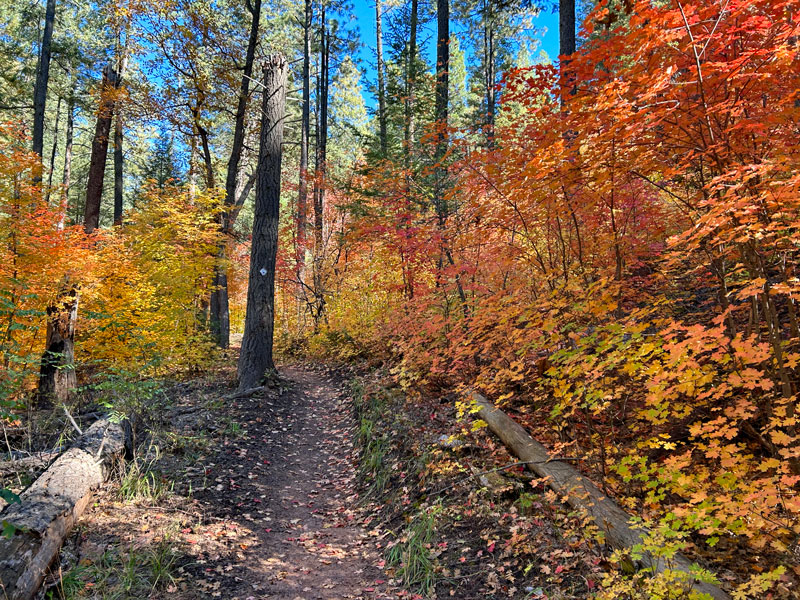 Get to frolicking, baby!
We had only planned to hike the length of See Canyon Trail and back, but the leaves were just too intoxicating, so we ended up doing the Highline and See Spring side trips for a total of about 11 miles. Both were well worth the extra effort.
Remember that fall color in Arizona is rare and short-lived, so soak up every single second!
---
Map & Directions
Location See Canyon, Tonto National Forest, Payson, Arizona
From Payson, take Highway 260 east toward Heber and Show Low for about 20 miles. Turn left on Christopher Creek Loop and then left again on Forest Road 284 (which is dirt). Follow that to the parking area.
Fees/Passes None
Trailhead Facilities Pit toilets available at the trailhead
Preview this Hike
---
Recommendations for you
Share this