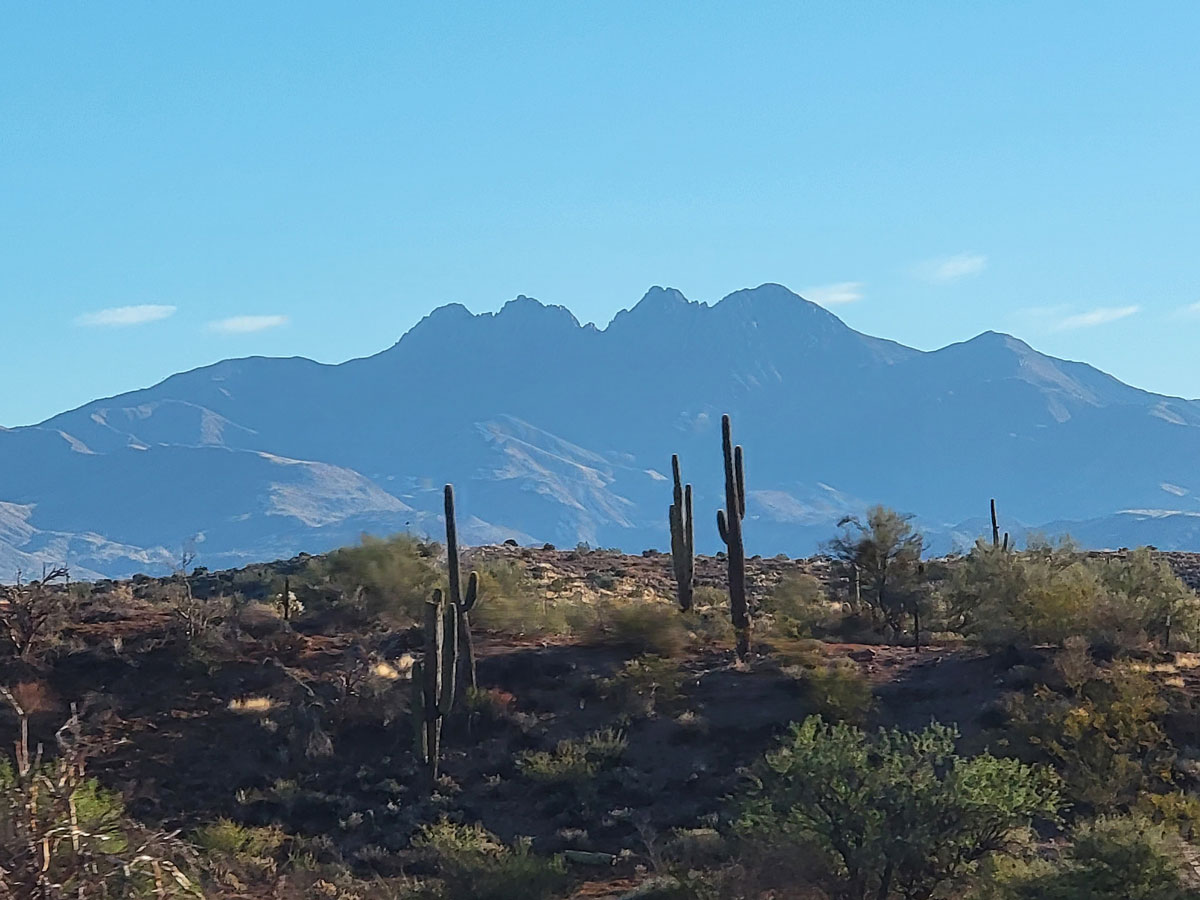 TRAIL STATS
Mileage: 4.7
Elevation gain: 2042 feet
Time to complete: 3-4 hours
Stars: ★★★★
Scrambling with some exposure
Browns Peak is the tallest of the Four Peaks and the highest point in Maricopa County, which means you get awesome views from the top. Because of its elevation, it makes a great shoulder season hike (April-May, September-October) and features forested terrain.
Let's get this out of the way up front. If you're not comfortable with scrambling up a rocky chute using your hands to help you climb and experiencing some mild exposure (i.e., heights), this hike is not for you. It never bothered me at all, but Hillary was completely terrified the first time she went. She got over it, though, and was pro by her second trip.
---
Trail Description
For some reason, we decided to do this hike when we didn't really have enough time. (I'm blaming April—she's always getting me to do things I'm not sure I should do). The drive out there is long, no matter which way you're coming from, because it's about 20 miles of dirt road from the Beeline Highway to the trailhead. We drove the road in a 4×4 Ford Expedition, and I'm confident that high clearance is highly recommended. 4-wheel-drive is also helpful (though maybe not technically required).
Once you're at the Lone Pine Trailhead, the first thing you'll notice is it feels cooler outside and there are TREES! The Browns Peak Trail begins with a moderate incline through a forest with cool rock formations and a monster juniper tree. Though a fire destroyed a lot of the trees here, it's still pleasant, and you may be able to pretend it's really fall.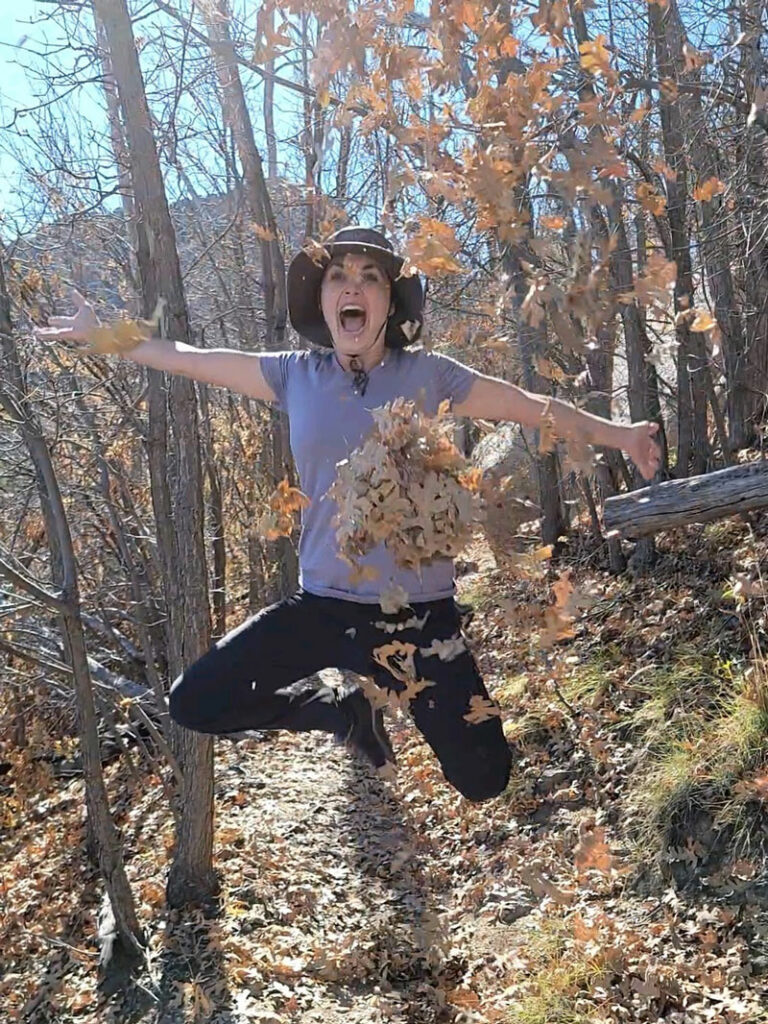 The Scree Chute
At the two mile mark, you'll reach the saddle and get your first view of the dreaded chute leading to Browns Peak. I'm going to be honest and say I think it's no big deal, but if you're afraid of heights or not used to using your hands to help climb, this might be a challenge for you. Otherwise, it's just plain fun! The chute does not get much sunlight, so the rocks are usually cold, and snow can stay there into the spring. Try to go after you know it's melted and maybe bring some gloves.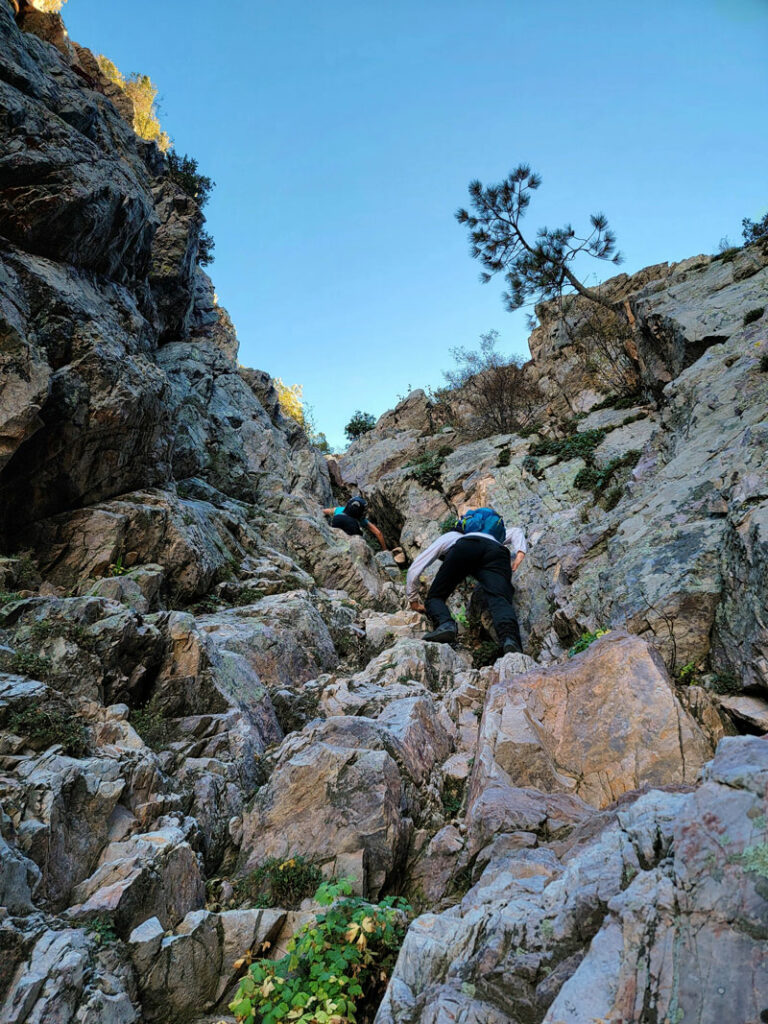 The Summit
Once at the top, you can see for miles and miles.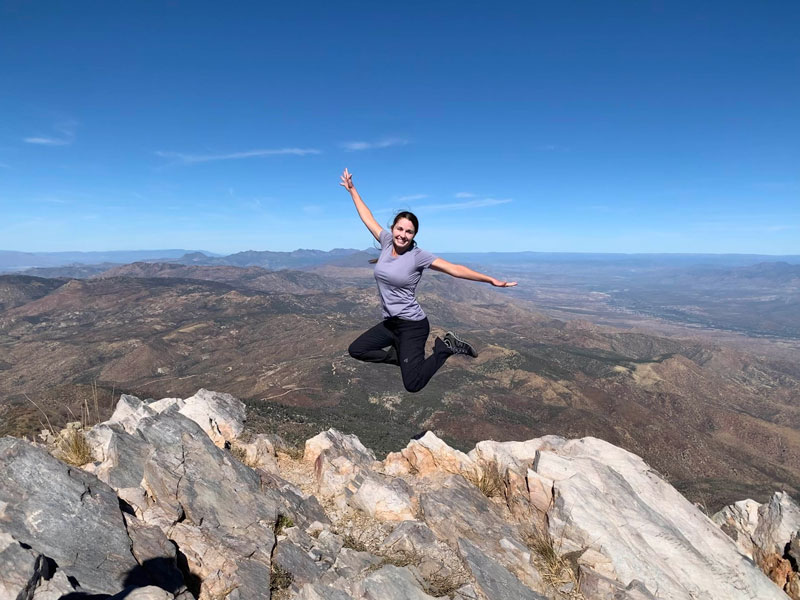 This is about the time we really wished we didn't need to be back by 3pm to pick the kids up from school. It was a little tricky finding the return path, so try to remember where you came up at. From there, we climbed down the chute carefully and then hustled back to the trailhead for an (almost) on time arrival.
---
Map & Directions
Location: Four Peaks Wilderness, Tonto National Forest
Although you can also drive to the trailhead from Highway 188 on the east, these directions describe the approach from the west. I've heard the road from the east is passable by a passenger car, but I've never taken it myself. From Highway 87 (Beeline Hwy), go east on Cline Cabin Road, which is a dirt road (there should be a sign pointing to Four Peaks). There are some junctions with other dirt roads, so your best bet is to navigate to Lone Pine Trailhead with Google maps. After about 18 miles, make a sharp right onto Pigeon Springs Road and follow that to the trailhead.
Trailhead Facilities None
---