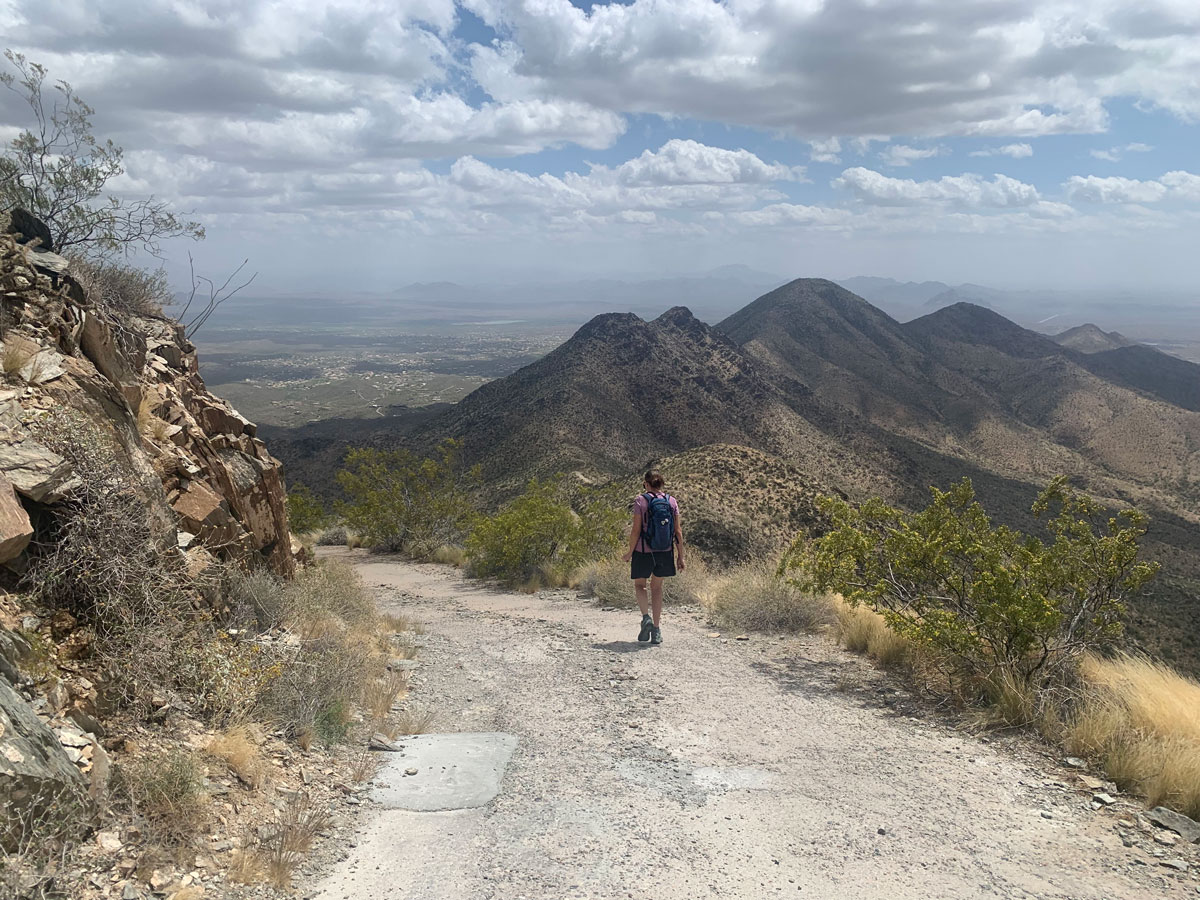 TRAIL STATS
Mileage: 9.5
Elevation gain: 2572 feet
Time to complete: 4-5 hours
Stars: ★★★½
Strenuous, STEEP
Near the town of Fountain Hills, this hike meanders through a very beautiful desert landscape past the Dixie Mine and then ascends very steeply up Thompson Peak on an old Jeep road. You wanted a workout? You got it!
---
Trail Description
When we arrived at the trailhead that morning, we were surprised by the nicest trailhead I've ever seen with perfectly manicured landscaping and great restrooms, and I immediately knew we were not fancy enough to belong in Fountain Hills. Ever.
The ownership of this trailhead and trail is complicated. The town of Fountain Hills provides the parking lot, the Dixie Mine Trail is in the McDowell Mountain Park (and requires a fee to enter), and the section of Jeep road up to Thompson Peak is in the McDowell Sonoran Preserve. Got all that? Luckily, Heather had a Maricopa County parks pass, so we were fine entering, but just a heads up–you might need to bring your wallet, and I know you don't want to find that out when you're almost half a mile from the car.
Dixie Mine Trail
It's a little annoying that you have to walk through a neighborhood to access the trail, but at least it's a beautiful neighborhood with excellent signage to point you there. As you get on the Dixie Mine Trail, you'll enjoy rolling hills covered in beautiful desert plants, and it never gets too steep in this section.
It's a little disheartening to see that you spend a lot of time walking away from Thompson Peak, but rest assured you'll get there (Heather was not convinced). It's that tall one with the antenna towers on top. Sooo far away, right?
Dixie Mine
After about two and a half miles, you'll see the Dixie Mine on your right. There's a trail that leads up to it, but we decided to skip it and turn left on the Jeep road. At this point, you're leaving the McDowell Mountain Park and entering the McDowell Sonoran Preserve.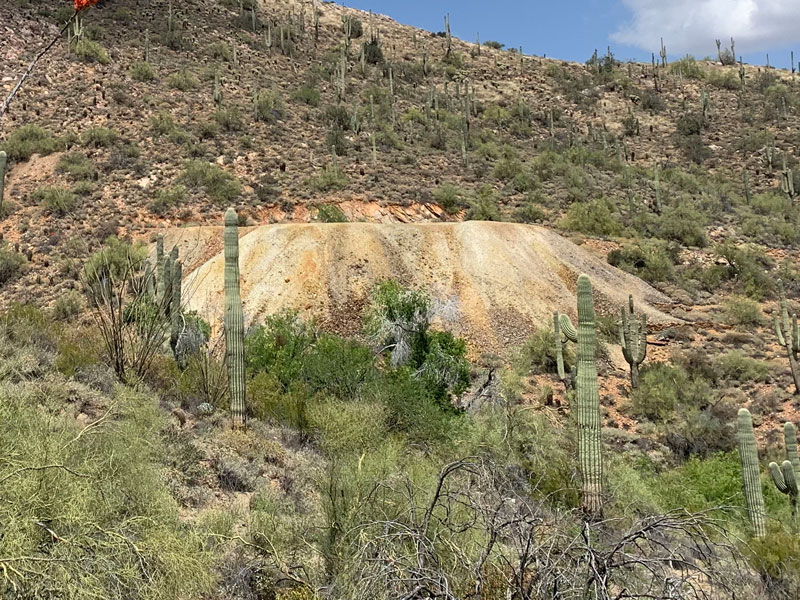 Jeep Road
We saw a few other hikers and a bicyclist up there that day. One interesting fellow on his way down told us his GPS device was telling him he ascended almost 4000 feet, and I think Heather almost fainted because I told her it was just over 2000. She saw the mountain looming over in the distance and believed every word. I wasn't so convinced.
But holy moly, things did start getting real after that. That mountain is STEEP. I've got two exhibits for you to prove it.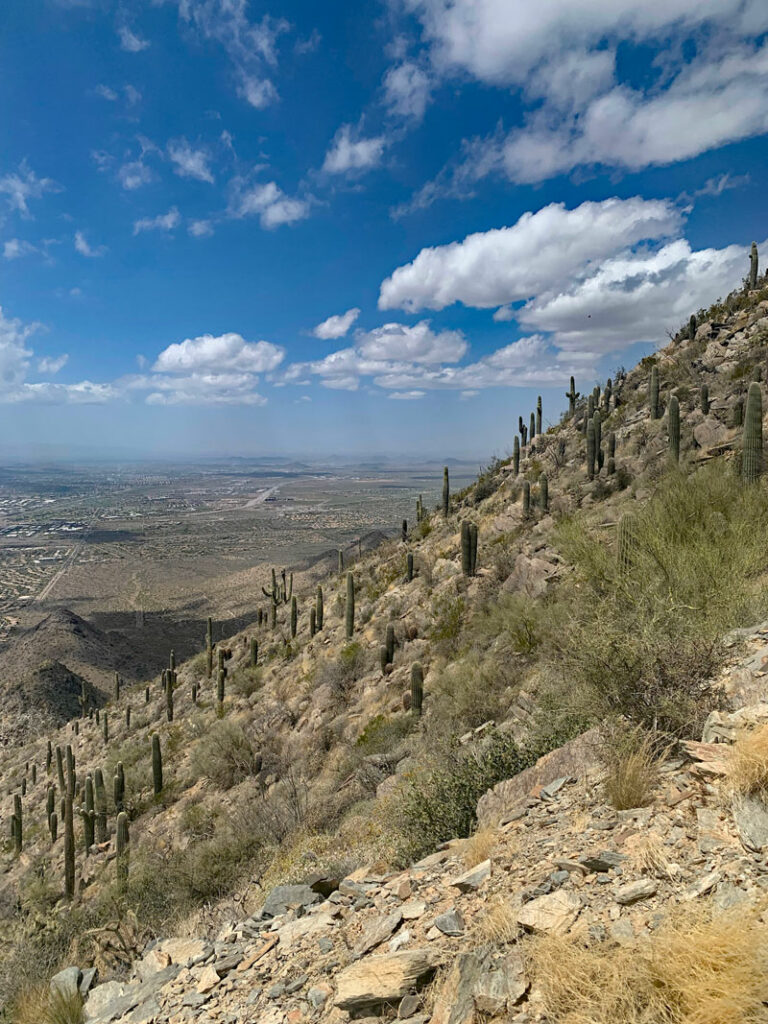 The Summit
It's a huff n puff, but press on because the summit is coming! I think you can, I think you can, (I sure hope you can). There are paved sections, which ruins the character of the desert a bit, as does the road in general, but if you wanted a workout, this hike really delivers. The view from the top is nice, though maybe a little too much city for my taste, so luckily there are a few mountains nearby to break it up. I mean, let's be honest. There are towers up there. We can't pretend this is wilderness. Know what I mean?
The descent is hard in its own way, as you fight with gravity to keep from rolling head first back down to the bottom. Don't expect to go too fast, and you just might keep your teeth. The steep section is intense but short, so hang in there because soon you'll be enjoying the beauty and rolling hills of the Dixie Mine Trail once again.
---
Map & Directions
Location McDowell Mountain Regional Park, McDowell Sonoran Preserve, Fountain Hills, Arizona
This hike begins at the Golden Eagle Trailhead in Fountain Hills. From the 87 (Beeline Highway), go west on Shea Blvd. Turn right on Saguaro Blvd, left on Palisades Blvd, and then right on Golden Eagle Blvd. The trailhead will be on the left, and you'll know you're there when you reach a community gate that you won't be able to enter.
Fees/Passes There is no fee to park, but the section of the hike on Dixie Mine Trail is in the McDowell Mountain Regional Park and requires a Maricopa County parks pass or a day use fee (payable via envelope at the beginning of the trailhead).
Trailhead Facilities There are restrooms and drinking fountains at the trailhead.
Preview this hike
---