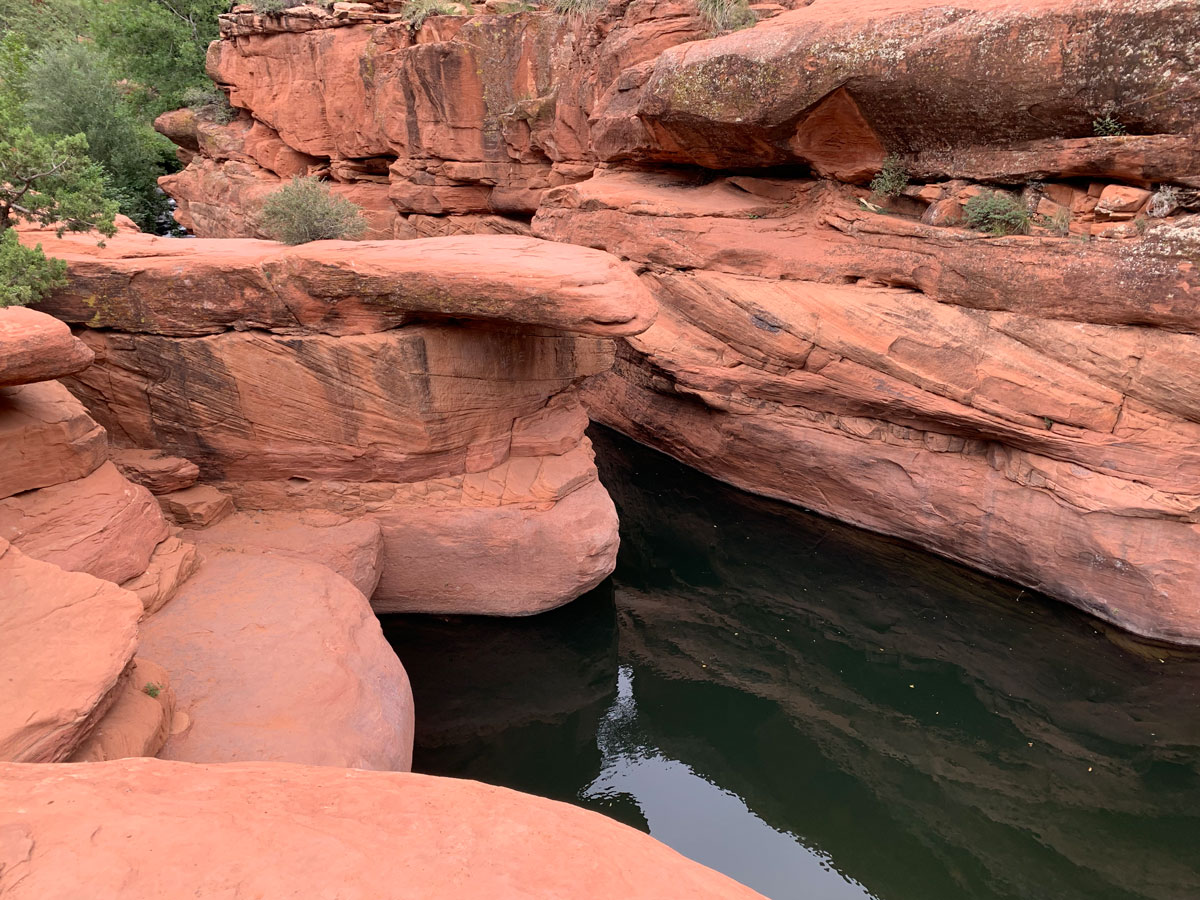 TRAIL STATS
Mileage: 7.0
Elevation gain: 1057 feet
Time to complete: 4-5 hours
Stars: ★★★★
Easy, well-defined trail
The Crack on Bell Trail is a swimming hole in the Wet Beaver Wilderness that boasts towering red sandstone cliffs and a cliff jumping spot that looks almost too good to be true. The trail is an easy 7-mile round trip hike between Camp Verde and Flagstaff, and it's super popular when the weather is hot. Plan to share it with other people (and their trash) during the high season unless you go very early in the morning or later in the evening.
---
Trail Description
Bell Trail no. 13
If you forgot your map or your GPS or any sort of navigational device, you're in luck today. Just follow all the people to this well-loved swimming hole.
The first part of Bell Trail looks like an old road and is therefore very easy to navigate as it makes its way along the north side of Wet Beaver Creek. It's a desert environment that's hot in the summer (isn't that why you're going?) with little shade, but you'll enjoy views and sounds of the creek below as you go.
There are several junctions with other trails along the way, but there are lots of signs. Just keep heading down Bell Trail toward the Crack.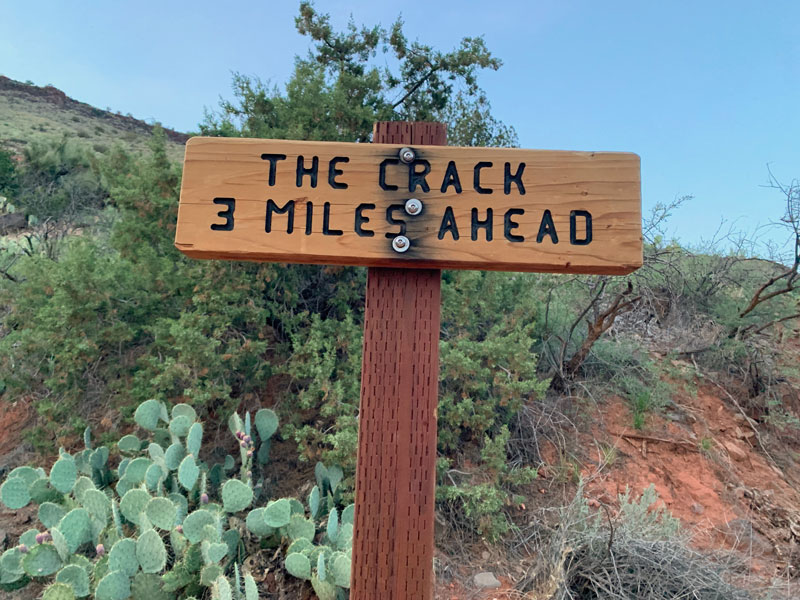 Sinagua Petroglyphs
If you're interested in the history of the area, look for a large, gray boulder on the left side of the trail when you're almost a mile in. You can't miss it. If you want to see more petroglyphs in the area, try some of the sites on the Sinagua Circle.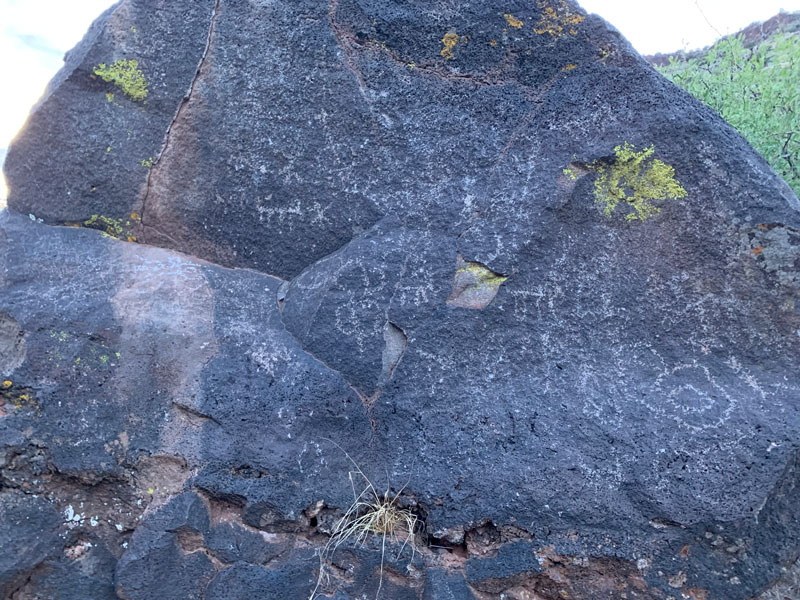 As you continue beyond the boundary for the Wet Beaver Wilderness, the path starts looking more like a trail and less like a road.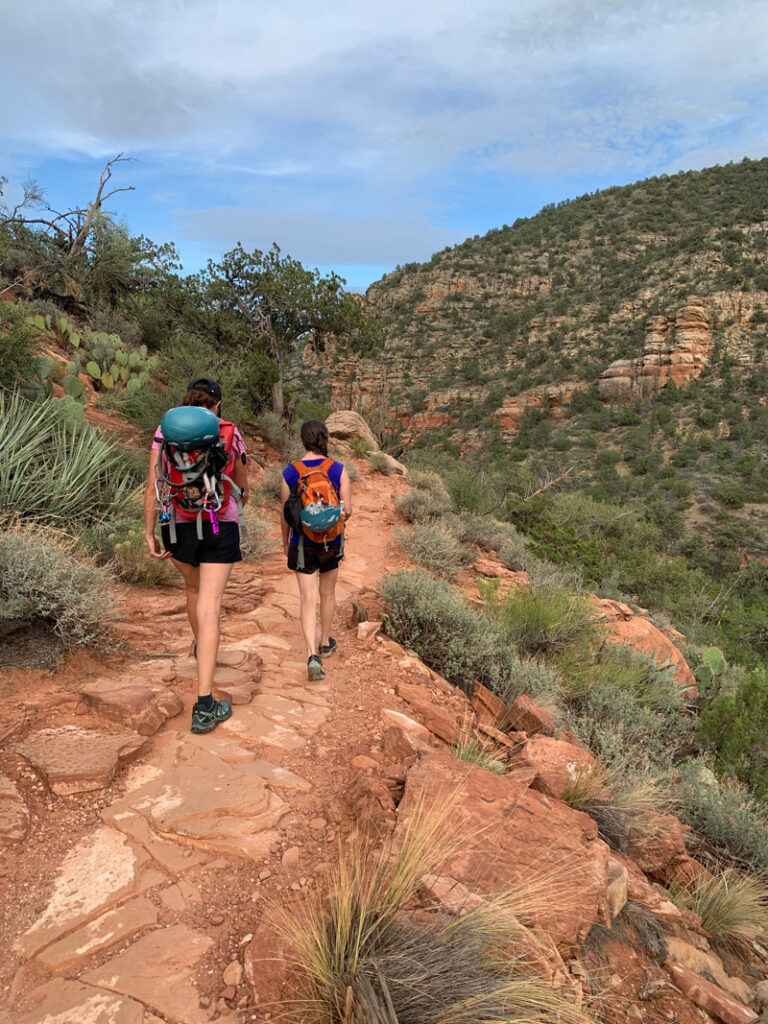 When you start hugging the canyon wall and seeing graffiti left by the party people, you'll know you're almost there. You didn't bring the spray paint right? Don't be a vandal.
The Crack
When you get very close, there will be spur trails trying to pull you to the right a little too early. Try to stay on the path most traveled, and you're sure to find what you're looking for.
Except, you'll probably see a lot more people and Gatorade bottles and random abandoned water shoes. We went at 5pm, so we had the Crack to ourselves, but we've shared it many times. It's still a really cool place.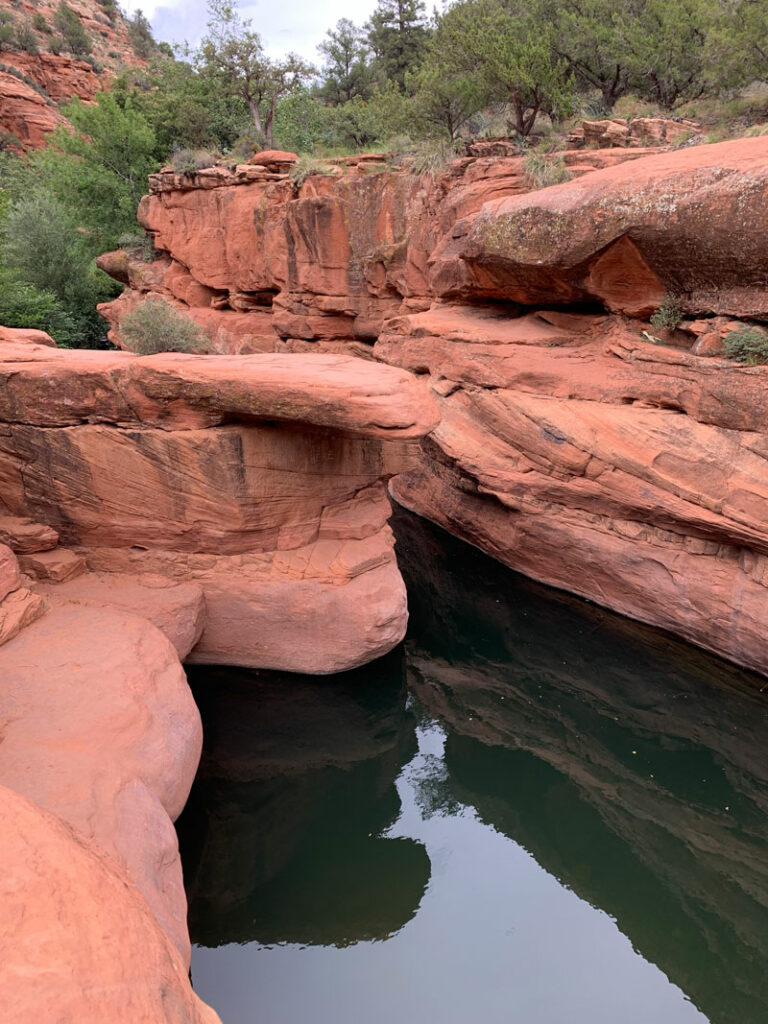 If it's summer time, you'll be hot and sweaty by the time you get here. You ready to cannonball? Or maybe a backflip?
Be sure to bring plenty of water and snacks (but please, pick up after yourself!) because this hike will probably dehydrate you more than you think. If you do find yourself low, hopefully you'll run into our new friend, Ryan, who shared his water supply with us. Thanks, Ryan!
---
Map & Directions
Location Bell Trail, Wet Beaver Wilderness, Coconino National Forest, Camp Verde, Arizona
From Camp Verde, go north on Interstate 17 and exit at the junction for Highway 179 toward Oak Creek Village, but go RIGHT instead of left to get on Forest Road 618. Drive about two miles on this paved road and turn left on Forest Road 618A. There should be a sign pointing to Bell Trail.
Alternative parking If the main lot is full, turn around and turn right on Forest Road 618 to go back to Soda Springs Road and turn right to get to the Bruce Brockett Trailhead. If you end up doing this, follow Bruce Brockett Trail until it intersects with Bell Trail.
Fees/Passes None
Trailhead Facilities Restrooms
---
Recommendations for you
Share this