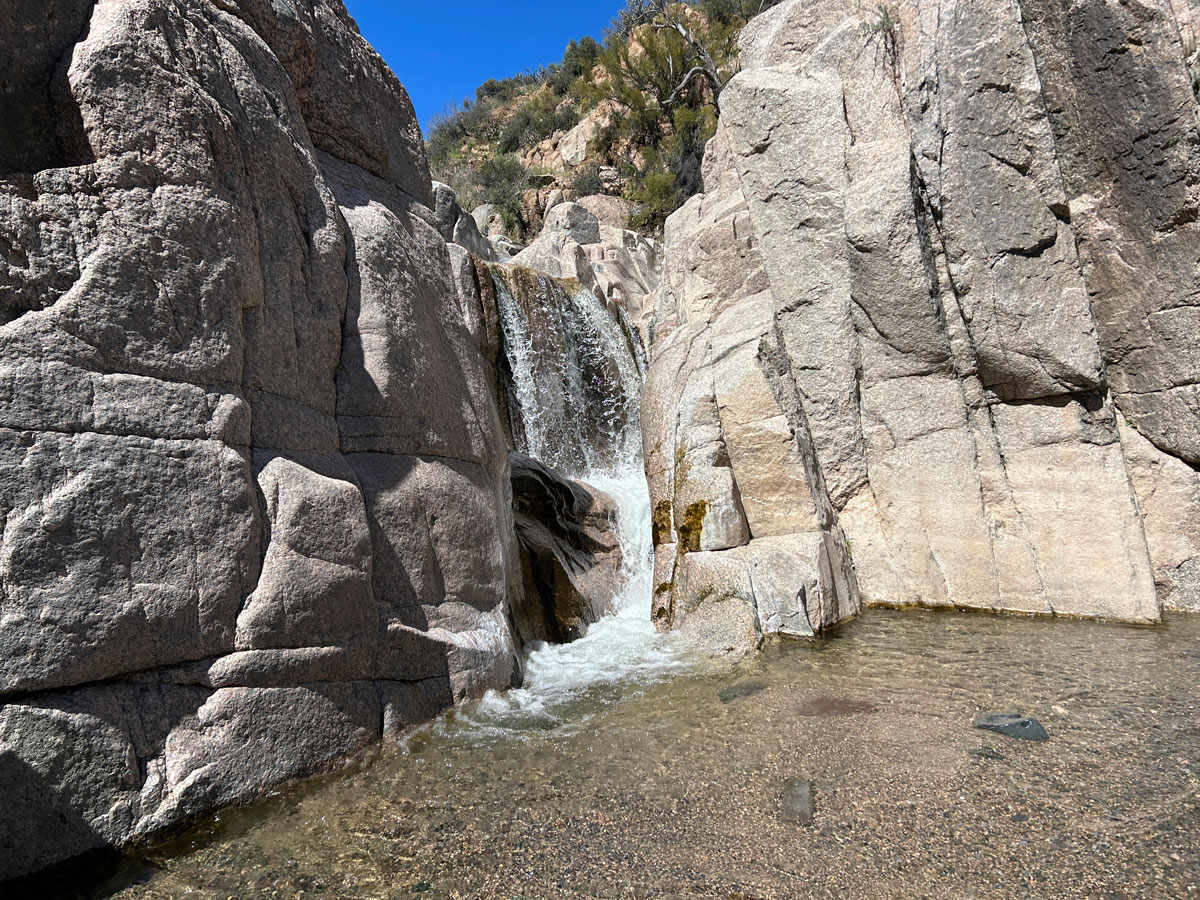 TRAIL STATS
Mileage: 2.9
Elevation gain: 448 feet
Time to complete: 2 hours
Stars: ★★★★
Wide, sandy trail through a wash
If you're looking for a hike the whole family will enjoy, Blue Wash Trail to Camp Creek Falls has you covered. This relatively short and easy trail passes through an unremarkable wash to a small, but pretty waterfall where the kids can climb around on the rocks and dip their feet in the water. It only runs seasonally, so be sure to go after there has been some rain.
---
Trail Description
The effort to reward ratio doesn't get any better than this, so plan to share this trail when you go. We went on a weekday and had several out-of-state people on the trail with us, so I imagine weekends when the waterfall is running can get pretty crowded.
We saw kids, old people with no water (bad idea), and babies on this trail, so when I say it's a trail for just about anyone, it's because I saw proof.
Blue Wash Trail
From the parking area, head down an OHV road.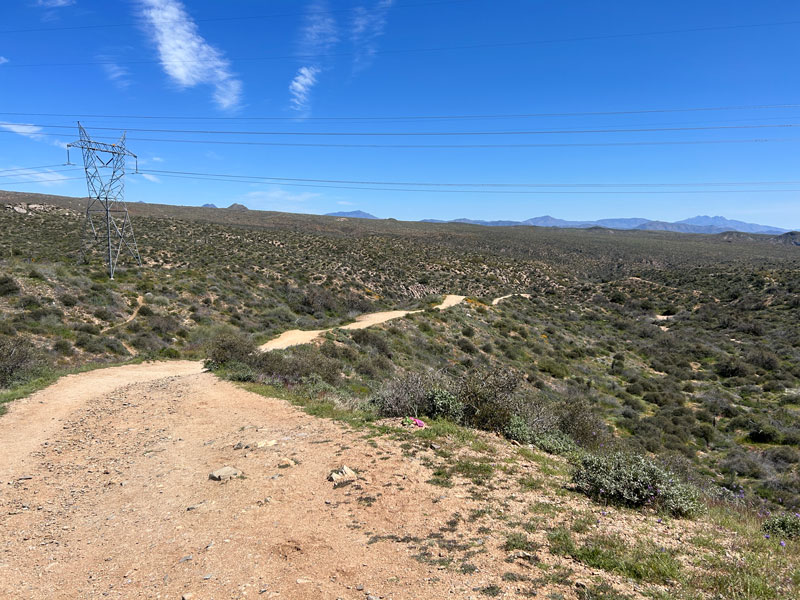 Eventually, you'll drop into Blue Wash and will pass the remains of an old car that met an unfortunate fate. If there is no water in this section, do not lose hope! Camp Creek, which powers the waterfall, is still up ahead.
Camp Creek Trail
The trail will intersect with Camp Creek Trail, a very wide wash that (hopefully) has water in it. Turn left to head upstream toward Camp Creek Falls.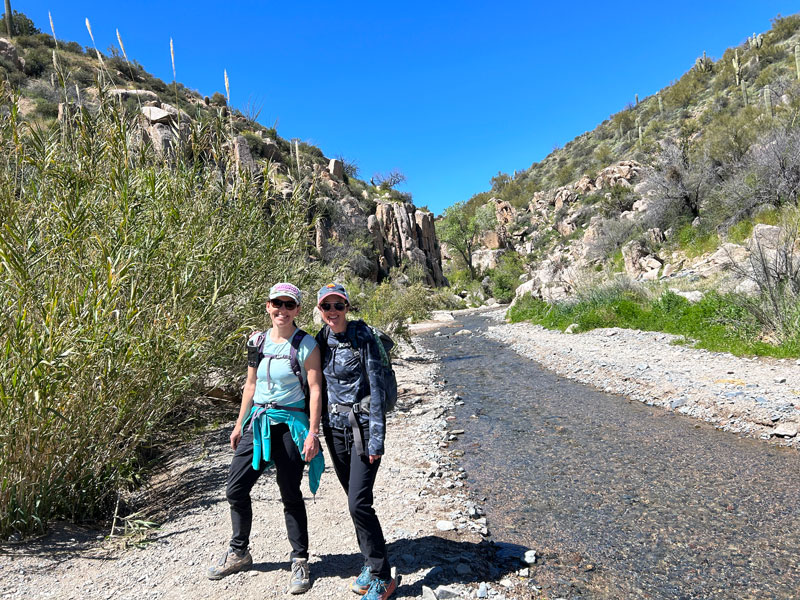 Camp Creek Falls
The canyon begins to narrow and becomes more rocky as you approach the waterfall. Now, I don't care how cold it is. Take off your shoes and get your feet wet!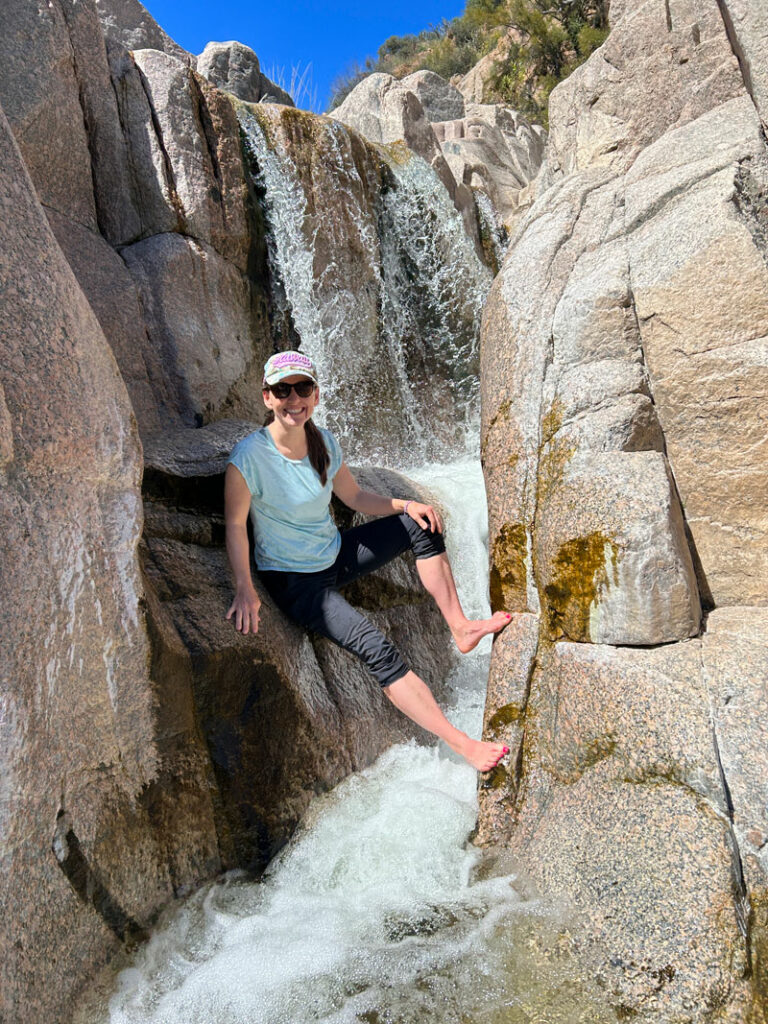 You can easily climb up to the top of the waterfall on the left side, and it's definitely worth doing if you can. However, the granite slabs that form the falls area don't extend much beyond there, so we didn't venture farther upstream.
Return the way you came, but, uh. . . don't miss that fork onto the OHV road or you'll be hiking the advanced trail back to your car. (How do we always manage to end up on those?)
---
Map & Directions
Location Cave Creek, Arizona
From Loop 202, take the Pima/Princess exit and head north on Pima Road. Turn right on Cave Creek Road and go past the turn for Bartlett Lake. The dirt parking area is along the road on the right side. There is some overflow parking on the left side of the road.
Fees/Passes None
Trailhead Facilities None
---