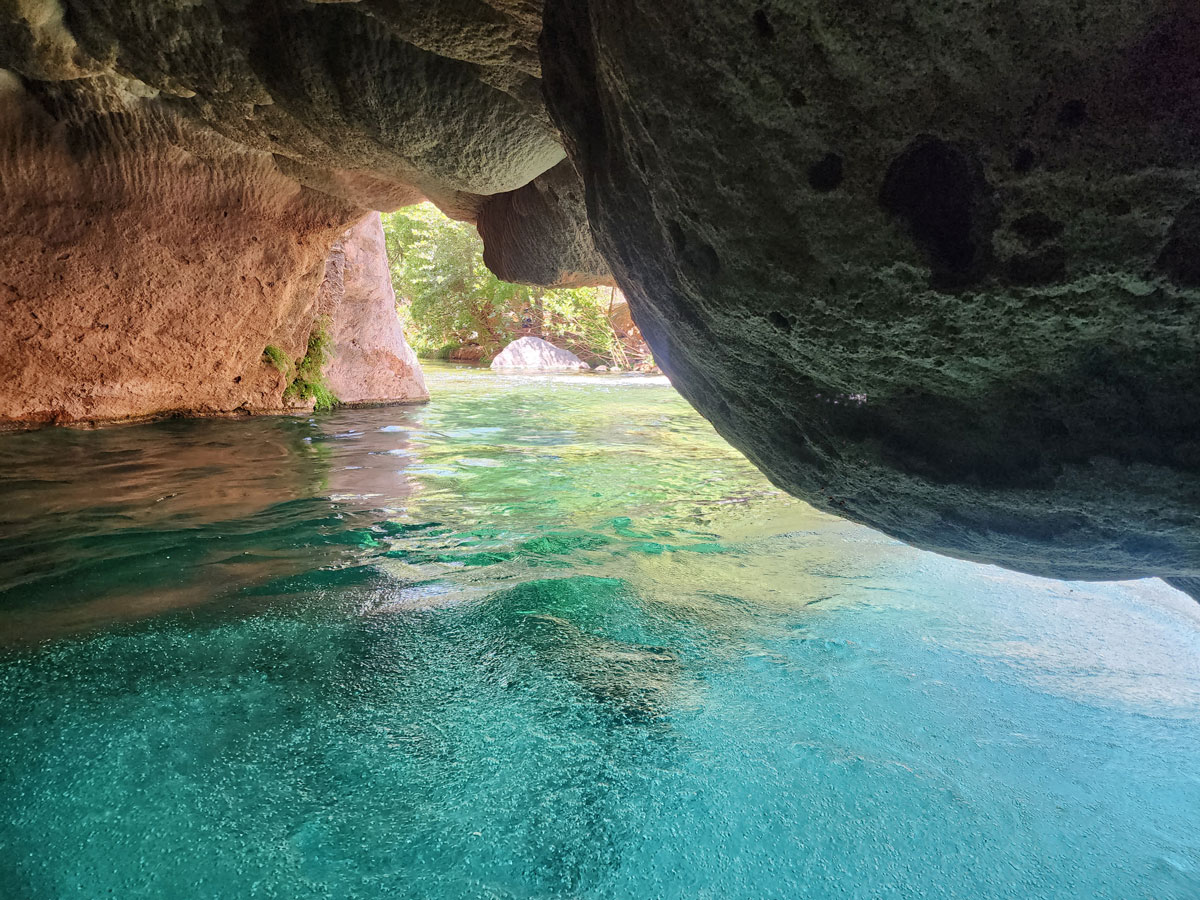 Fossil Springs (Bob Bear)
TRAIL STATS
Mileage: 8.5
Elevation gain: 1639 feet
Time to complete: 4-6 hours
Stars: ★★★★★
Moderate incline, rocky
Forget Hawaii—Arizona has its own version of paradise at Fossil Springs on the Fossil Creek Wild and Scenic River. Crystal clear 70-degree water in brilliant shades of turquoise, a large cave, and an impressive waterfall gushing at 20,000 cfs make this hike one of the jewels of an Arizona summer. Permits are required from April 1 until October 1, so if you plan to go on a weekend during that time, please plan ahead!
This hike is not to be confused with Fossil Creek, a recreation area that can be reached by vehicle via a long dirt road off Highway 260 and features a short hike to a waterfall. Because of the endless confusion between Fossil Springs and Fossil Creek, this trail has been renamed Bob Bear. This is an 8-mile challenging hike accessed from the town of Strawberry.
---
Trail Description
You saw it on Instagram, didn't you? And the moment you did, you KNEW you had to visit this amazing place. Yeah, we know how it is. And really, it is THAT good. It is. And because it's that good, it attracts all kinds of hikers, some of whom really should have gone to Water Wheel Falls instead. If you're in flip flops, if you haven't hiked in ages, if you aren't used to Arizona's hot and dry climate and don't have LOADS of water, then please do search and rescue a favor and choose another hike.
I thought the numerous warning signs at the beginning of the trail were overkill until we found a hiker three miles in struggling, separated from her friends, wearing a flannel in the heat, almost out of water, and asking us for a Coke.
Just no. This is not a little walk to a swimming hole. It's an 8-mile hike in likely hot and arid conditions that is uphill all the way back. Be ready.
Bob Bear Trail #18
First things first. You put your permit on the dashboard of your car, right? Awesome. Time to roll. The trail starts out easy and wide. Don't let it fool you. It gets rougher and steeper as you get farther down. (And it's all uphill on the way back.)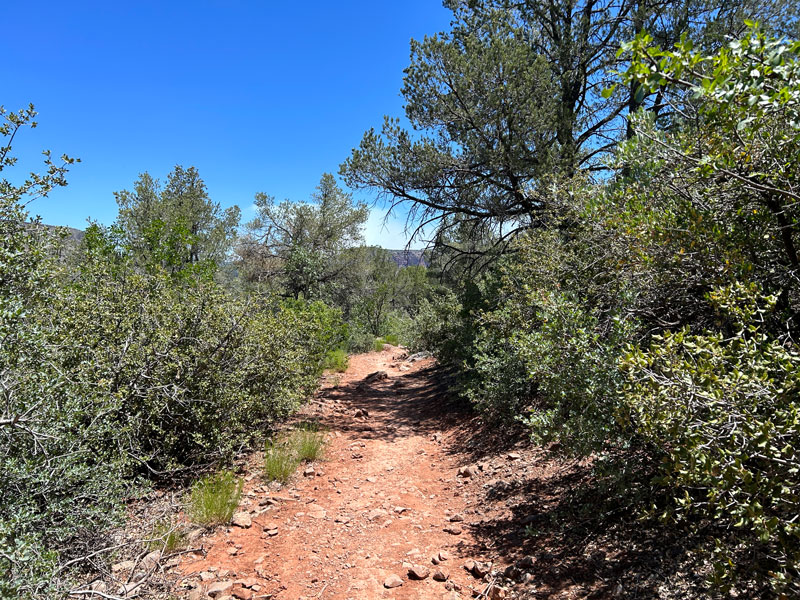 If you've been loving Arizona for a long time, you probably know about the Backbone Fire that burned near here in 2021 and closed this beautiful place for more than a year. We are happy to report that most of the trail was unaffected, and we only saw some burned trees when we got down to creek level.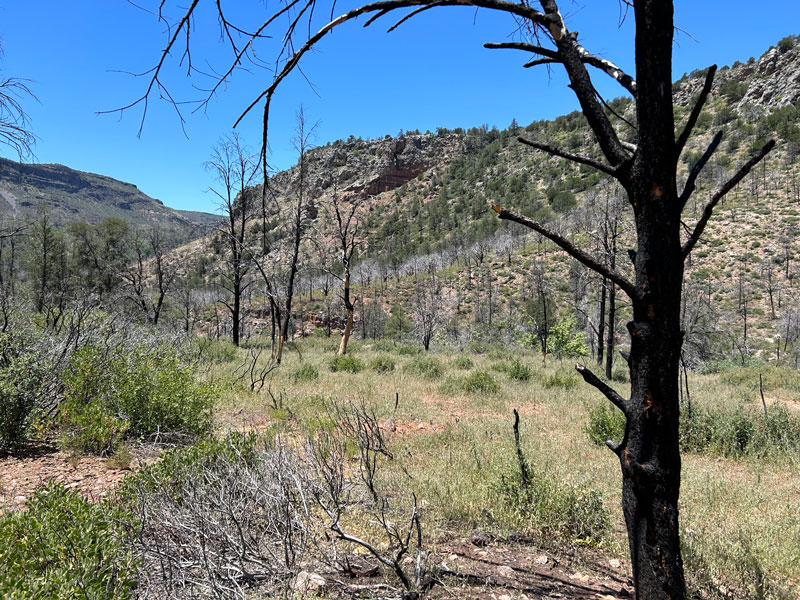 Though the trees suffered, the ground cover was as green as ever.
Once down at the bottom of the canyon, you'll encounter a sign marking the junction with Mail Trail. At this point, head left toward Fossil Springs. The trail will flatten out and cross a solid rock area that may have some small pools.
Before long, you'll begin to hear the water rushing down below, and you'll look down to see a lush, green paradise. Eventually, you'll come to a sign that marks the spring and the dam. Because of the word "spring," you may be tempted to go that way, and it is lovely down there, but it doesn't go to the swimming hole. For that, you want the dam.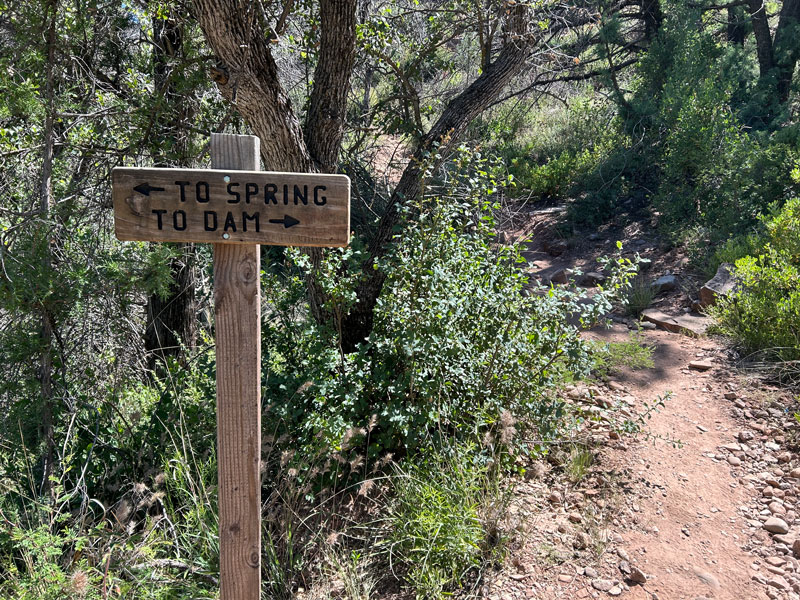 Just a little bit farther through very pleasant greenery, and then. . .
Fossil Springs Dam
It needs no introduction. It introduces itself, and when you first lay eyes on it, you'll be absolutely blown away. But if you do happen to arrive at a large, old sign and still haven't seen it, look left!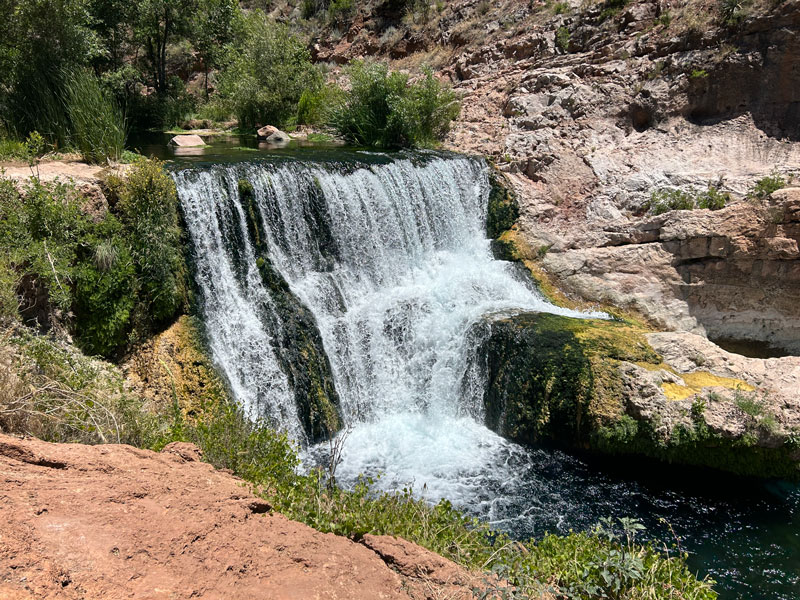 Climb down the steep, rocky path until you arrive on a flattish rock landing. Word to the wise—it's slick. Just ask Kristi when you see her hiking out with her wet shoe and pant leg.
We saw people jumping from just left of the falls, but you do have to launch yourself to avoid hitting the rock and becoming a statistic. Even April wouldn't try it, so you know it's sketchy. The smarter people will be content swimming in the pool, jumping off the much lower cliff, and maybe swimming along the left side of the pool to a small cave that is often filled with spiders. Be advised that the current is pretty strong to get there.
If you hike to the top of the dam and brave a crossing to the other side, you can reach the "Toilet Bowl." Part of the waterfall is diverted into this pool where it becomes a maelstrom that flushes violently into the main pool. Some fools have jumped in to attempt to swim through the hole at the bottom into the other pool. And some of those fools have died. DO NOT GET IN THE TOILET BOWL!!!
The Cave
Hiking a little farther downstream along a somewhat sketchy path, you'll come to the cave. Swim on over. . . you have to!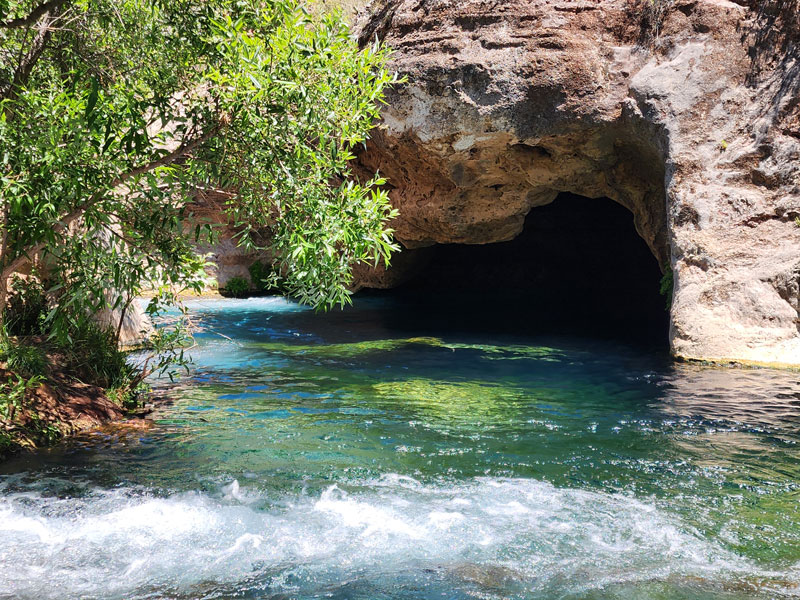 The beauty of this place is really mesmerizing, but you can't stay forever, and remember it's all uphill on the way out.
Getting Permits
You'll need a permit for each car visiting Bob Bear, and they can be purchased beginning on the first day of the month before the month you want to visit (so for June, you can start buying a permit May 1). Visit Recreation.gov for more details.
Also, if you find yourself on the Forest Service page for Bob Bear, note that the link on that page actually goes to Fossil Creek permits, which is not the correct permit. They really aren't helping with the confusion! But WildPathsAZ has you covered.
---
Map & Directions
Location Bob Bear, Strawberry, Arizona
From Payson, take highway 87 to Strawberry and turn left on Fossil Springs Road. Follow this to the Bob Bear Trailhead.
Fees/Passes Permit is required. Visit Recreation.gov to get one.
Trailhead Facilities Pit toilets
Preview this Hike
---