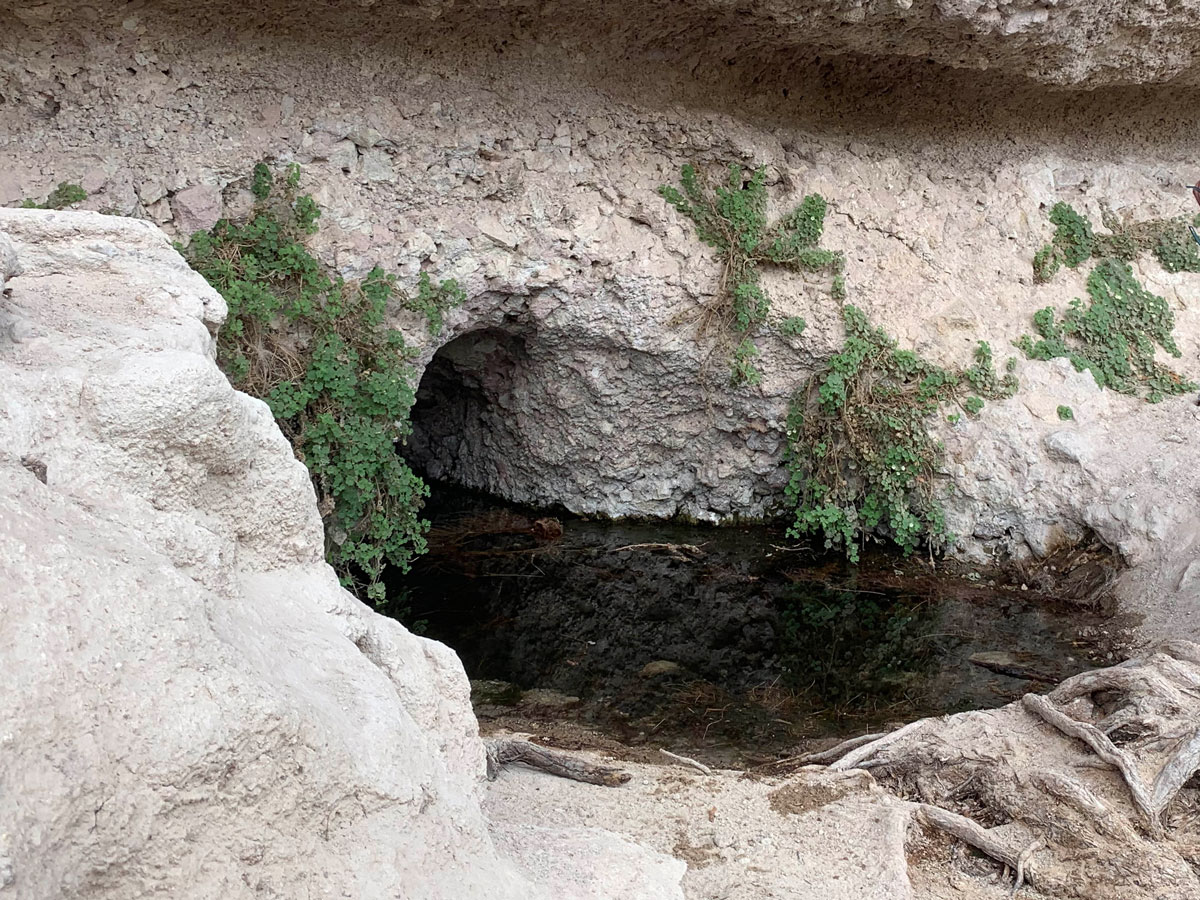 TRAIL STATS
Mileage: 5.2
Elevation gain: 824 feet
Time to complete: 3-4 hours
Stars: ★★★½
Fairly flat, shade
Visit the seasonal Hackberry Spring and the ruins of an old ranch on this scenic trail through the western edge of the Superstition wilderness. The gentle grade of this trail makes it suitable for a wide range of hikers, but be aware that part of it will leave the trail to follow a fairly open path through a wash.
---
Trail description
The parking lot at First Water Trailhead on a Saturday in March is always busy, and you can park at the horse parking a quarter mile down First Water road if the main lot is full. It really won't matter too much since the end of the hike pops you out part way there anyway.
It was only by accident that we did this hike on a cool, cloudy day, and the dramatic sky provided a beautiful backdrop for the desert, which was just beginning to bloom. Second Water Trail begins with a lot of bumps and a few ups and downs as it winds its way through the desert, but being distracted by the sky and the scenery, we hardly noticed the physical effort.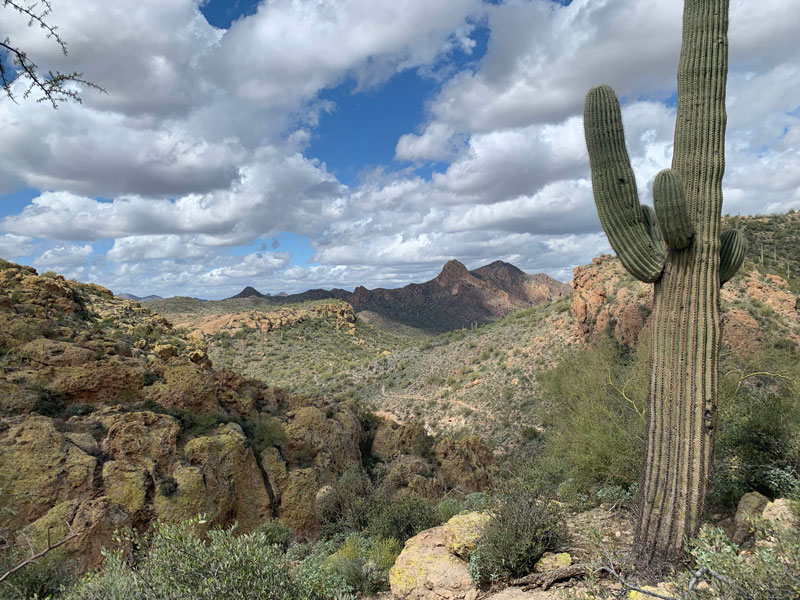 About a mile in, we passed through a large flat area called Garden Valley where people with horses often camp, and you can camp here, too, if you're backpacking (especially if the kids are already complaining), but there are definitely better campsites near Hackberry Spring. Promise them an extra marshmallow or something!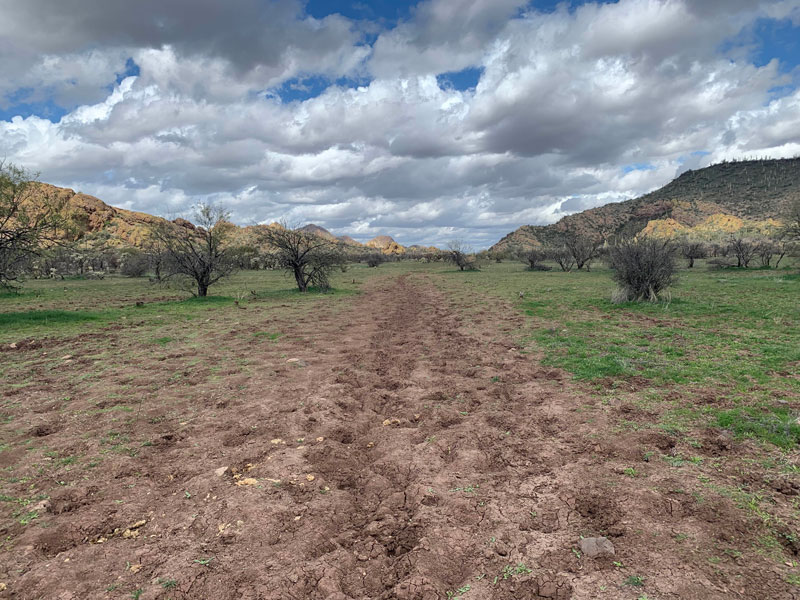 A short while later, you'll take the signed trail for Hackberry Spring. Now don't let anyone know you took the long way to Hackberry Spring, especially the kids. You're the trip leader, you have the GPS, and they'll be none the wiser, right? We just wanted a longer hike, so we decided to make it into a loop, and I know my kids would never accept that as a valid answer. Shh.
Hackberry Spring
As we approached the spring, we noticed everything was greener, and we found a bunch of great campsites that we made note of for future reference. This would be a great place to camp with kids. The spring itself was kind of hidden from view, and a lot of people passed it completely, but you brought your GPS, right? It's kind of cool to see where it comes out of the mountain, and I am still trying to figure out how the little fishies got in the water. They sure didn't look like tadpoles!
Soon after leaving the spring, we had to leave the marked trail to follow a wash. Now usually my shortcuts end up being a huge fiasco, but this one actually turned out great, and it was clear that other people pass through this way.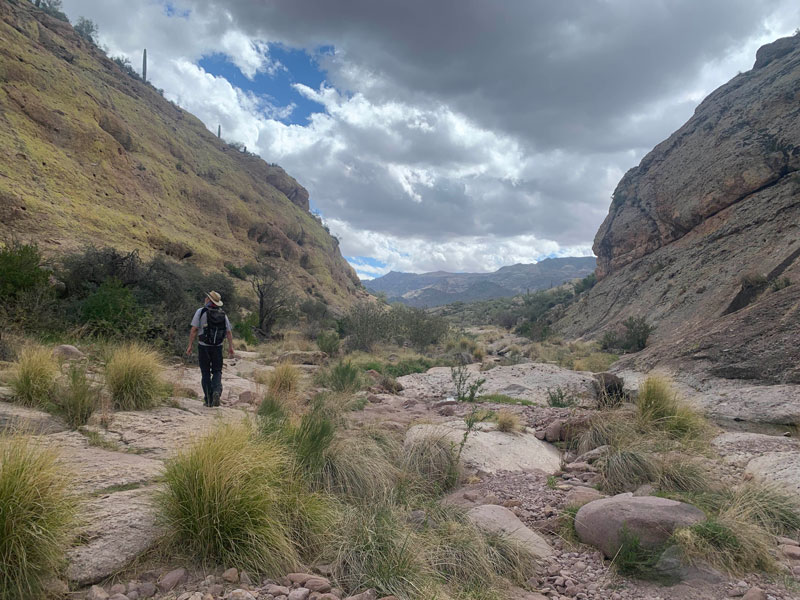 The Abandoned Ranch
Just beyond this section, we rejoined the trail and visited the remains of an old ranch that I knew was out there somewhere, but I wasn't sure where. My husband put up with me taking way too many pictures and even followed me to check out the big metal cylinder (water storage?). It felt like we were in the opening scenes of a crime show, so I was leery about getting him to boost me up to have a look inside, but my curiosity always wins. And for my effort? Just dirt.
By the time you reach the ranch, it's not far back to First Water Road, and you'll be treated to impressive views of the ridgeline along the way. There's basically nothing unpleasant about this hike, so enjoy!
---
Map & Directions
Location Superstition Wilderness, Tonto National Forest, Apache Junction, Arizona
From the US60 take the exit for Idaho Road. Go north on Idaho Road to state route 88 and turn right. Follow this road past the Lost Dutchman State Park to the turn for First Water Trailhead. Turn right and follow the dirt road to the end to the parking lot. There is an overflow lot about a quarter mile back if the main lot is full. The road is usually passable in a passenger vehicle.
Trailhead Facilities Pit toilets available. No water.
---