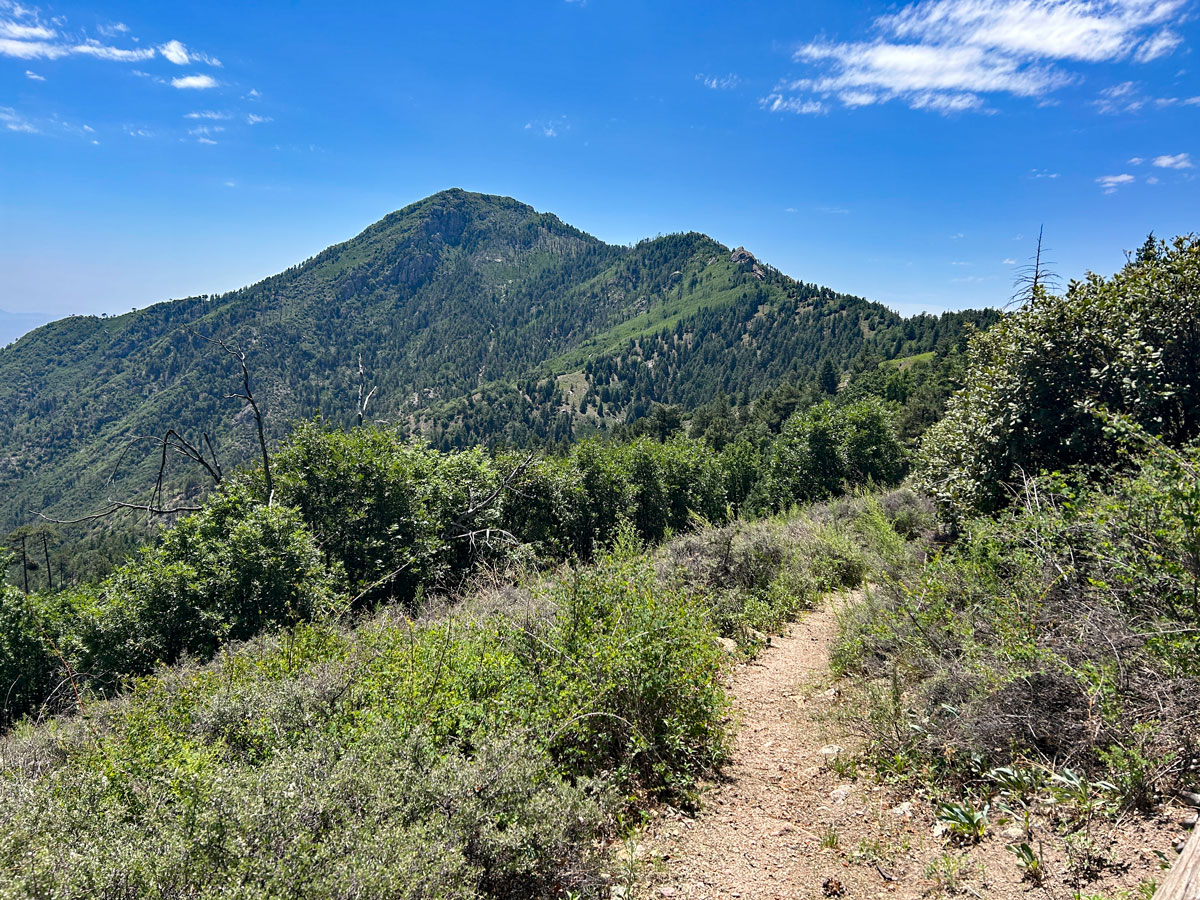 TRAIL STATS
Mileage: 11.1
Elevation gain: 3717 feet
Time to complete: 7-9 hours
Stars: ★★★★½
Long, unrelenting uphill climb
If you're training for a big adventure or just need a hike to kick your butt, Miller Peak delivers. The relentless uphill climb up a mostly shaded canyon is followed by a nice, flattish walk along the Crest Trail before the final push up to Miller Peak. It'll be worth it, though, because you'll feel like you can see forever from up there.
This peak sits a mere 4 miles north of the Mexican Border. You may see signs or hear stories about evidence of illegal immigration in the area. I wondered if that would be a concern for us, but we saw nothing of the sort.
---
Trail Description
There are multiple ways to approach Miller Peak, including a shorter trail up Lutz Canyon Trail #104 and another shorter trail up Crest Trail #103. The Miller Canyon Trail #105 held promise of lots of shade for the climb up, though, and with Arizona's record heat wave this year, we were all about the shade.
Miller Canyon Trail #105
The first mile of this trail is in upper desert, is not super scenic in the middle of summer, and might have you wondering if you've made a huge mistake. Never fear, my friend, soon you'll start to hear the trickling water, the singing birds, and the rustling leaves all around you.
It was all very beautiful, but hard to get a great picture because every capture just looked like a chaotic jumble of leaves. And that's kind of what it was. Which made it heavenly.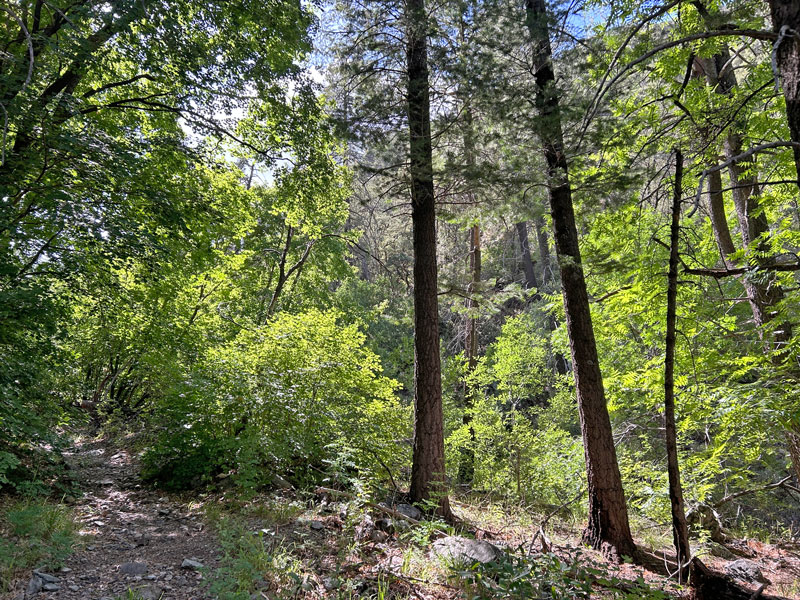 Don't be surprised if you find birders there who know this is a prime location for spotting an amazing variety of species. We don't know the first thing about bird watching, but even we saw some pretty blue birds and a pair of hawks doing synchronized acrobatics above us.
That trail, though. It starts with a mild uphill grade and quickly transitions to a moderate grade that does not ever give you more than a few seconds break. The last two miles get even steeper, climbing steadily up to ever expanding views with Miller Peak off to the left.
After a particularly challenging section, we encountered a gentleman coming down who told us we only had about 500-600 more feet to climb before we would hit the Crest Trail and get some reprieve. Bless that man.
The junction with the Crest Trail looks a lot like a fork, and you'll want to go left toward. . .
Bathtub Spring
I never, ever dreamed I'd say this, but here goes. When you get to the bathtub, turn left.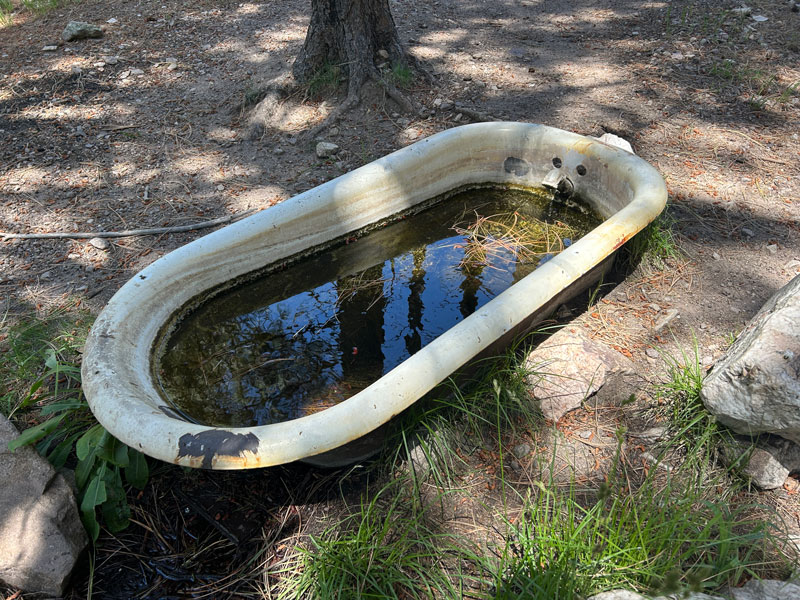 Note to self If I ever get the chance to backpack the Crest Trail (which I totally want to do), this would make the perfect place for an overnight stop. Even in the middle of a dreadful Arizona heat wave, it had water dripping into it.
Crest Trail #103
Looking at the terrain ahead, I thought that man who told us Crest Trail was mainly flat must've been senile or something, but to my surprise, the next mile or so actually was pretty flat just as he said. And so stunning! It just made me want to backpack the Crest Trail even more.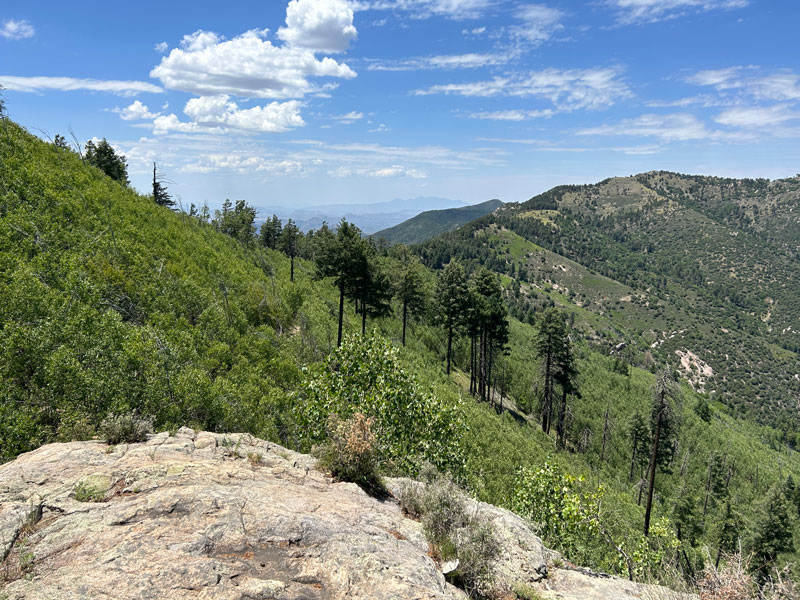 Here you are cruising along this sky island that sits thousands of feet above the desert floor, walking through stands of aspen and pines, and taking in massive views of the surrounding rocky peaks with trees, greenery, and a few wildflowers blanketing the whole scene. Every once in a while you are treated to a little glimpse of the other side, or a deer prancing through the forest, and it all just enlarges your soul.
It would be perfect if you didn't know you still have to climb up that huge peak in front of you. I know, I wanted to die, too.
Miller Peak Summit
As you approach the peak, the trail starts to climb a little more. Be on the lookout for a trail sign indicating the spur trail up Miller Peak to your left.
You are exhausted, you're so over it, but I promise this part goes by quickly, and soon you'll be standing on that lofty peak. Celebrate!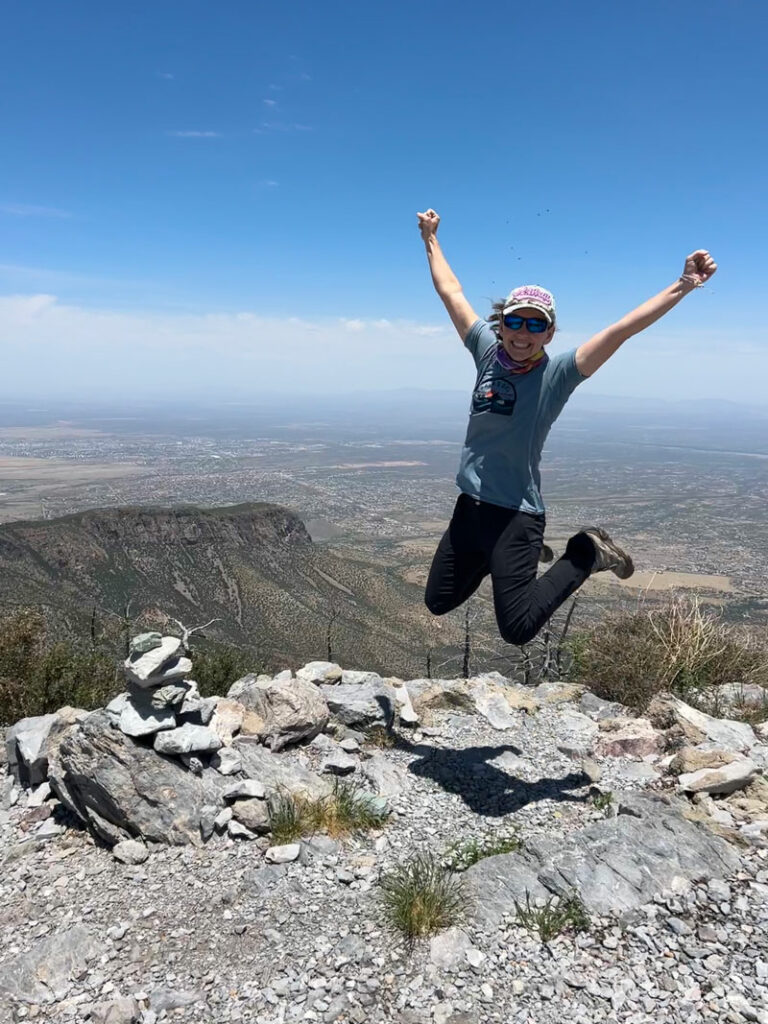 Standing on the highest point in the Huachuca Mountains, you'll have great views in every direction. Enjoy your accomplishment, but if the storm clouds are rolling in, it's time to roll out.
Camping
I marked a few possible campsites I encountered along the trail. The best one is at Bathtub Spring, with another alternative nearby if that one is occupied. There are some nice spots near the beginning of the trail, but obviously they don't do you much good as far as getting mileage in. In a pinch, there are a couple other flat areas along the trail where you could pitch a tent, but they weren't good enough to be worth marking.
If you plan to arrive the night before, you can car camp in a couple places along Miller Canyon Road.
---
Map & Directions
Location Miller Peak Wilderness, Huachuca Mountains, Sierra Vista, Arizona
From Sierra Vista, take the 92 south to Miller Canyon Road and turn right. The road goes through a neighborhood at first, but then turns to dirt as it enters the National Forest. Follow the road to the end. The road was in good enough condition for a small sedan.
Fees/Passes None
Trailhead Facilities Pit toilets
---