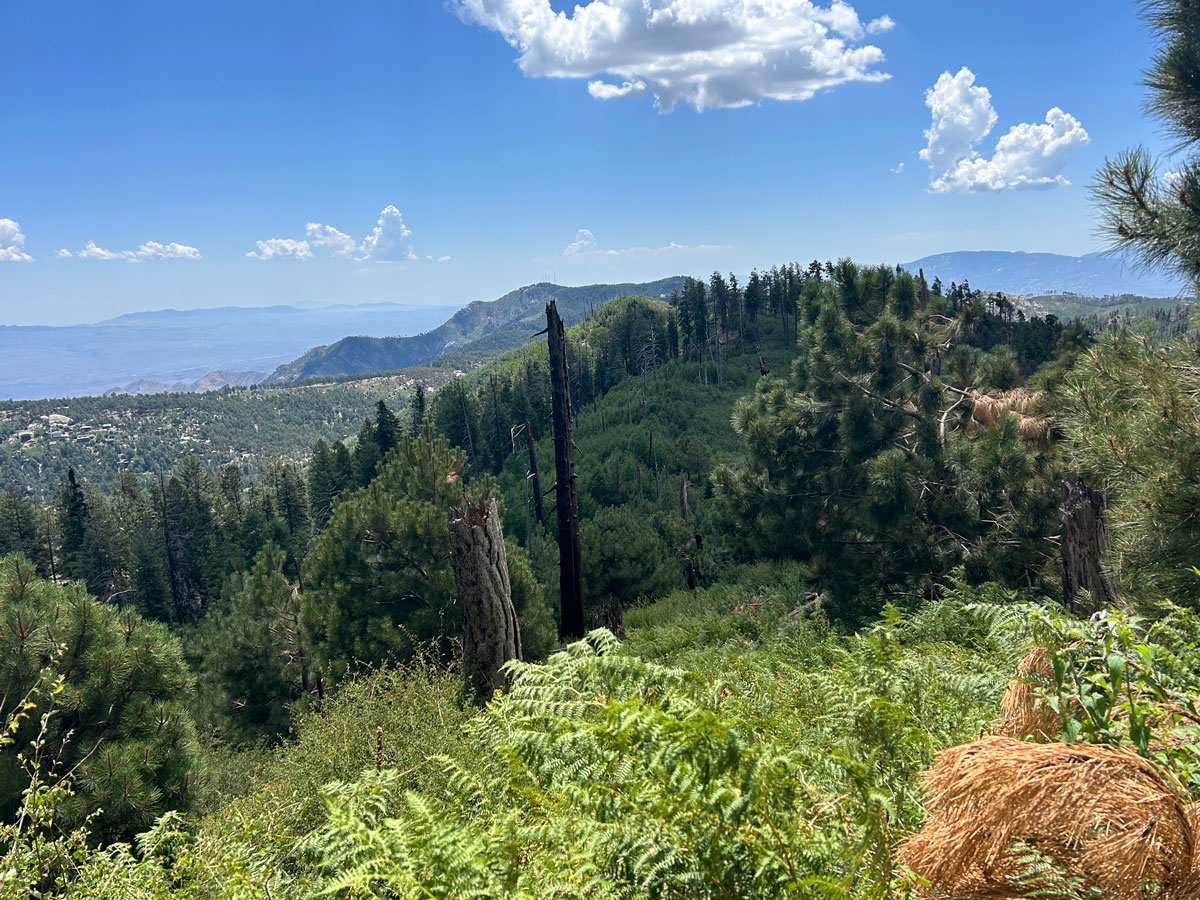 TRAIL STATS
Mileage: 10.4
Elevation gain: 3078 feet
Time to complete: 6-8 hours
Stars: ★★★★½
Good trail, steep, off-trail to pools
When it's sizzling hot in the valley, it's still nice and cool at the summit of Mount Lemmon. The Lemmon Loop takes you through the verdant oasis of Marshall Gulch, up to the summit of Mount Lemmon, and through the Wilderness of Rocks with its interesting rock formations. The extra adventurous can take an off trail detour to Lemmon Pools.
---
Trail Description
To get to the Marshall Gulch Trailhead, you'll wind your way 25 miles up the scenic Catalina Highway past the quaint little town of Summerhaven. The trailhead parking lot is fairly small, so if it's a warm weekend, plan to arrive plenty early. You can park down the road a ways if parking is full and you're willing to tack on a little more distance.
Marshall Gulch
Even if you only go to Marshall Gulch, your time will be well spent. Arizona was deep in a record heat wave when we went, and there was still a little water flowing next to this trail. It almost made me forget it was summer.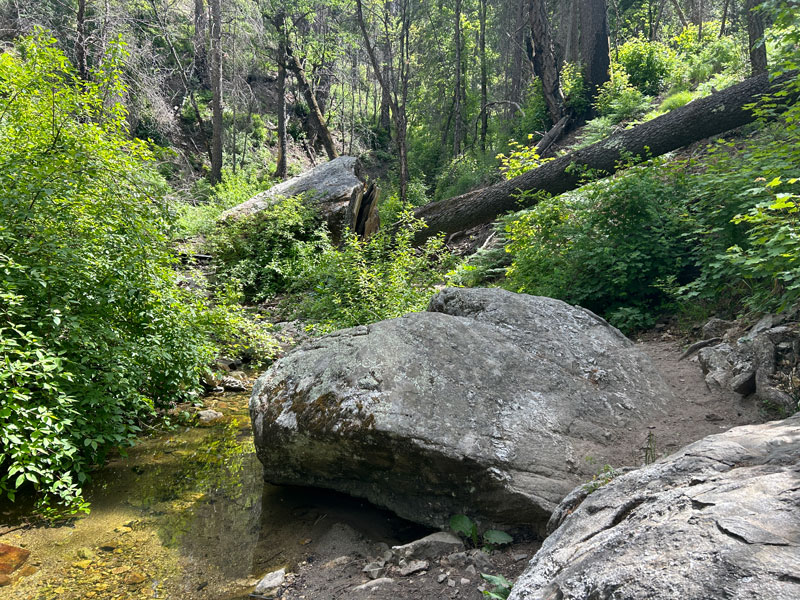 After about a mile along the creek, the trail climbs up to a saddle where you'll intersect with the Aspen Trail. For this loop, you'll want to turn right toward the mountain, though if you're not feeling up to a hard hike, or the clouds are rolling in, or you don't have much water, or it's just too freakin' hot, you can always make a left and do the Marshall Gulch Aspen Loop instead.
Aspen Trail
Soon after leaving the saddle, you'll be able to see the antennas on the mountain ahead. There are plenty of switchbacks and some shade, but fire damage took out a lot of the trees, so be prepared to sweat a little in the sunshine.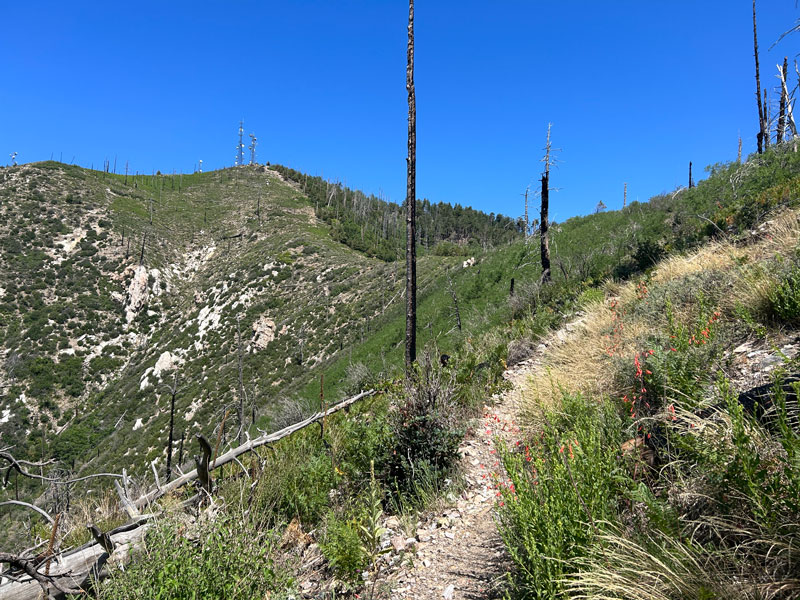 It looks pretty close, but for whatever reason, it felt like the switchbacks would never end and we'd just be wandering back and forth for days. And that's not as much fun if you're hungry because you saved your lunch for the summit. Also, that one really big fallen log near the top is gonna take your last bit of energy.
We were totally fine.
Mount Lemmon Summit
Okay, so it's not exactly the summit. It's Radio Ridge near the summit, but it's pretty darn close, and the views are magnificent.
You'll also see the top of the ski lift for Mount Lemmon Ski Valley, which happens to be the southernmost ski area in the continental United States.
And a road. I know, right? You could have just driven up there, but where's the fun in that?
Continuing on the trail, you'll pass a parking lot, restrooms, a random roll of carpet (?), and a cool rocky outcropping for taking a photo that would have been way prettier if not for that road. Roads bring vandals, and vandals bring spray paint. This is why we can't have nice things.
Lemmon Rock Lookout
Once you connect up with the Lemmon Rock Lookout Trail, which is a Forest Service road at that point, you'll follow it down to a little junction where you can visit the Lemmon Rock Lookout Tower. Fun fact: It's the oldest fire tower in the forest still in use today. Yep, I read the plaque. It also has a sweet outdoor shower that seems fun.
Go back to the little junction to continue your hike down the Lemmon Rock Lookout Trail.
Lemmon Rock Lookout Trail
This trail takes you down lots of switchbacks through an area with a lot of large boulders and strange formations. We couldn't help but climb a few.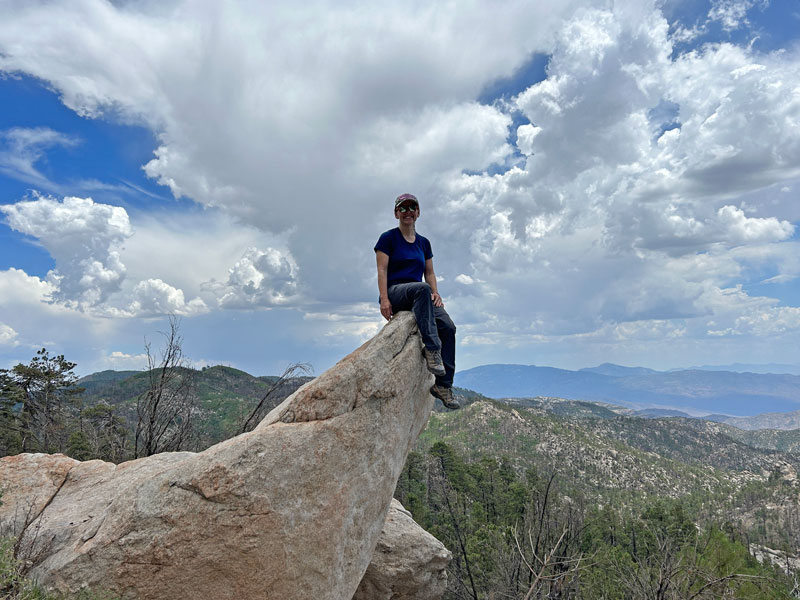 The rocks in this area are SO AMAZING. If it's sunny outside, they glitter like silver in the sunlight, but somehow this cool effect did not show up on video.
Wilderness of Rocks Trail
Once you've done most of the descent, you'll intersect with the Wilderness of Rocks Trail. Right at the junction, there are a couple sweet campsites with trees, fire rings, and one even has a big boulder that could be used as a table.
If you're going to Lemmon Pools, you'll make a right onto this trail and then find a use trail that leads down to the pools. Or, if you'd rather just get back to the car, you'll make a left.
Lemmon Pools
According to a local that we met on the trail, people don't want others to find Lemmon Pools, so I had a dilemma on my hands about whether to even mention them. He talked them up like it was going to be a paradise with a waterfall and cliff jumping. We found neither, but maybe we just came at the wrong time? Still, we had to get in with the tadpoles and water skippers because YOLO.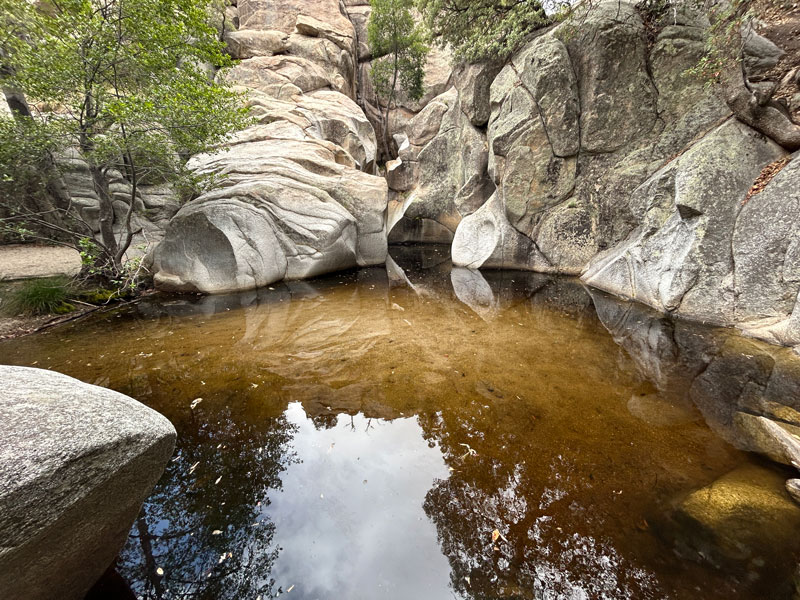 So, I didn't think they were all that special, and I would be really surprised if very many people would hike 8 miles to get to them. We've had better. Waaaaaaaaay better.
Your little oasis is safe.
The Return
All that's left is to retrace your steps back onto the Wilderness of Rocks Trail and follow that back to the saddle where you'll reconnect with Marshall Gulch.
Now if you finished early enough to visit the Cookie Cabin on the way back through Summerhaven, let me know how it is in the comments below. I'm still dreaming about it.
Camping
There are a couple great campsites near the junction of Wilderness of Rocks Trail and Lemmon Rock Lookout Trail, marked as 1 and 2 on the map. Plenty of shade, plenty of space, and fire rings, too. I marked another possible campsite on the Wilderness of Rocks Trail, but it's not as good. There's a nice one near Lemmon Pools as well.
---
Map & Directions
Location Marshall Gulch, Coronado National Forest, Summerhaven, Arizona
Take the highway up Mount Lemmon past Summerhaven, and if you can manage to stay on that road, it'll end at Marshall Gulch. I call it "the highway" because I'm not sure if it's the Catalina Highway, Mount Lemmon Highway, General Hitchcock Highway, or all of the above. The last stretch of road up to the trailhead is closed December 15 – March 1.
Fees/Passes You can pay the day use fee using the envelopes at the trailhead or just display your America the Beautiful Pass.
Trailhead Facilities Pit toilets
Preview this Hike
---