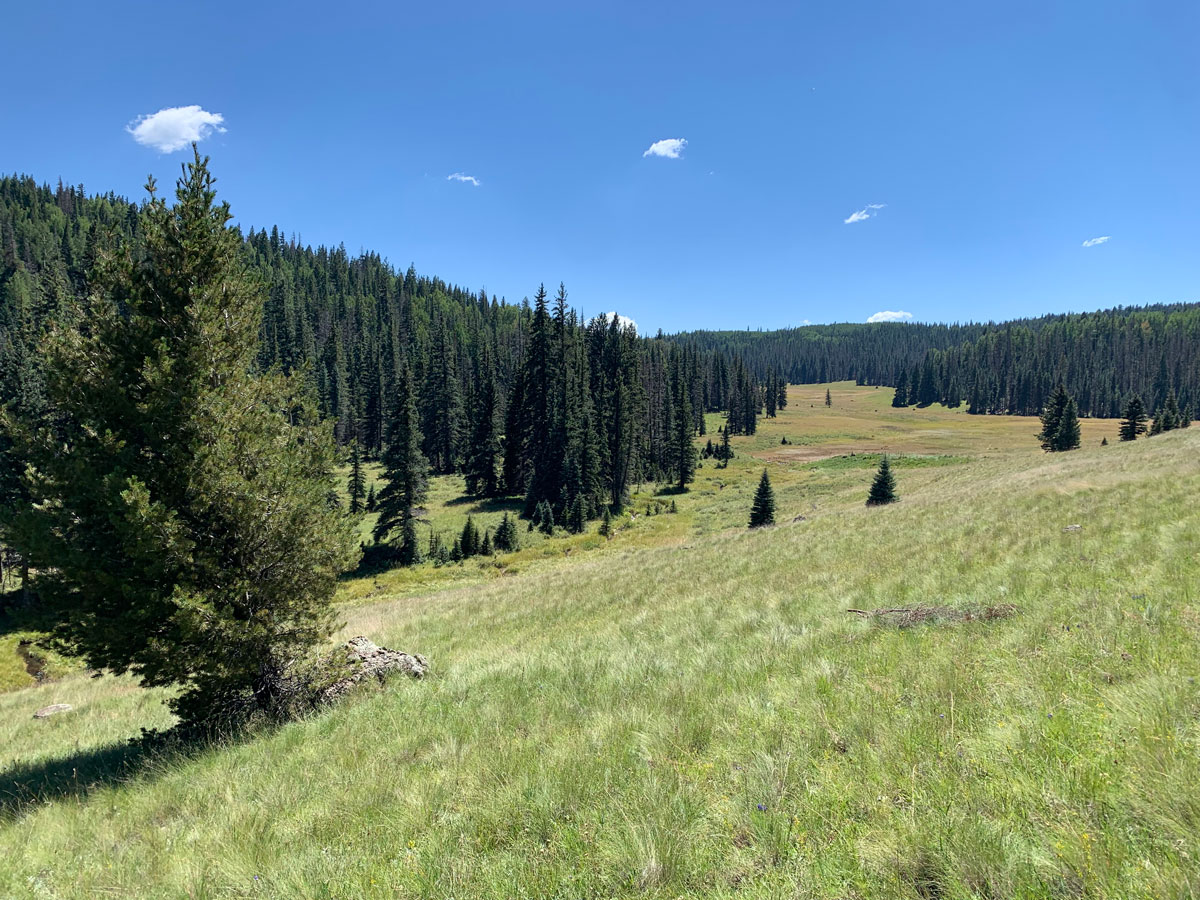 TRAIL STATS
Mileage: 18.1
Elevation gain: 2793 feet
Time to complete: 1-2 days
Stars: ★★★★
High altitude, moderate grade, difficult day hike
Mount Baldy Loop in east central Arizona showcases the incredible diversity to be found in Arizona. You'll follow the two forks of the Little Colorado River headwaters as they meander through sprawling meadows dotted with wildflowers and thick stands of fir and spruce. It's a kaleidoscope of infinite shades of green, set against a crystal blue sky, and punctuated with the occasional rocky volcanic outcropping. If you don't want to do the whole loop, you can hike one trail out and back or hike to a nice rocky overlook along the East Baldy Trail.
The summit of Mount Baldy is located on the Fort Apache Indian Reservation, and as such, you must obtain permission from the White Mountain Apache tribe to go to the summit. Out of respect for their beliefs and to avoid trespassing on their land, we did not go to the summit. However, since the loop comes within 200 feet of the elevation of Mount Baldy and features plenty of great overlooks, we didn't feel like we missed out on anything. Read more about the cultural significance of this mountain on the Forest Service website.
---
Trail Description
There are two trailheads where you can begin this loop:
East Baldy Trailhead is slightly shorter overall, and the East Baldy Trail seems to have more camping options on the way to the high point. It also has an awesome rocky overlook part way up, so families looking for a good stopping point can make this a destination.
West Baldy Trailhead is slightly longer and features more expansive meadows. If you'd just like to walk along the river and enjoy the views from within the meadows, this is your option.
We chose West Baldy Trailhead, but if you are planning to do the entire loop, you'll see most of both trails anyway, so it doesn't matter that much.
Crossover Trail
From past experiences, I know that I like to get the connector trails out of the way at the beginning of my trip when I can. We decided to hike clockwise, so we started on the West Baldy Trail and turned left onto the Crossover Trail to get to the East Baldy Trail.
The trail has some ups and downs, but not much elevation gain overall, as it makes its way through forested areas that soon give way to meadows. It's a theme this trip. Meadows. So many beautiful meadows!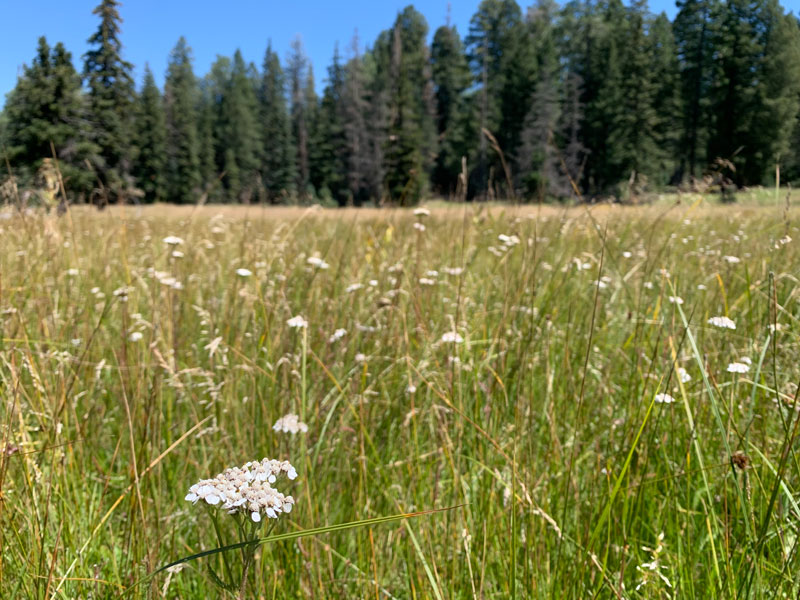 It's a nice trail as far as connector trails go, but there aren't really any good campsites along this section, so plan to camp before or after.
East Baldy Trail #95
This gets a little confusing. If you start at the East Baldy Trailhead, you'll actually take a short connector trail that intersects with the Crossover Trail. From there, you'll turn left onto the Crossover Trail to get to East Baldy Trail.
Just keep walking. The East Baldy Trail, which originates at the Gabaldon horse campground, will come in from the left at a river crossing, and it's possible you won't even notice it as the trails merge and begin heading toward Mount Baldy. Did I lose anyone? No! Okay, let's go!
You'll never guess what's next. A meadow!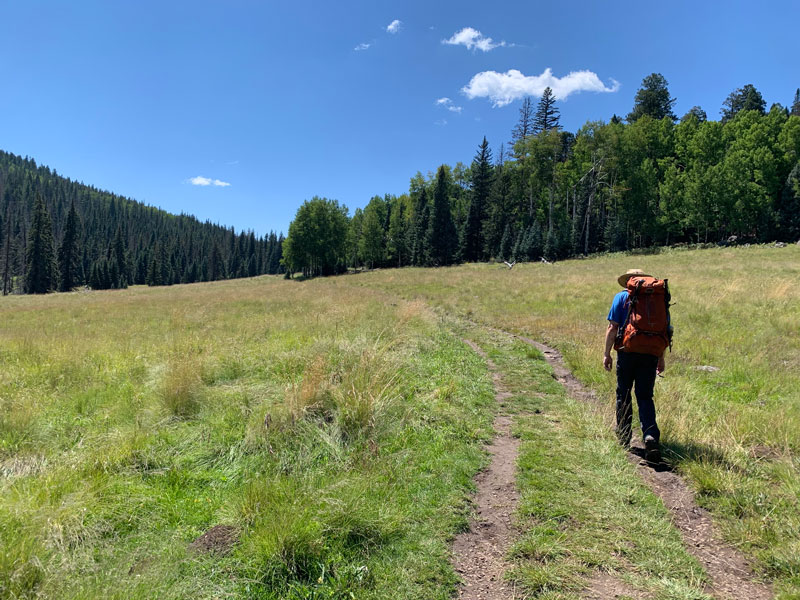 Just soak it up. Soak it all up! Take in the vast expanse before you because soon enough you'll be in the intimacy of the trees.
Just when you think it's all trees and meadows, you'll catch a glimpse of something that doesn't seem to belong. Rocky giants rising out of the earth, standing watch over the valley below. It's a hint at the forces of nature that formed this place, and I felt for a moment that I could understand why someone might consider it holy.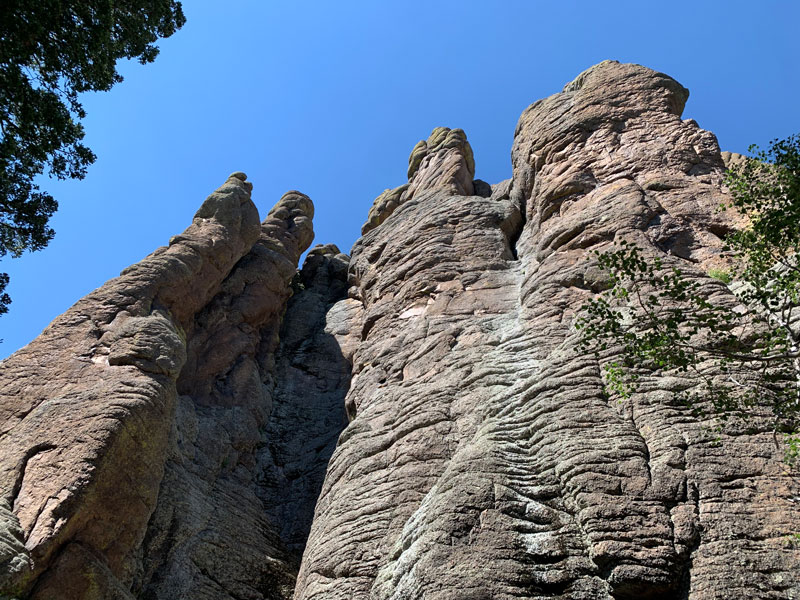 Rocky Overlook
This also means you're almost to an awesome rocky overlook that many families with smaller kids will use as their final destination.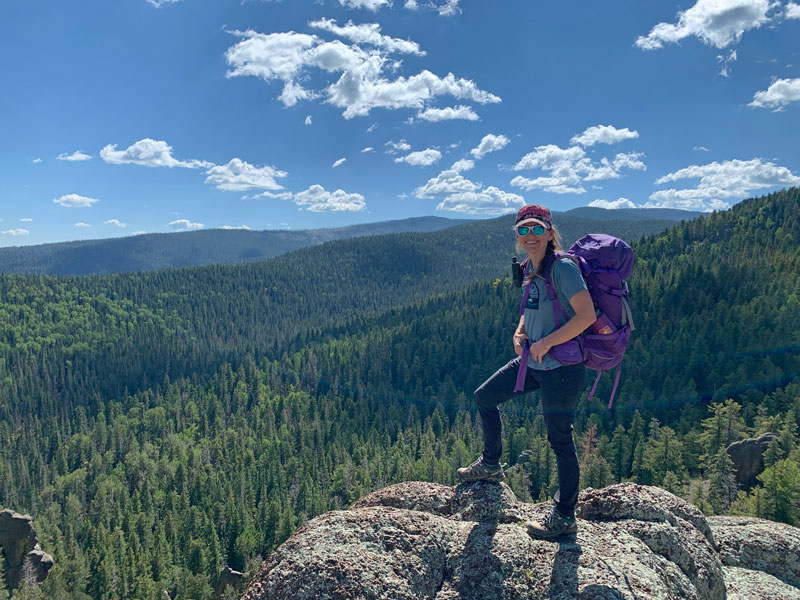 The next section of the trail is more rocky terrain with a lot of sunshine, but eventually, you'll come to a flatter section with a lot of downed trees.
And a haunted campsite.
Say what?
Haunted Campsite
Yeah, so Russ was exhausted and got himself comfortable at the first place that looked like a viable campsite. Meanwhile, I went exploring around the area when I saw what looked like a tent behind the trees. Not wanting to disturb anyone, I got a better angle to see if I could figure out just what I was looking at, and it became clear that the tent was collapsed.
"Russ?"
He did not want to get up, but he also knew that there was no way I was sleeping that night unless he investigated. He went ahead and disturbed the spirits by looking through the tent at all the abandoned gear. I backed up in case a human skull rolled out.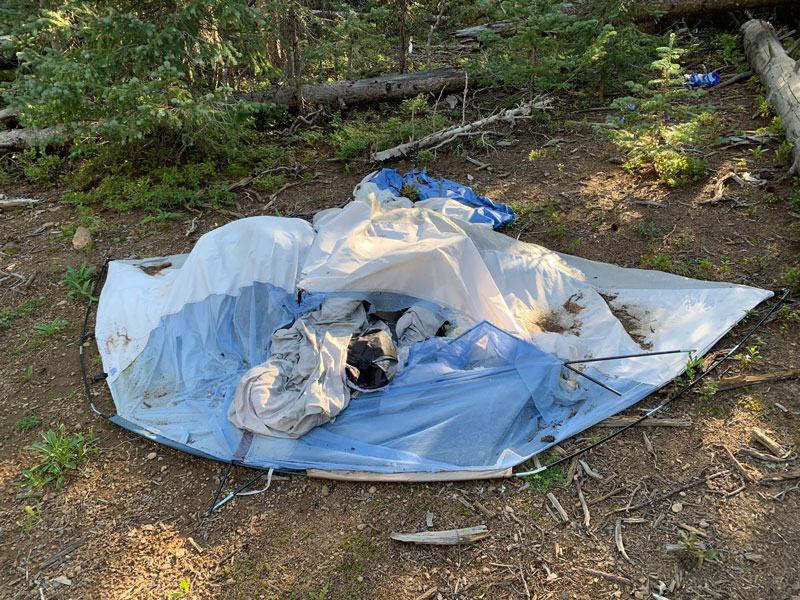 But it was also an awesome campsite, so we pitched our tent there instead and braved the ghosts. I did hear voices around 8pm, so. . . you be the judge.
Viewpoint 1
Continuing on from the flat area, you'll begin to travel uphill again as you make your way along the flank of Mount Thomas. Just before you pass along the west side of Mount Thomas, you'll see a hill to the right with an obvious use trail to the top. Take it. Yes, take it! You're not in that much of a hurry, are you?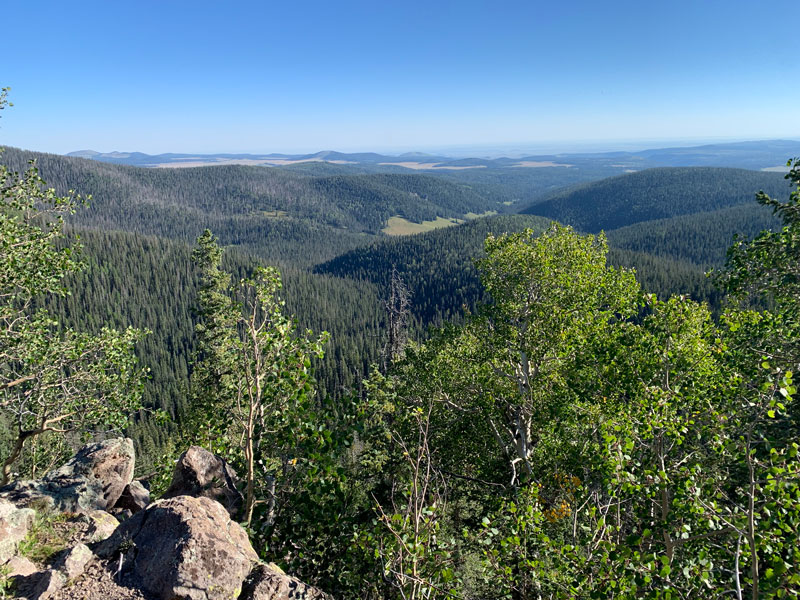 The Spring
The Mount Baldy Loop is blessed with a lot of water from the east and west forks of the Little Colorado River, but in the upper reaches of the loop, water can be hard to come by. Thankfully, there is a good spring near the end of the East Baldy Trail.
You literally can't miss it. I missed it, but nobody else will. I was looking for it where the topographical map showed it, so I left the trail too early to search. Turns out if you just keep walking along the trail, you will see where the spring crosses the trail. It has a pipe and everything. Impossible to miss.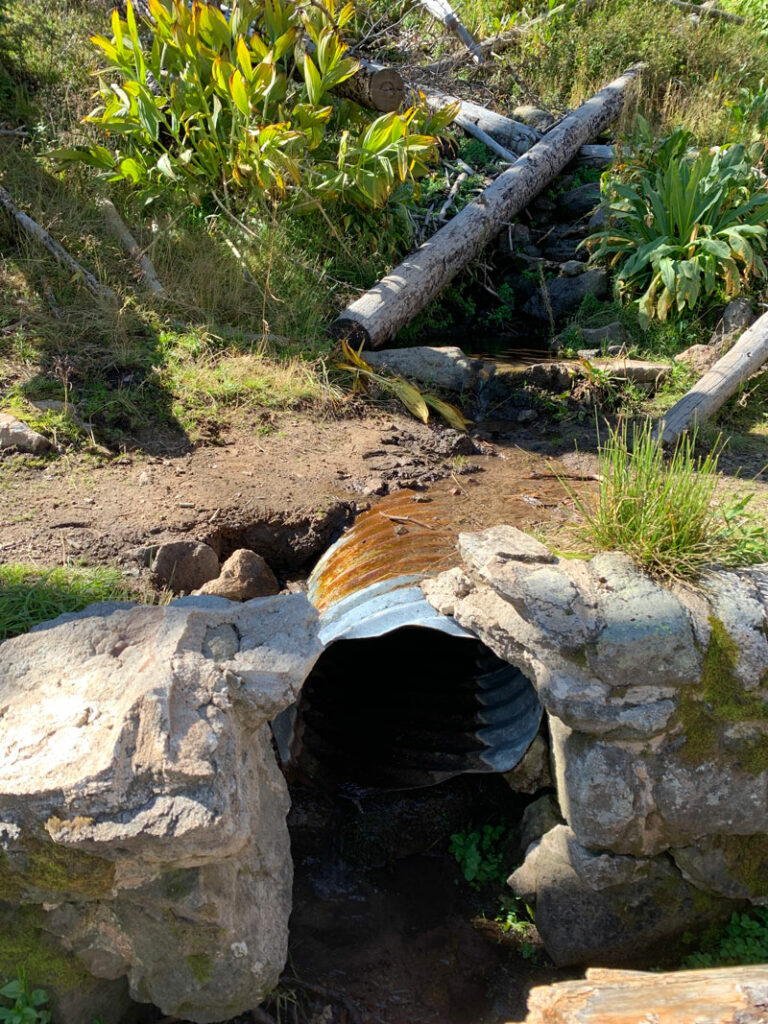 The water we filtered here tasted like dirt, but God made dirt, right? He also made scorpions, but whatever. A little flavor enhancer goes a long way.
West Baldy Trail #94
I'm not sure where the West Baldy Trail officially begins, but you will come to a sign that points to the West Baldy Trailhead and gives a distance of 8 miles. Congratulations! This is the highest point on the trail at around 11,200 feet.
From here, you'll begin descending at a pretty good pace until you eventually reach the meadows again. Because of the steep slope of the mountain, there aren't any good flat spots along this section for camping.
Viewpoint 2
Much to my husband's dismay, I'm a sucker for viewpoints! Any time I see some rocky outcropping that might yield a view, I'm willing to put in the extra effort to get there. Unfortunately for him, when I see a cool photo op there, I also ask him in the nicest way possible if he can come up there with me to take a photo.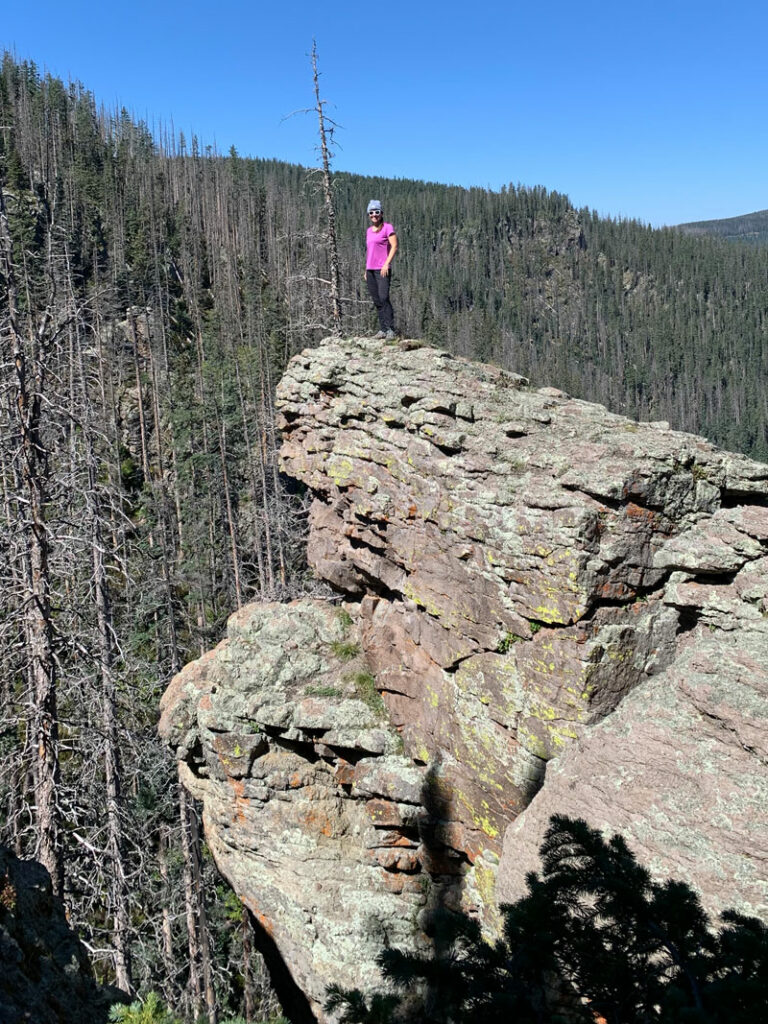 See why I just couldn't resist?
More Meadows!
I'll admit it. The meadows captivate me! The West Baldy Trail has even more and bigger meadows than the other side, and it looked like there were a couple spots where you could camp in the middle. We didn't investigate these spots (marked as Baldy camp 11 and camp 12 on the map), so we aren't sure how to get to them, but we saw some tents down there.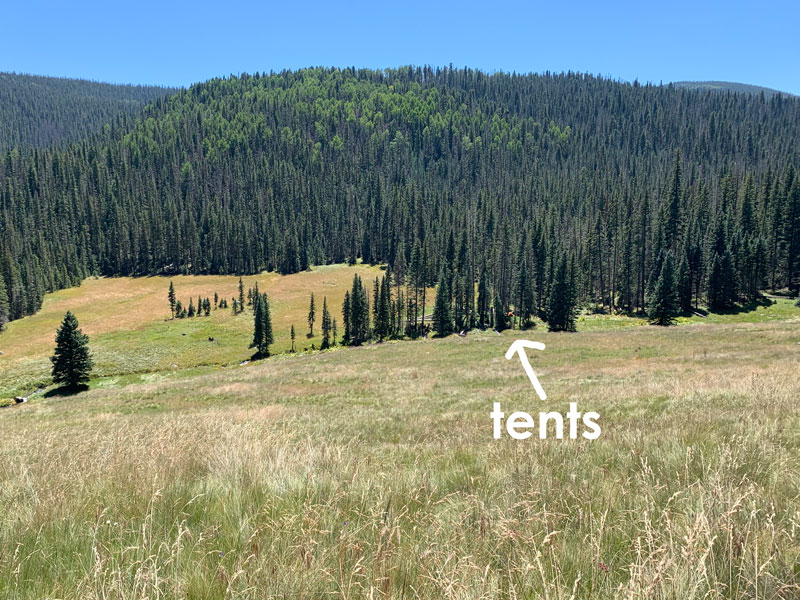 I'd be lying if I said I wasn't a little jealous.
Luckily the trail goes out into a huge glorious meadow, and you just walk and walk and walk through the tall grass. Go ahead, put your hands out and let it brush by you. Be in the moment and feel it.
When the trail gets closer to the west fork of the Little Colorado River, you are getting near to the end of the West Baldy Trail.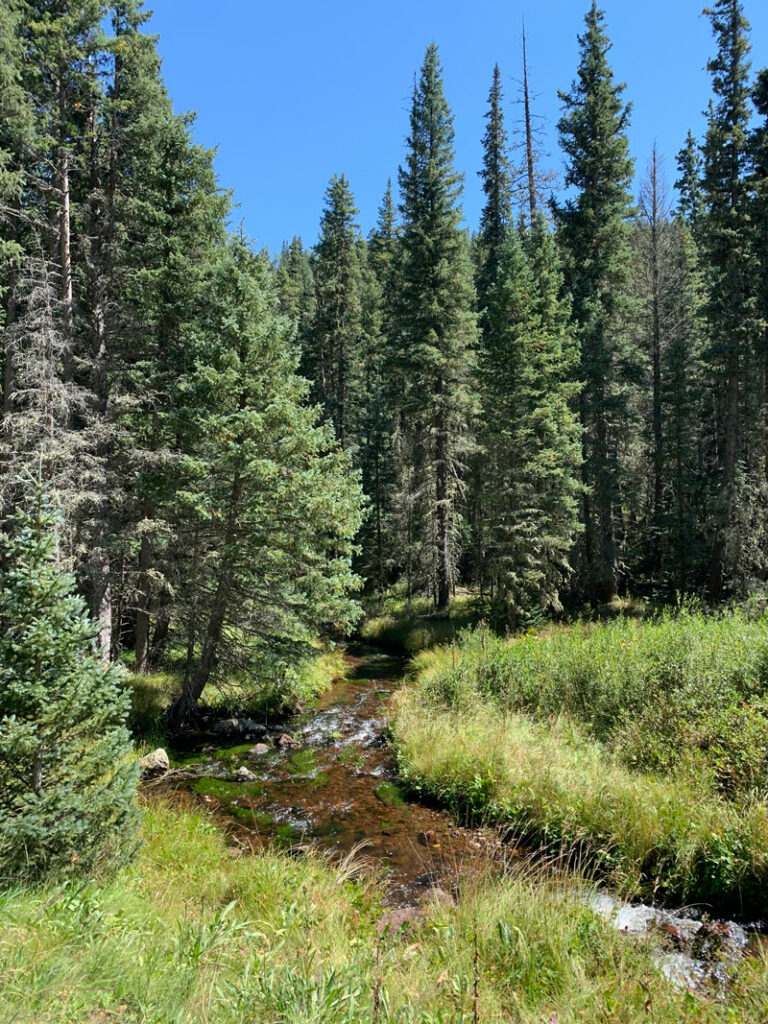 I kept saying it was as pretty as a picture, but it was truly prettier than any picture, so I gave up trying to capture it. I can't even see the sun glittering on the water or the waves of grass as the breeze rushes past.
It's just something you've got to go see for yourself.
Camping the Night Before
Since the Mount Baldy Wilderness is about a four hour drive from the Phoenix area, a lot of people might want to drive up the night before they start the hike. The parking lots are labeled as day use only, so you won't be able to camp in the parking lot itself, and you'll need to have a plan.
Winn Campground
Across highway 273 from the trailheads is the Winn Campground with at least 63 developed campsites that have picnic tables and fire rings. There are also toilets. Some of the sites can be reserved on Recreation.gov, but others are first come, first served, and you will pay a fee to the campground host. The turn off for this campground is well-marked and located between the East and West Baldy Trailheads.
Forest Roads
There are some forest roads nearby. Just north of the turn off for West Baldy Trail is Forest Road 112 on the east side of the highway. From the road, we could see campers in the forested areas away from the road.
Meadow
We have seen people camp in the meadow close to the East Baldy Trailhead.
---
Map & Directions
Location Mount Baldy Wilderness, White Mountains, Show Low, Arizona
From Show Low, take Highway 260 east toward Springerville. Turn right onto Highway 273 toward the Sunrise Ski Area and continue to the signed turn for the West Baldy Trailhead or East Baldy Trailhead
Fees/Passes None, but permission is required from the White Mountain Apache Tribe to summit Mount Baldy (this guide does not go to the summit)
Trailhead Facilities Pit toilets available at the West Baldy Trailhead
Preview this Hike
---