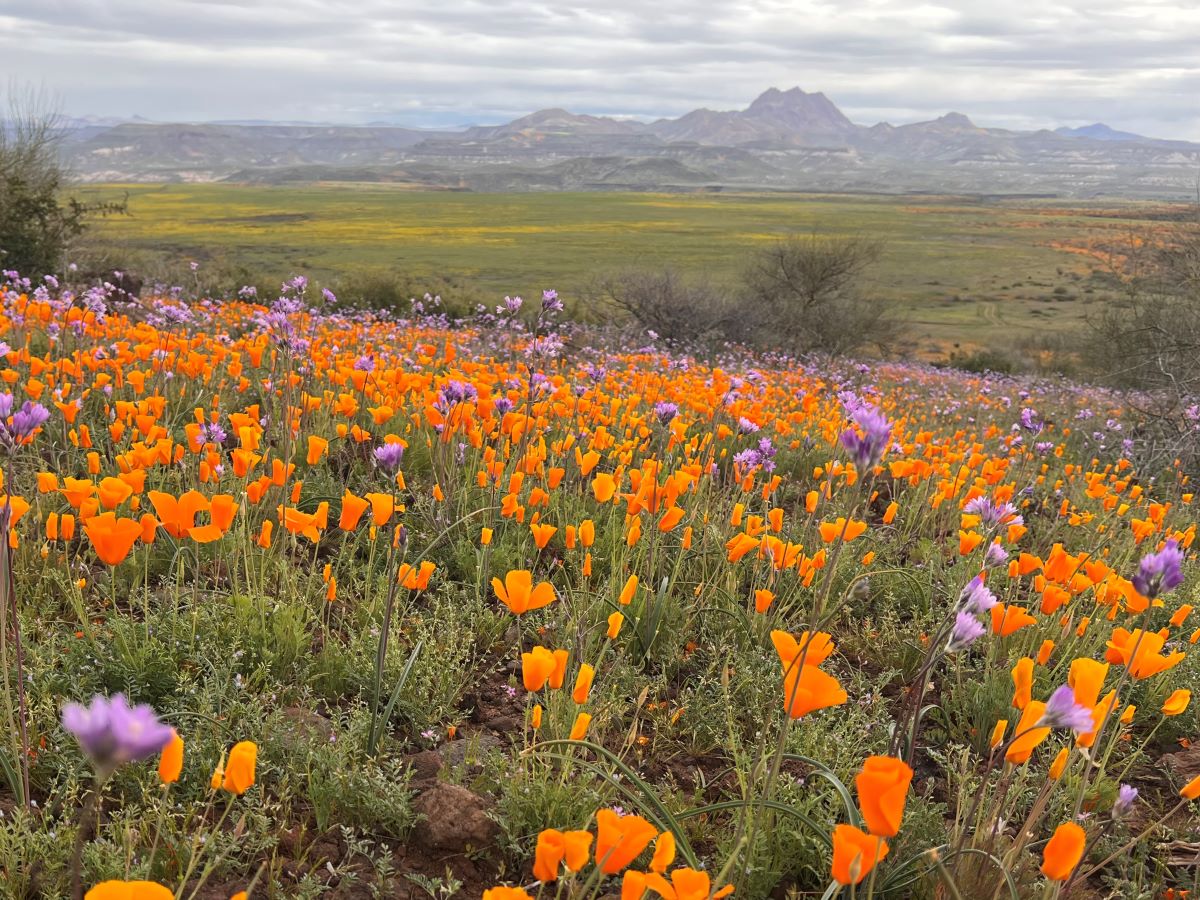 TRAIL STATS
Mileage: .1
Elevation gain: 0 feet
Time to complete: 1-3 hours
Stars: ★★★★★
This is mostly a drive, and you can wander around as much as you want
More of a drive than a hike, Peridot Mesa is famous for being one of, if not the single best place in Arizona to spot a wildflower superbloom. After a wet winter, there are hills and hills, and fields and fields, and miles and miles of the most incredible wildflower displays these eyes have ever seen. So if wildflowers are your jam, here's a little info to guide you there.
---
Trail Description
**Peridot Mesa is on tribal land, and you need to obtain a permit from the tribe to visit.**
Obtaining a Permit
If you're headed south out of Globe on Hwy 70, keep an eye out for mile marker 268. Just a little after that mile marker, there will be an unmarked dirt road on your left. This is your road. But FIRST, you need to drive right on past it for exactly 4 miles to the San Carlos Apache Wildlife and Recreation Office to grab your permit. You'll pass Noline's Country Store on your right, and the permit office is just after that on your left. Just a heads up here: pack your patience, have your drivers license ready, and they only accept credit cards. ($10.40 with tax) Their hours when I was there were 6am-6pm Monday-Saturday, and 8am-noon on Sunday. While you're waiting in line, go ahead and admire all the massive trophy elk mounts they have on display. They're impressive!
THIS IS CURRENTLY THE ONLY PLACE TO GET A PERMIT.
Please be respectful and honest. Don't poach this special place.
Peridot Mesa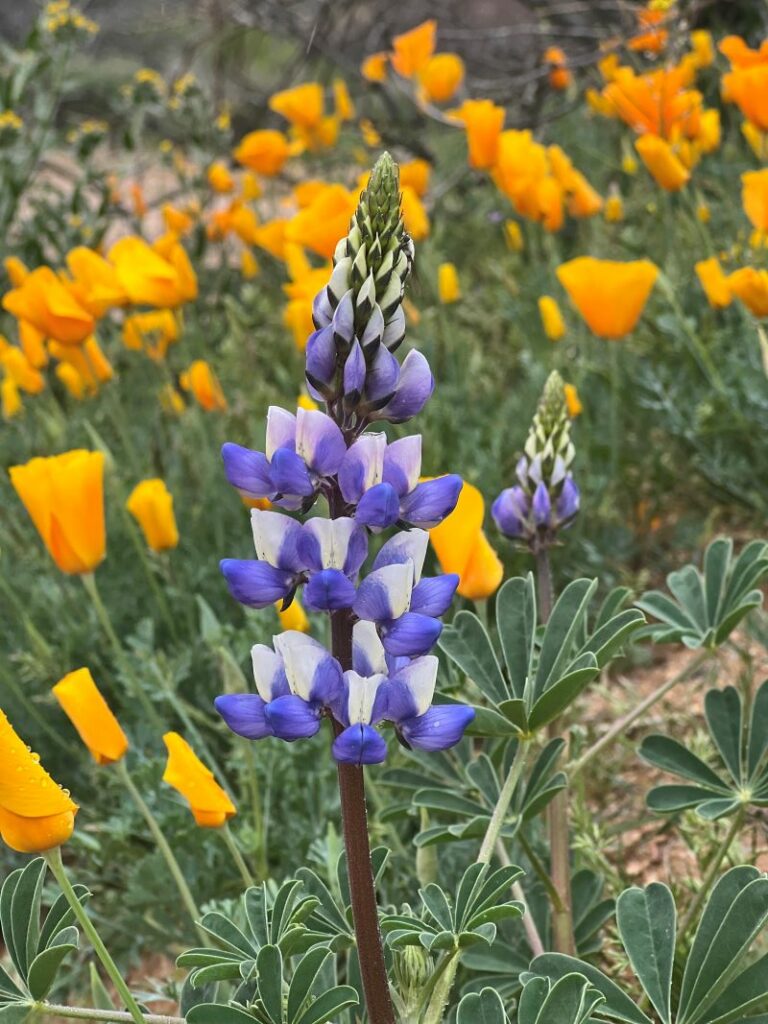 After you have your permit, head back north to your unmarked dirt road. It will be a right turn from this direction, just after mile marker 269.
Immediately after you turn, you'll see a sign alerting you to the fact that you need a permit. Good thing you got that done!
And here's where the fun begins. There are many dirt roads, many off-shoot dirt roads, many more "technical" dirt roads, many turnouts, and many social trails. Most of the roads were easily passable in a passenger car.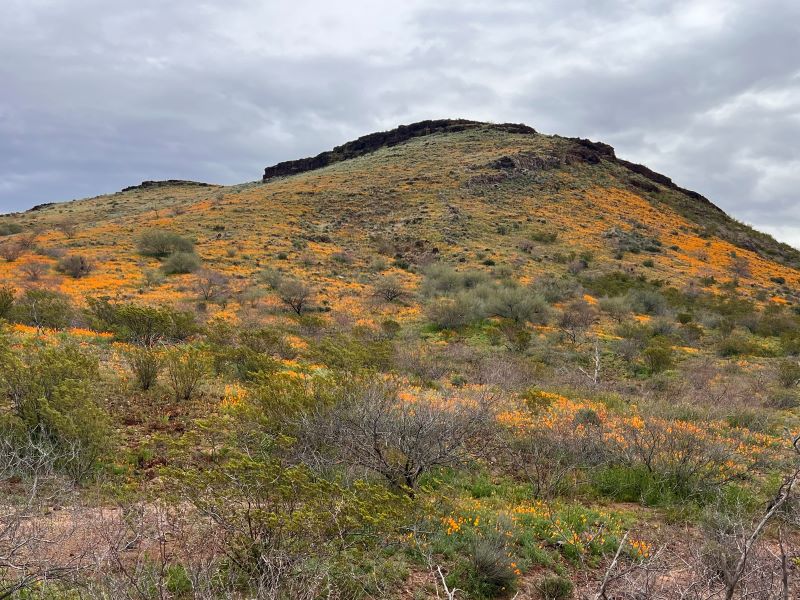 Go where your heart takes you. Or go where the flowers look the fullest. Or go where there's the least people. (We only saw 2 other cars when we went, but it was pretty early in the season and it was a little rainy.) Get out and wander around. Take ALLLL the pictures and videos. Get back in your car and repeat. Take your time. Soak in this super special place. Please tread lightly, and stick to established trails whenever possible.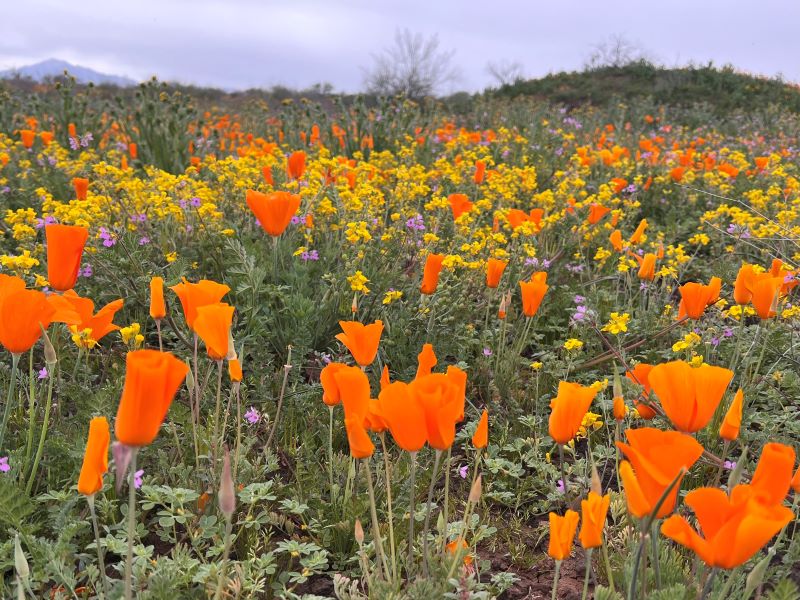 Flowers
While the poppies are definitely the star of this particular show, they aren't the only wildflower players. At the top of the mesa, the desert globemallows were just getting ready to burst. The really beautiful magenta purple owl's clover were all over the lower parts. Mixed in were plenty of purple lupine and bluedicks lilies. We also saw a few desert chicory and scorpion weed.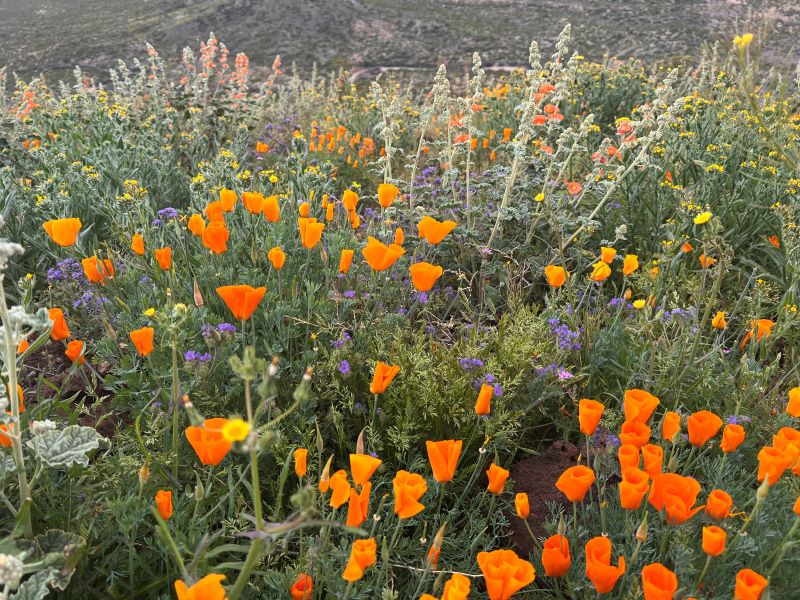 And we can't forget the MASSIVE field of tiny yellow flowers! So beautiful. I almost died of literal beauty. I was geeking out at every turn while my 12 year old acted completely and utterly unimpressed. Until….
We saw the natural peridot. Which happens to also be her birthstone. We found a few tiny pieces to take pictures of, but remember: leave no trace. Which means, take nothing and leave nothing.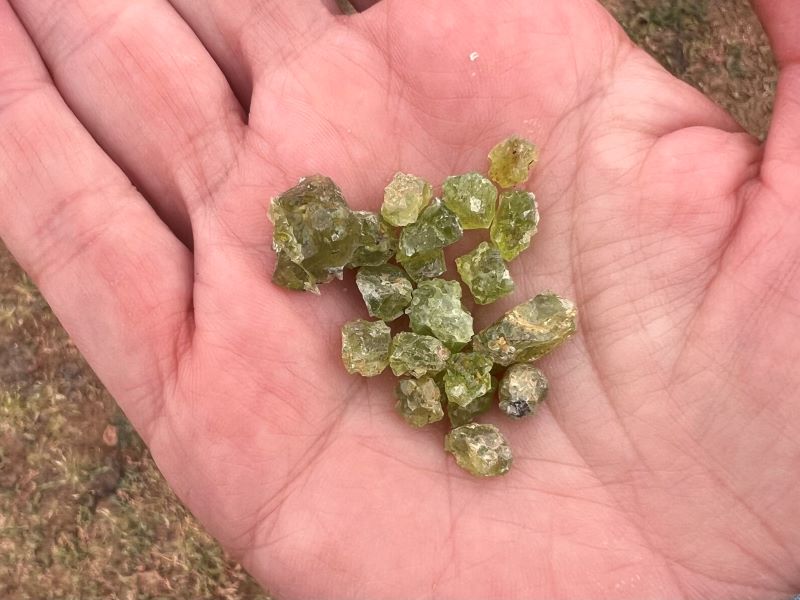 Peridot Mesa doesn't bloom like this every year. Not even close. But with all the constant, incessant rain we have received this winter, 2023 is a unicorn year for wildflowers. And we're here for it. We're here for alllll of it.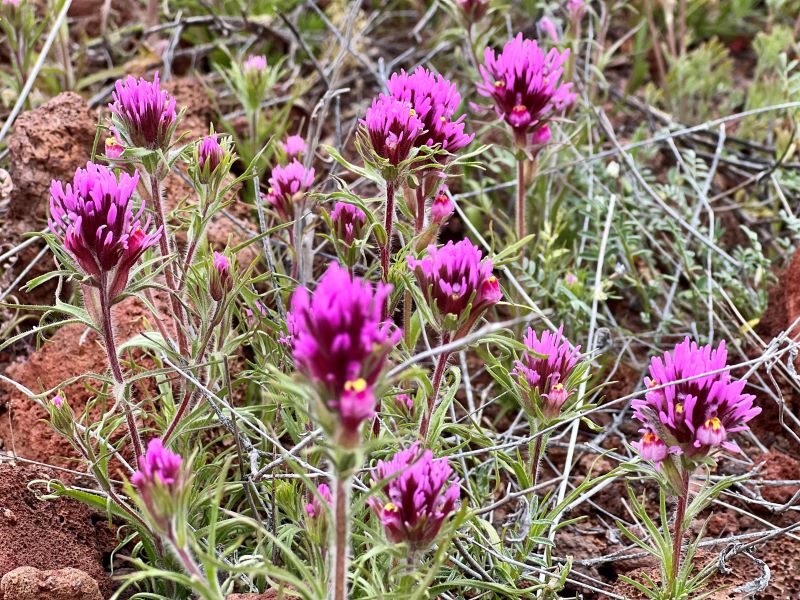 ---
Map & Directions
Location San Carlos Apache Reservation, Peridot, Arizona
Take Highway 60 out of Phoenix to Globe. Highway 60 turns into Highway 70 just after Globe. Take Highway 70 to Peridot and the San Carlos Recreation and Wildlife Office for your permit. Then go back toward Globe to just past mile marker 269 to an unmarked dirt road on your right.
Fees/Passes Permit Required
Trailhead Facilities None
Download KML or GPX
---