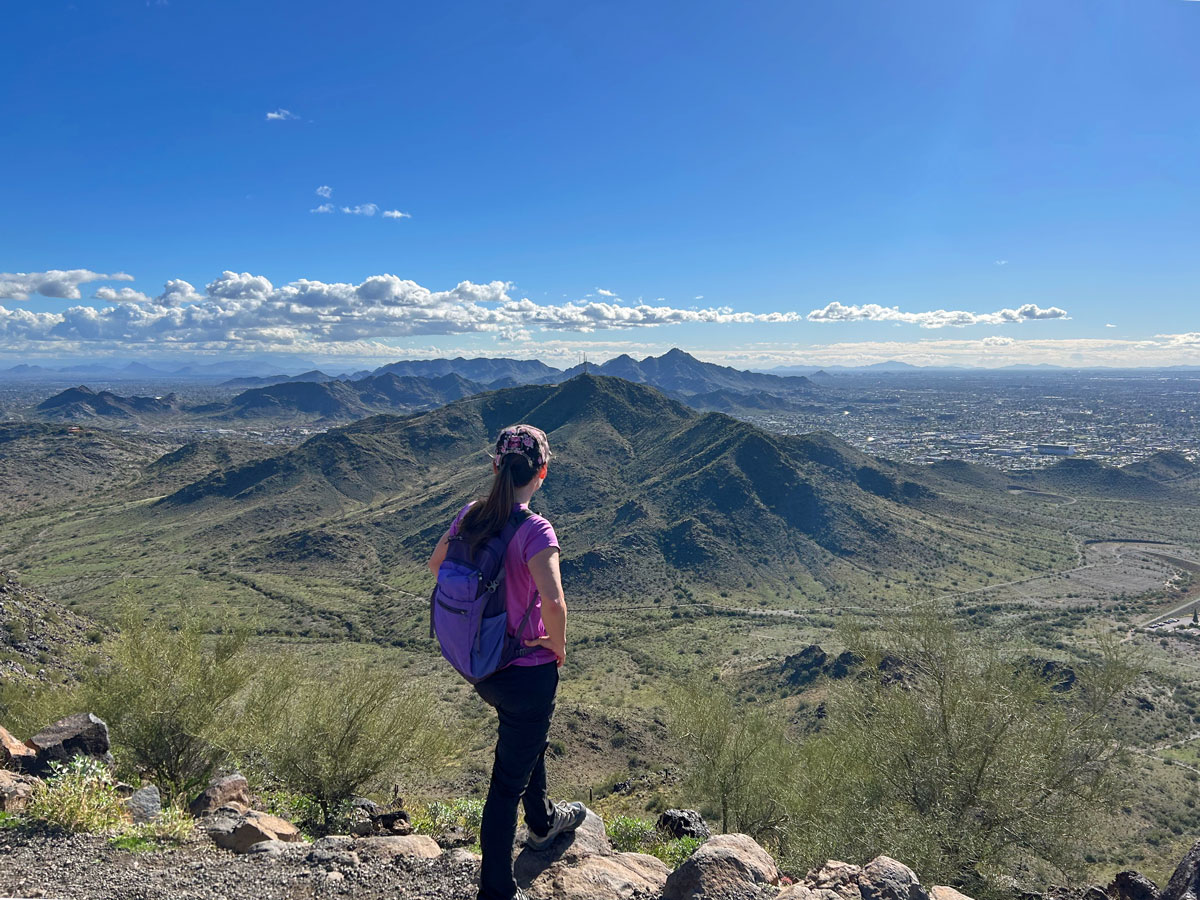 Shaw Butte and North Mountain Loop
TRAIL STATS
Mileage: 6.1
Elevation gain: 1907 feet
Time to complete: 3-4 hours
Stars: ★★★
Some steep sections
North Mountain Preserve is home to Shaw Butte and North Mountain, two popular hikes that can be combined into a loop when one just isn't enough. If you're looking for a wilderness experience, you're on the wrong page (check our Superstition Mountains trails for the best wilderness near Phoenix). There are city views, antennas on both mountains, a paved road up North Mountain, and many utility roads everywhere else. The views are nice, but our opinion is these mountains are only good for a convenient workout if you're in the area.
---
Trail Description
I can't help it, I like to bag peaks. So when I saw these on the map, I thought I could hit both on a loop, and maybe another one nearby to make it a triple header kind of day. Don't ever tell your friends that's your plan until they're in too deep to back out.
North Mountain National Trail
The trail starts from the Pima parking area at North Mountain Park. At first, it's a moderate trail, but we quickly learned that the route we chose is mostly a paved road. Ugh. Happy balloon popped. Had we known, we might have started on the other end of this trail, which offers a longer but unpaved route to the summit.
I have to say, I did enjoy the views on the way up, so there's that.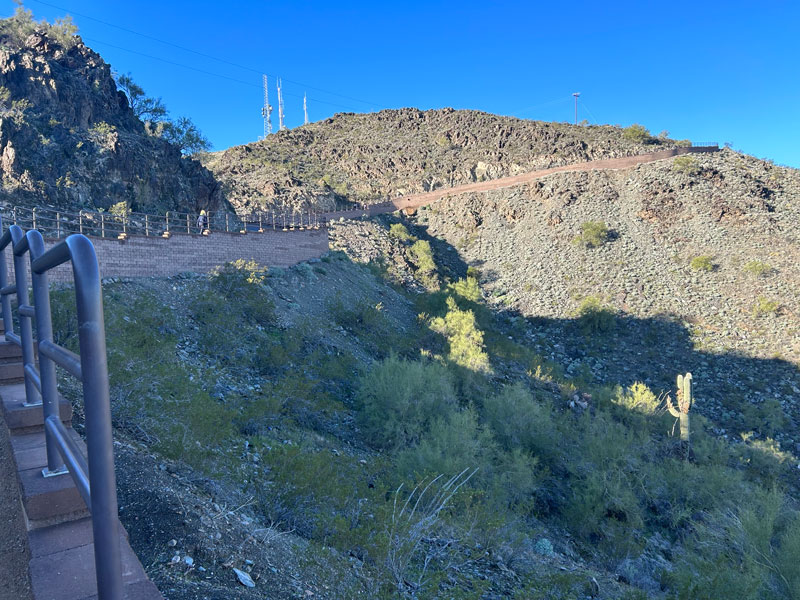 There is a nice viewpoint near the top to stop and enjoy the view, but I feel like you have to go up to the fence and high five the sign before you can really say you made it.
If you're just doing North Mountain, you can turn around and go back the way you came or continue on the unpaved portion of the North Mountain National Trail to make a loop. The fork is right before the high point.
But if you're doing the loop, you'll want to keep your eyes open for a trail that goes right up next to the fence and around the back side. We messed this up first try.
From there, head down a steep ridge.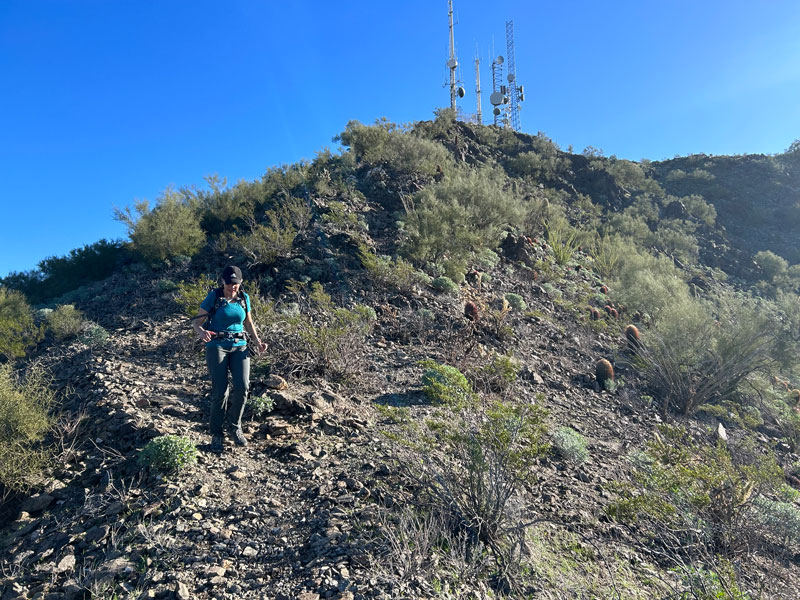 The trail eventually breaks off to the right and starts going down along the flank. We also messed this up first try.
Shaw Butte Trail #306
Soon you'll be down in the valley between North Mountain and Shaw Butte with lots of crisscrossing roads. You want Shaw Butte Trail 306, and once you find that, just stay on it. Sadly, it's also a road, though better because it's less "civilized" being dirt, but still a road.
And. . . well, there are towers, too. I do love my cell phone service, but the towers are an eyesore. Can't even make them look like weird, tall, extra dark green, and abnormally symmetrical cactuses that don't belong?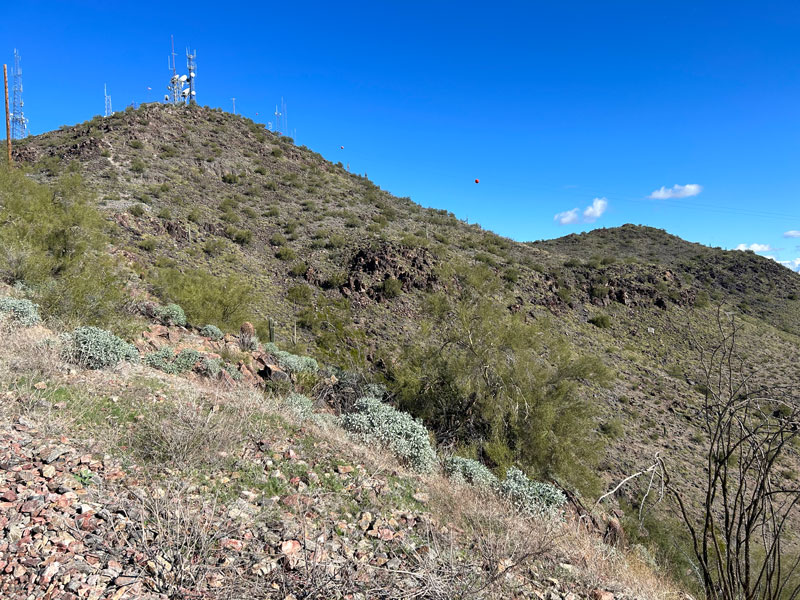 This part of the trail passes by the ruins of a restaurant called Cloud 9 that used to be there in the 1960s, but we totally missed it. Don't be like us. Look for it off to your right.
Shaw Butte Summit
There's a great viewing area near the top where you can get views of North Mountain and a reprieve from the city views (hint: it's the cover photo. . . scroll up.)
Come slightly back down and turn right on the road to continue along the ridgeline of Shaw Butte. It's a gentle grade with a little steep part near the end. There is a trailhead soon after you get down off the mountain that can be used if you just want to hike Shaw Butte.
But if you're doing the loop, swing around the mountain to the right and head back toward North Mountain.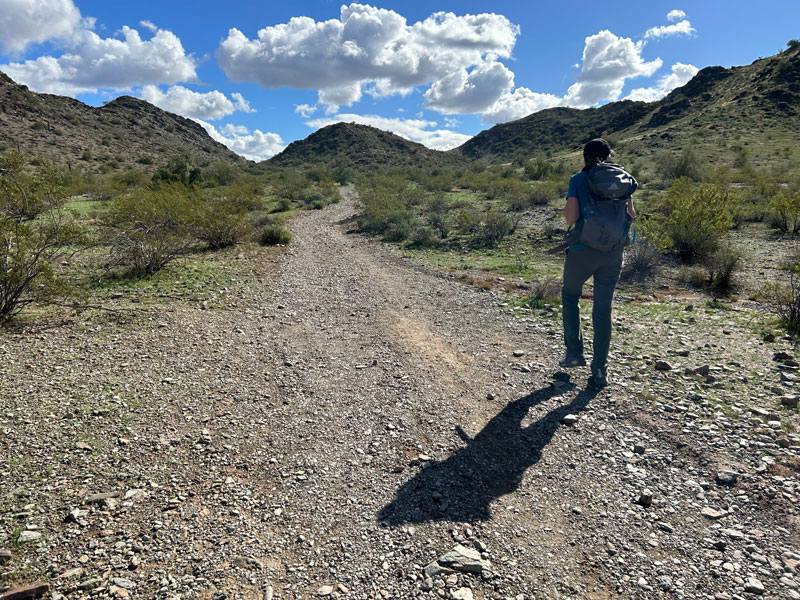 After a saddle, you'll come around the other side of the mountain and hike parallel to 7th Street until you come to a horrible realization.
Yep, you've got to get back on that paved road AND GO UP. I know, I didn't want to believe it either. But this time you don't have to go to the top, just back to the fork with the trail you came in on.
The bathrooms are across the park road from the parking lot. You're welcome.
North Mountain Only
If you only want to hike North Mountain, start at either end of the North Mountain National Trail and either hike up and back or make the loop, which includes walking along the park road back to your car.
1.7 mi (for the loop)
640 ft gain
Shaw Butte Only
If you only want to hike Shaw Butte, you have two options.
7th Street Trailhead (from the south)
3.0 mi
847 ft gain
Shaw Butte Trailhead (from the north)
3.2 mi
828 ft gain
---
Map & Directions
Location North Mountain Park, Phoenix, Arizona
From Route 51, take the Northern exit and go west. Turn right on 7th St and follow it up to Peoria Ave where you'll turn left into the North Mountain Park.
Fees/Passes None
Trailhead Facilities Restrooms and drinking fountains available
---