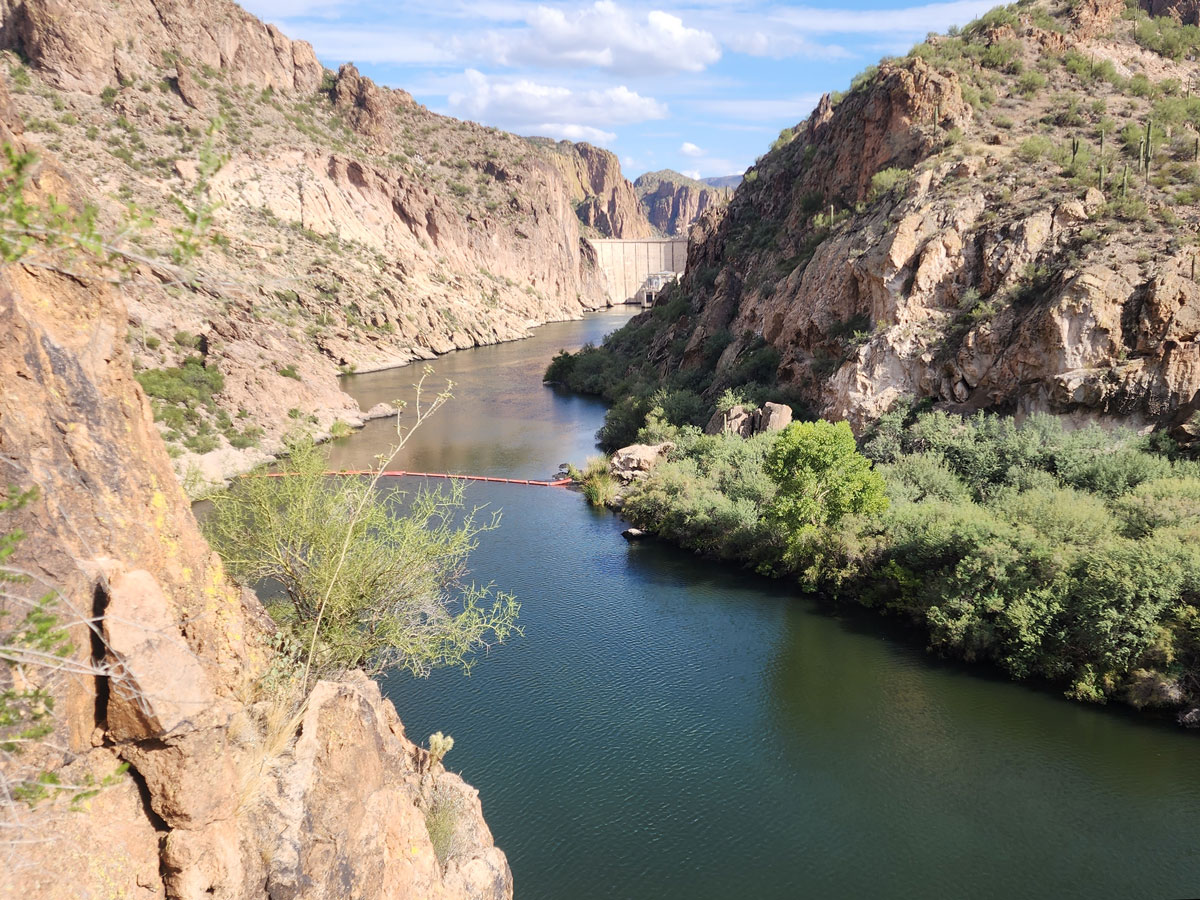 TRAIL STATS
Mileage: 1.9
Elevation gain: 795 feet
Time to complete: 4-6 hours
Stars: ★★★
Off trail, mega bushwhacking
The highlight of Splash Down Canyon is the 140-foot rappel into Saguaro Lake at the end, but the price of admission isn't cheap. To get there, you'll take a short packrafting trip across the very end of Saguaro Lake and then a short but rugged bushwhack of a hike up onto the canyon wall. The first couple rappels have awkward starts into shallow pools and are overall unremarkable, but let's be honest—you're probably going for the thrill at the end.
🪢 This is a technical canyon with four rappels up to 140 feet. You will need one 300-foot rope or one 200-foot rope and a 200-foot pull cord, plus all the required safety equipment for rappelling and knowledge how to use it. This guide is not intended to provide instruction on how to descend a technical canyon safely.
---
Trail Description
Get the word "trail" out of your head right this minute. There are no trails, and there aren't even really any use trails or cairns anywhere on this route. This is a truly wild path, and as such, I'd advise you to wear pants—you know, the ones you don't like that much.
Overview
If you read all the horror stories about the exposed climb to access the entry point, fear not. There's another way, and Heather made me explain it to her so she wouldn't have to pop a Xanax. Instead of doing the climb, we followed the drainage all the way up to the saddle and then went over the top.
Here, I made you an overview map.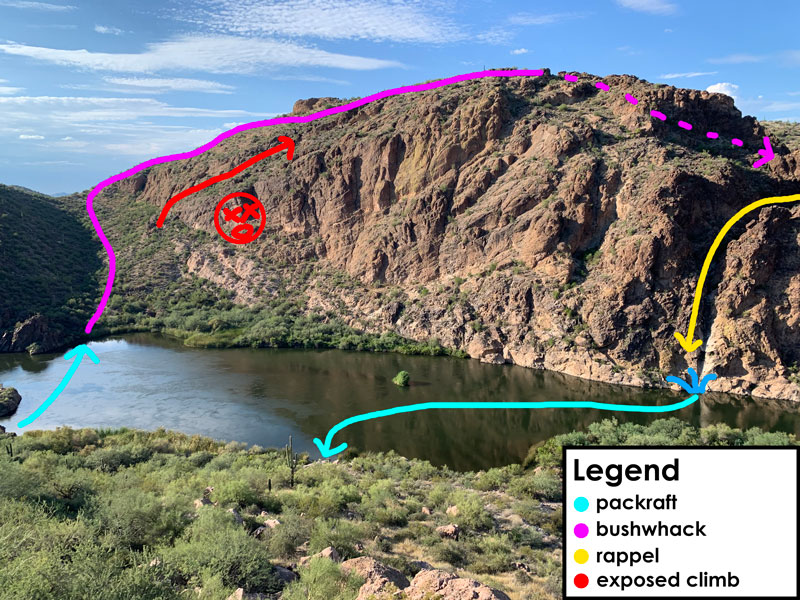 The Approach
From the parking area just before the "no trespassing" signs on the dam road, you can follow what looks like a really old road for a short distance. Then make your way left into a drainage that will take you down to the water. If you kept left and didn't end up at a dead end under a tree, you will find two very large boulders where you can blow up your packrafts or floaties with a reasonable chance of not popping them on a thorn.
Packrafting
The really tricky part is finding a good landing point because there are none. We went to a rock on the far left of the cove, but others land just to the right of the cove. I'm looking at this picture and thinking there is no way that won't be a heavy bushwhack.
Good luck to you!
Bushwhacking
After coming ashore and bushwhacking a short distance through the devil's briar patch, you'll get to a more gravelly, less bushy area that is the more standard Arizona bushwhacking you know and love. Just follow the drainage up to the saddle, and keep your eyes out for big horn sheep up top!
At the saddle, turn right and generally follow the contour of the cliff past the high point. After you pass the high point, you'll start heading left and dropping into the drainage for Splash Down Canyon. And Heather will question you because, "Why are we going back down? Aren't we supposed to rappel down?" Yeah, yeah, yeah. Trust me.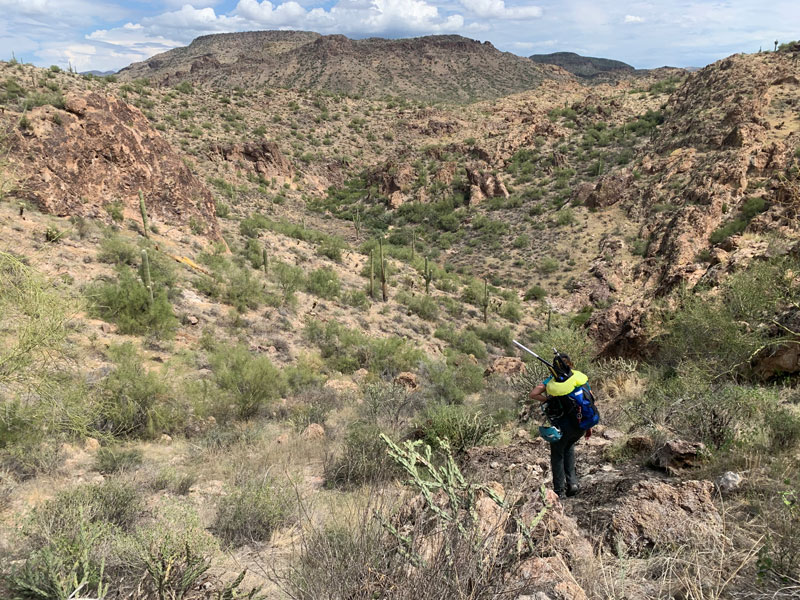 The Technical Section
Once in the drainage, turn right. The first rappel is almost upon you.
Rappel 1 – 15 feet off a rock pinch
When we went, there was a way to climb into a grotto below the rappel, and I think the very skilled might be able to do a controlled slide into the shallow pool below from this grotto, but we chose to do the rappel anchored off a rock pinch.
You might think this is an awkward rappel, but that's because you haven't met rappel 2 yet.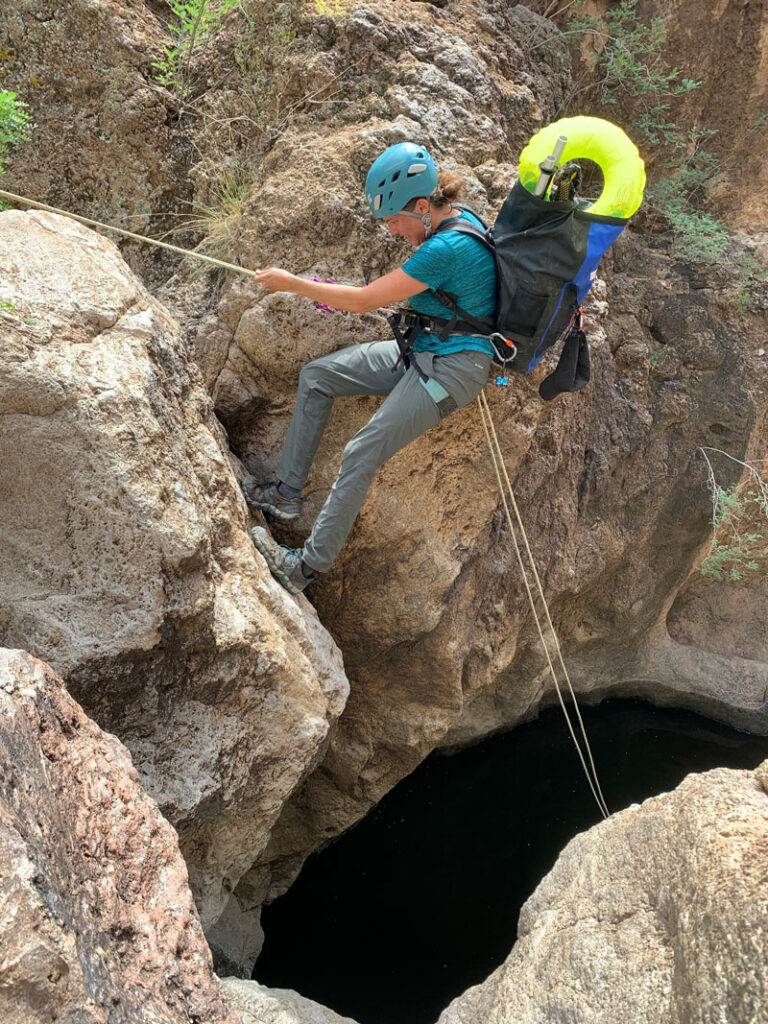 Did I mention this pool is shallow? NO jumping!
Rappel 2 – 15 feet off a hearty bush
Someone's probably going to get hurt here. At least a little.
This rappel is anchored off a bush set back about five feet from the edge. Our strategy was to sit in the crack where the rope goes down and put our feet against the rock LDC. Gosh, the wall RDC looks like it'd make a good rappel, but there were no natural anchors available on that side.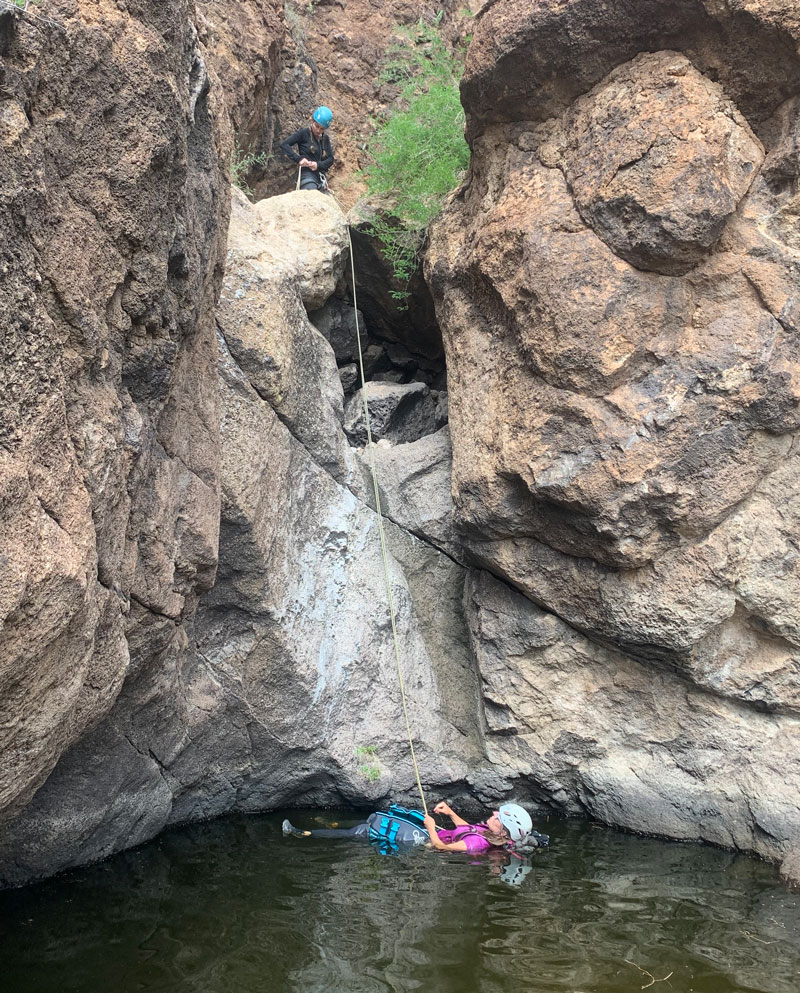 This is also a shallow pool about chest deep, but I had a life jacket, so why not kick back and relax a little?
After rappel 2, you have to walk a short distance down the drainage, negotiating a couple downclimbs and slides along the way. Nothing crazy.
Rappel 3 – 50 feet in two stages off a rock pinch
This is a two-stage rappel off a rock pinch down an easy chute with small pockets of water that are avoidable.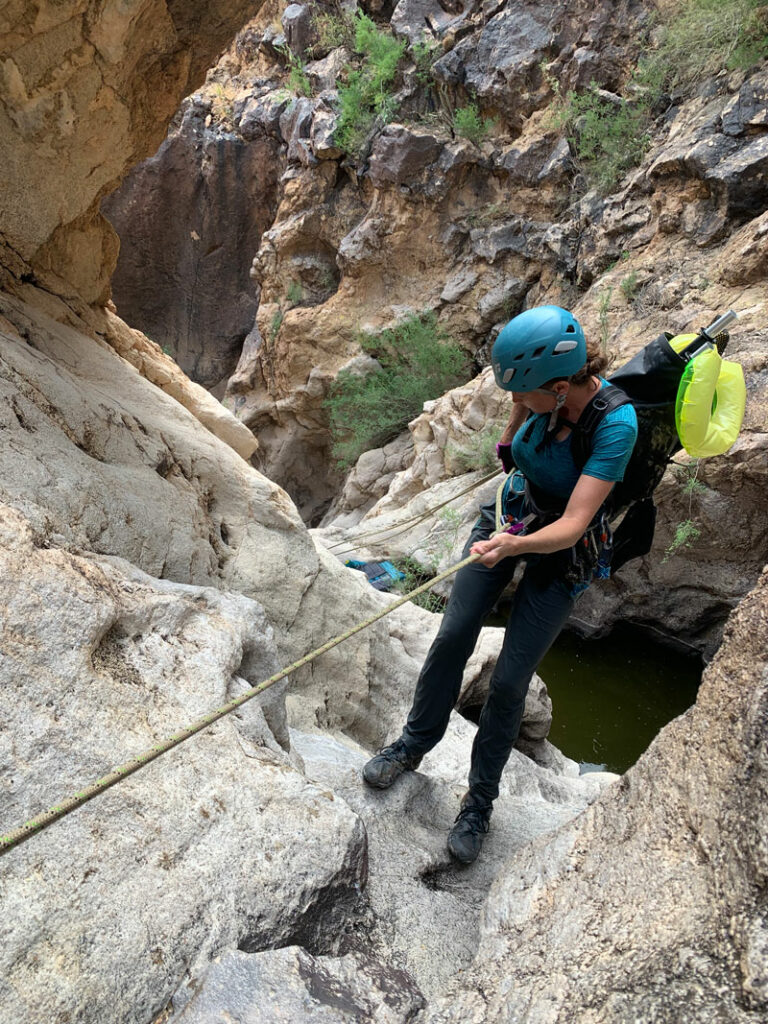 Rappel 4 "The Splash Down" – 140 feet off a rock pinch
The climax of the canyon is this beautiful 140-foot rappel into Saguaro Lake.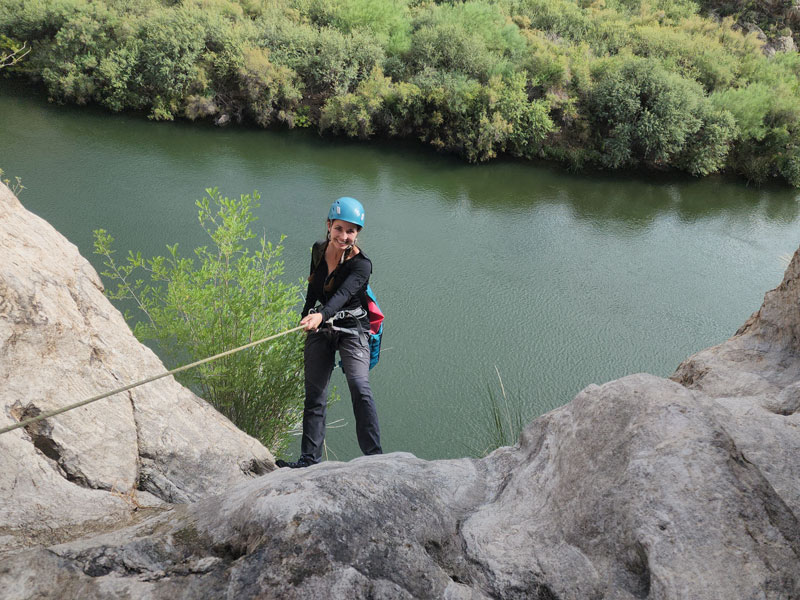 The anchor that was there was crusty and rusty, so we set a new one in a rock pinch point directly back from the rappel.
When you're on rope, don't forget to enjoy the view!
If you're doing a fireman belay, be prepared to float. There is a small rock near the splash down point where one or two people maximum can sit and inflate the packrafts and floaties. If you're slow enough, they'll be done inflating by the time you arrive, and you can rappel right into the raft. Yeah, baby, that's the life!
The Exit
Packraft back across the lake to the point where you put in and take the drainage back up to your car. Some maps show you taking a really old road up toward some buildings at the curve in the paved road, but since this is federal property with posted "no trespassing" signs, we can't recommend it.
---
Map & Directions
Location Saguaro Lake, Tonto National Forest, Apache Junction, Arizona.
This hike is technically at Saguaro Lake, but it's close to Canyon Lake, so you actually take the road you would normally take to Canyon Lake, not the one you'd take to get to Saguaro Lake.
From the US60 take Idaho Road north to Highway 88. Follow this until just past the turn for the Canyon Lake Viewpoint, and turn left on the road for the Mormon Flat Dam. Drive until you see the "no trespassing" signs and park right before them on the left.
Fees/Passes None
Trailhead Facilities None
Preview this Hike
---
Recommendations for you
Share this