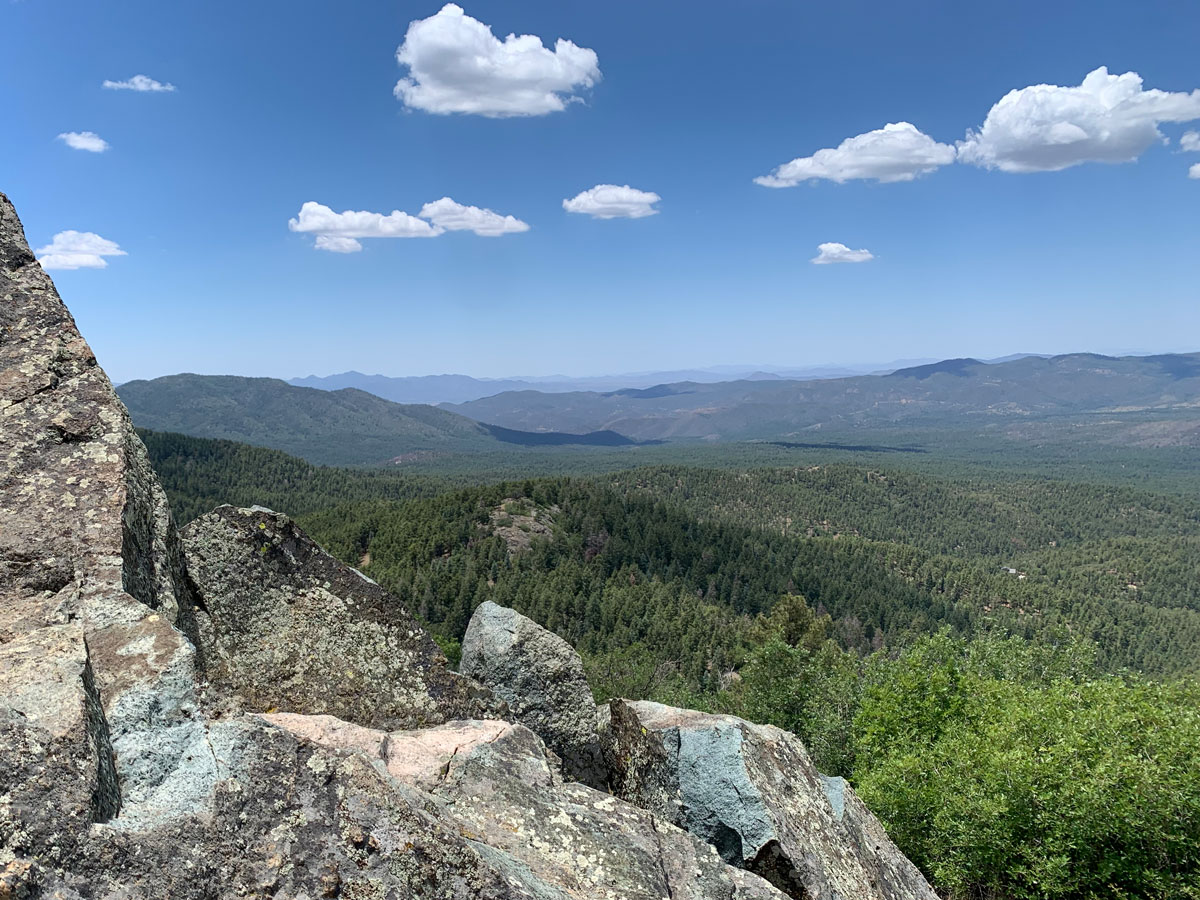 Spruce Mountain via Groom Creek Loop
TRAIL STATS
Mileage: 9.6
Elevation gain: 1795 feet
Time to complete: 4-5 hours
Stars: ★★★½
Good trail, moderate incline
One of the highest peaks near Prescott, Spruce Mountain gives you a lovely forested hike with expansive 360-degree views from a fire lookout tower. Though you can do this hike as an out-and-back to make it a little shorter (or have someone pick you up at the top if you want to cheat), the loop takes you through some of the best smelling forest I've ever experienced.
---
Trail Description
As you're driving through Prescott, you'll probably be thinking it doesn't look like there could be a cool, forested hike nearby. Don't you worry. Just a few miles south of town on the Senator Highway, the ponderosa pines will start popping up all around you, and you'll be pleasantly surprised when you get out of the car. Unless you parked too close to those pit toilets and take a nice deep breath to get some mountain air. I'm warning you, don't do it. Save it for later.
Groom Creek Trail No. 307
Dash past those toilets on the trail and you'll quickly come to the beginning of the Groom Creek Loop where it forks left and right. We heard going left (clockwise) is the shorter, steeper path to the top, so we chose that to make our hike down less steep. You can do it either way, but hopefully you decide before you get there because I'm serious 'bout those toilets.
The only downside to the trail is that it's not a wilderness area, so there were some phone lines that we saw from time to time, but they didn't detract too much from the forest. It's also a multi-use trail, and while we did see a couple horses, we didn't see any bicycles on this Independence Day weekend. In fact, we didn't see that many people at all.
There's this one section, though, with fewer trees that was warm and sunny. Russ was chugging nonstop up the hill like a freight train, and I was back huffing and puffing like the little engine that could. I hated him for a little minute there.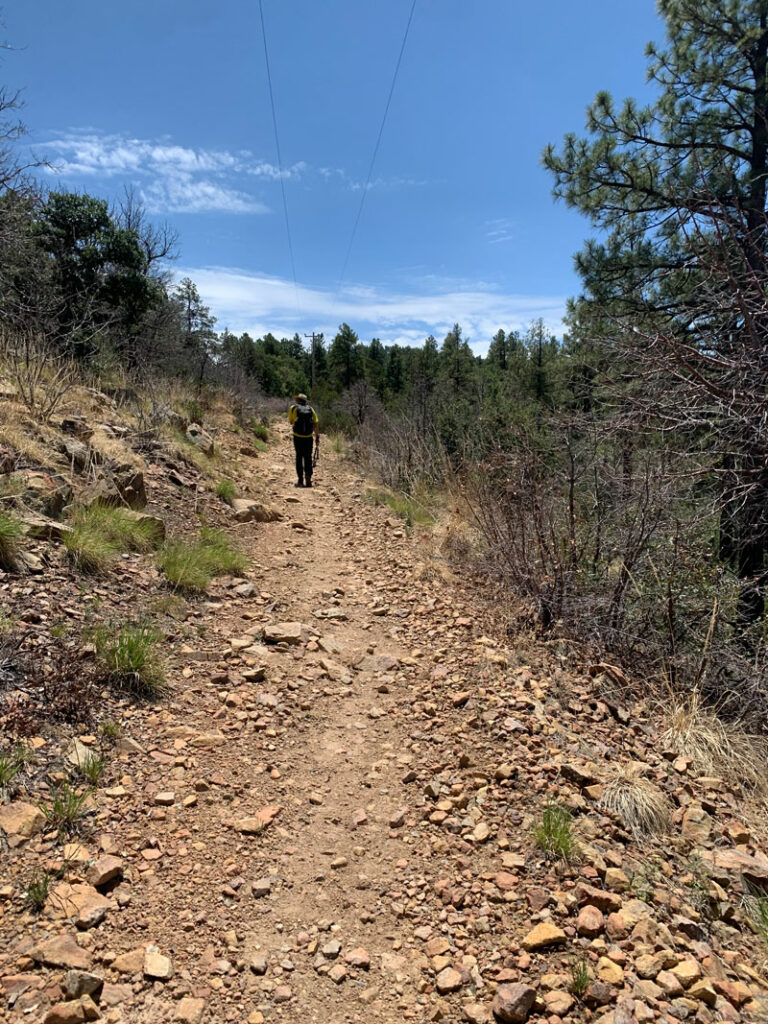 It didn't last long, though, and soon we were back in the beautiful, shady forest where I just had to stop and take a whole bunch of pictures that all honestly kind of looked the same. Lots and lots of trees. It was really beautiful, and the birds were singing away.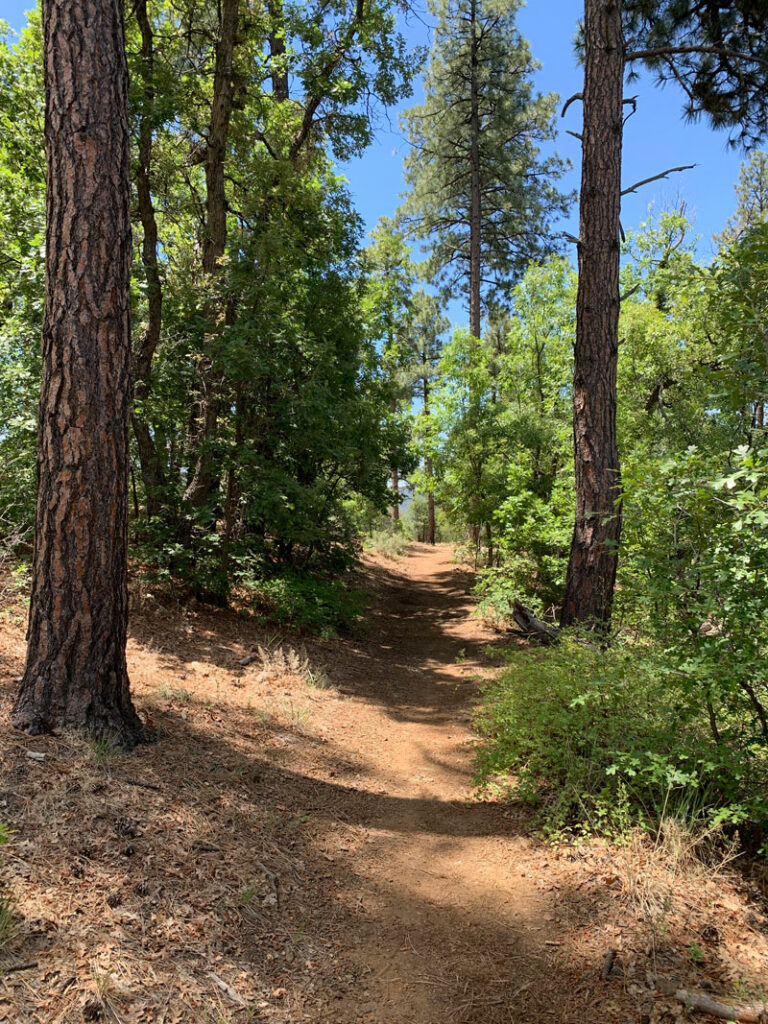 It never gets very steep, but some parts seem to go up and up and up with no end in sight. Do you know what that means when you go up a lot, though? VIEWS! Just before the peak, I looked over and realized the views were starting to get good.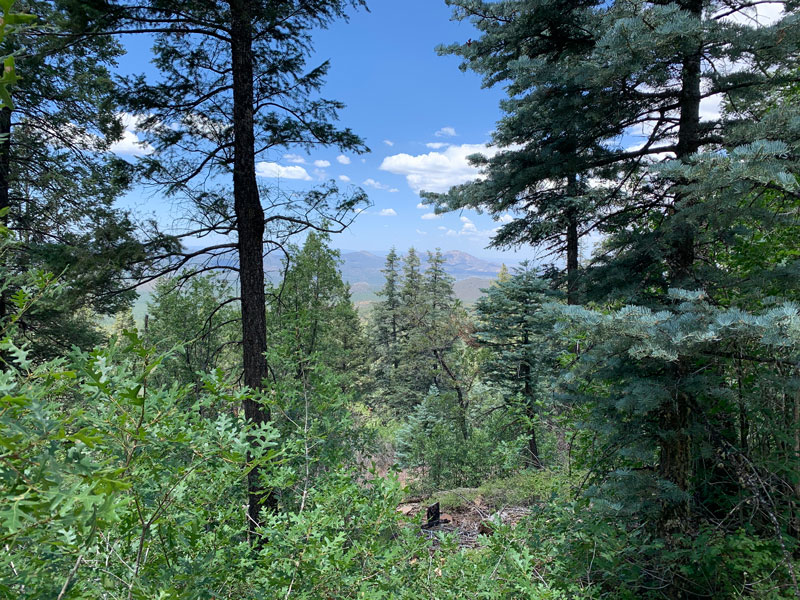 Spur Trail to Spruce Mountain Fire Lookout
Just before the top, you'll intersect with the road that goes up there and see some more toilets with several picnic tables nearby. No, they don't smell any better. You brought your p-style, right?
The loop continues to the right, but you've come this far, so you need to make a left to take a short walk the fire lookout tower at the summit.
A ranger warned us about a black rattlesnake that had just been spotted near the fire lookout tower, so we carefully made our way up and came across this sign.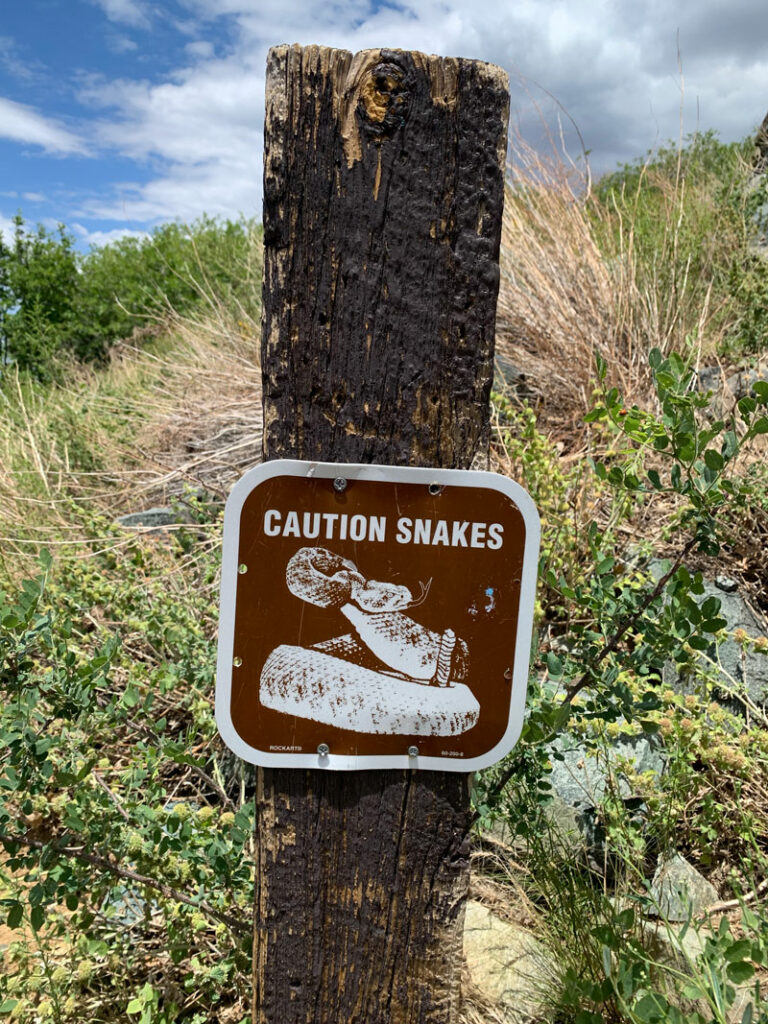 I hike in Arizona all the time, and I do see rattlesnakes from time to time, but I never see signs about them. I just thought it was a given. So when I saw this sign right after the ranger told us about a snake sighting, I thought maybe it's extra snakey there. Just be extra careful as you make your way up the concrete stairs to the tower.
If you're lucky, there'll be a bunch of nice folks up there to greet you. On this day, we met Zee Man of hiking4hops.com, who told us about some other nice trails to try.
Continuing the Loop
I thought the first part of the trail smelled really good, but it was nothing compared to what was coming. It looked like the forest service had cut down some of the pine trees and chipped them into little pieces. The result wasn't very pretty, but it smelled heavenly! I've never experienced anything quite like it.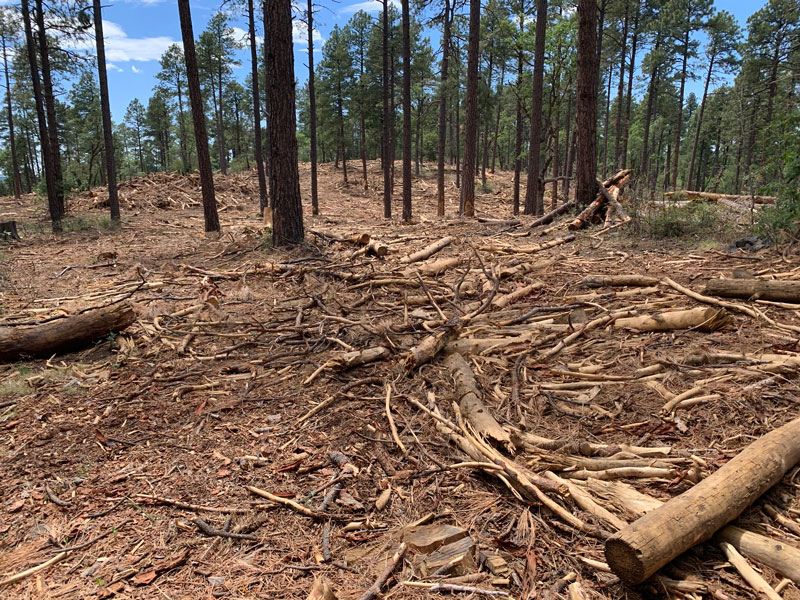 The trail goes up and down a bit on the way down, but it's never very steep. I took like 10 more photos of the trail, but trust me when I say it's just trees, trees, trees. The whole way. You'll never want for shade, and the good smells just keep on going.
That is, until you get close to the parking lot. Keep the memory of the trees in your heart and try not to inhale too much on the way to the car.
---
Map & Directions
Location Prescott National Forest, Prescott, Arizona
From the I-17, take Highway 69 toward Prescott. At the interchange with Highway 89, head south and then immediately onto Gurley Street. Turn left on Mount Vernon and follow it as it becomes Senator Highway. The parking will be on the left just past Groom Creek.
Fees/Passes None
Trailhead Facilities Pit toilets are available
---
Recommendations for you
Share this