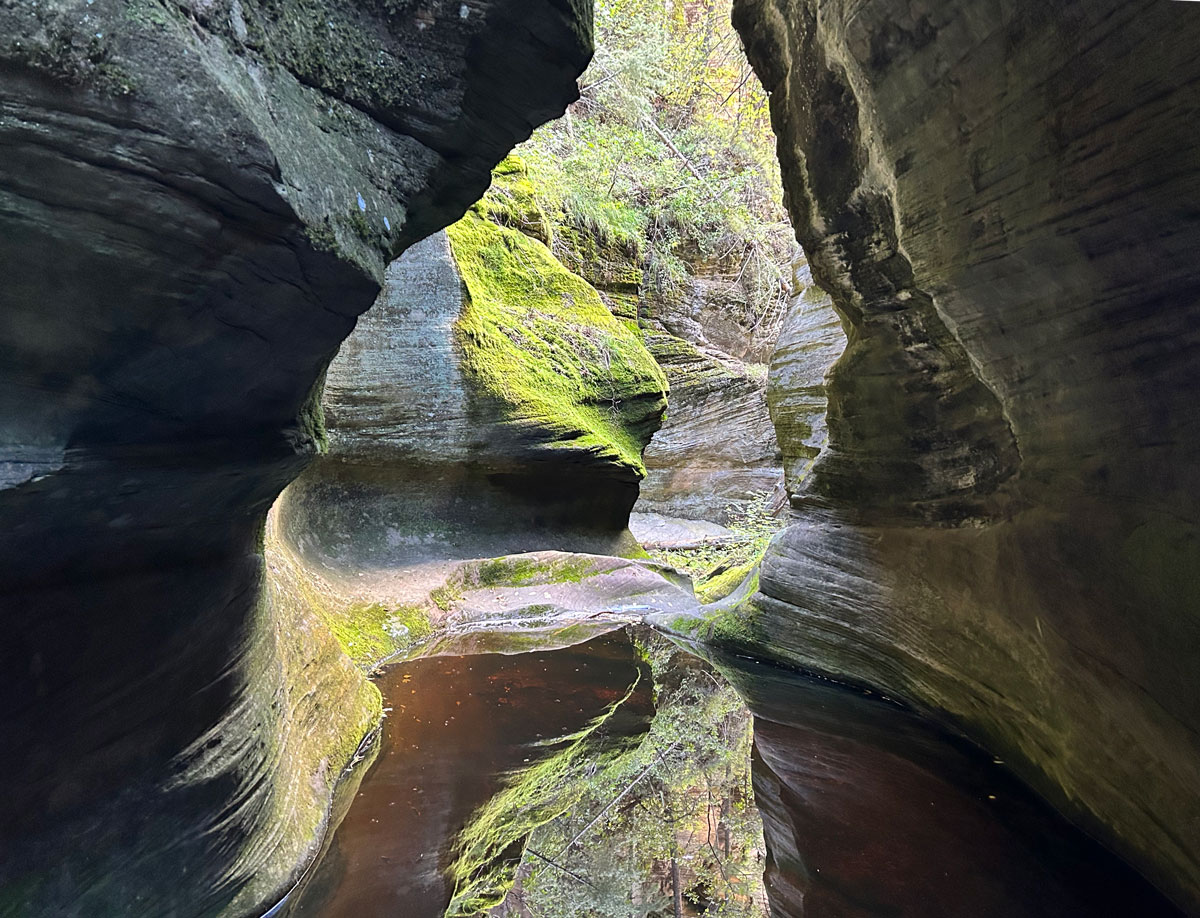 TRAIL STATS
Mileage: 2.0
Elevation gain: 712 feet
Time to complete: 4-7 hours
Stars: ★★★★½
Jumps, slides, potential keepers, and an absolutely massive final rappel
Sundance Canyon is a short but spectacular technical canyon in the West Clear Creek Wilderness. The final 180-foot mostly free-hanging rappel into a stunning alcove is not for the faint of heart, but it rewards the ones who are brave enough to do it with an incomparable heart-pounding experience. The narrows section is short but beautiful and includes jumps and slides that can be rappelled in low water. Bring neoprene—it's gonna be cold!
🪢 This is a technical canyon with two to five rappels up to 180 feet, depending on water depth. In high water, most rappels can be jumped/slid. In low water, they are rappels and the canyon may have a couple of keeper potholes, hence the R rating. You will need one 200-foot rope, one 200-foot pull cord, plus all the required safety equipment for rappelling and knowledge how to use it. This guide is not intended to provide instruction on how to descend a technical canyon safely.
---
Trail Description
The drive out to the trailhead is theoretically possible in a passenger car when roads are dry, and I have seen minivans out there, but it will be a really bumpy ride in spots.
The Approach
Once at the parking area, head back up the road for a while until you find traces of an old vehicle road that you can take to the left. Eventually make your way down into the drainage, where you'll face light bushwhacking. As you get a little deeper into the canyon, you'll begin to see pools of water that can mostly be avoided by careful footwork on logs or taking use trails up and around them. You've been working on your gymnastics routines lately? Perfect!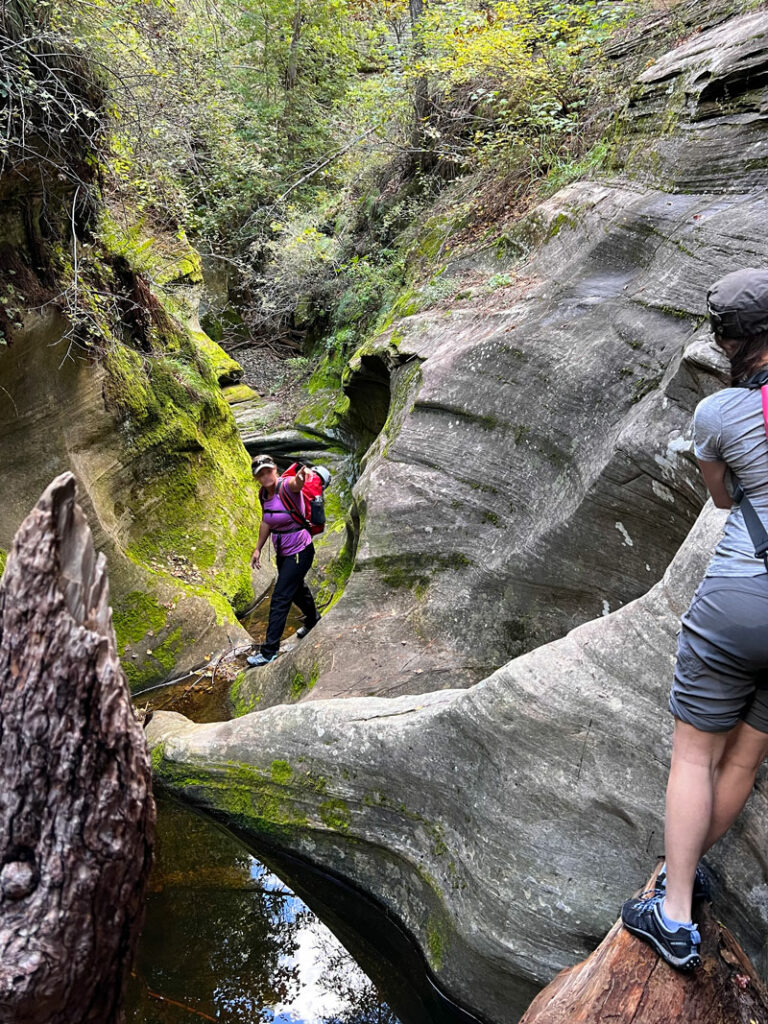 At times, we found use trails along the side of the drainage that helped us bypass some of it. The going is definitely faster if you can find one of those, but one such path led us to an extra rappel to get back to the bottom. Be prepared for anything.
The Technical Section
Rappel 1 (optional downclimb)
15 feet from a rock pinch
Yep, there's webbing there, and you can rappel into that pool even though you're still mostly dry and fairly warm. Or you can hike around canyon right until you get to a little chute with a tree you can use to control your descent. It's only a tiny bit sketchy getting to the tree.
Sort of (refer to video to see what I mean).
Rappel 2 (slide in high water)
If the canyon is full of water, it's likely this one is safe to slide. Check to make sure there are no hidden hazards in the water. Sorry, dead rats and skunks don't count. Keep your eyes, mouth, and nose closed when you go in!
As with many potholes in this canyon, it appears it could become a keeper in low water, and the dead animals floating around in this pot of smelly canyon soup support that theory.
Rappel 3 (slide in high water)
This is a rappel from a log in low water—or maybe you just don't feel like getting your head wet! I didn't see webbing there last time I was here, but there was some this year. . . as usual, make sure you bring some just in case. The beta sites claim a 30-foot rappel into a pothole, counting the additional distance to reach the anchor that's set back from the edge.
If you're a gymnast, you can get half way down this one under control. If you're like me and can't do the splits, well, then, Judas Priest, you're going in!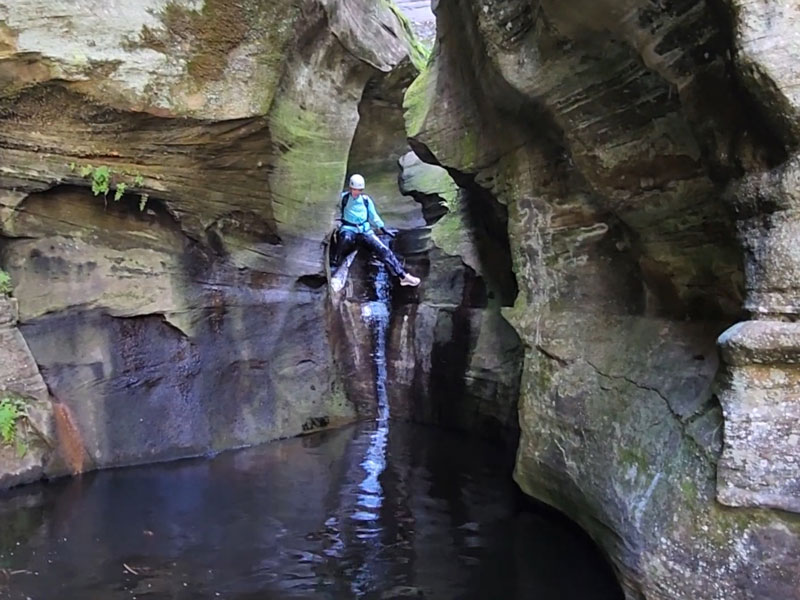 This year, there was a log jammed at the top of this, so we were able to hang onto it and get our feet to almost touch the water before dropping, which kept our heads from going under. Thanks, Mr. Log!
The sloping shape of the exit for this pothole means it can become a keeper in low water, though all the beta we read said it had enough water in it. That is probably a rare condition.
Rappel 4
30 feet from two bolts
You'll know this rappel by the bend in the canyon and a twisted tree trunk that provides a handy little seat. Since you can't see the end of this rappel due to turns in the canyon, I'd advise letting out at least 50 feet of rope. If you don't let out enough rope, you might have to listen to your friend moan and groan for like five minutes while they struggle to get off rappel in the first pool and let out more rope. It's awkward for everyone.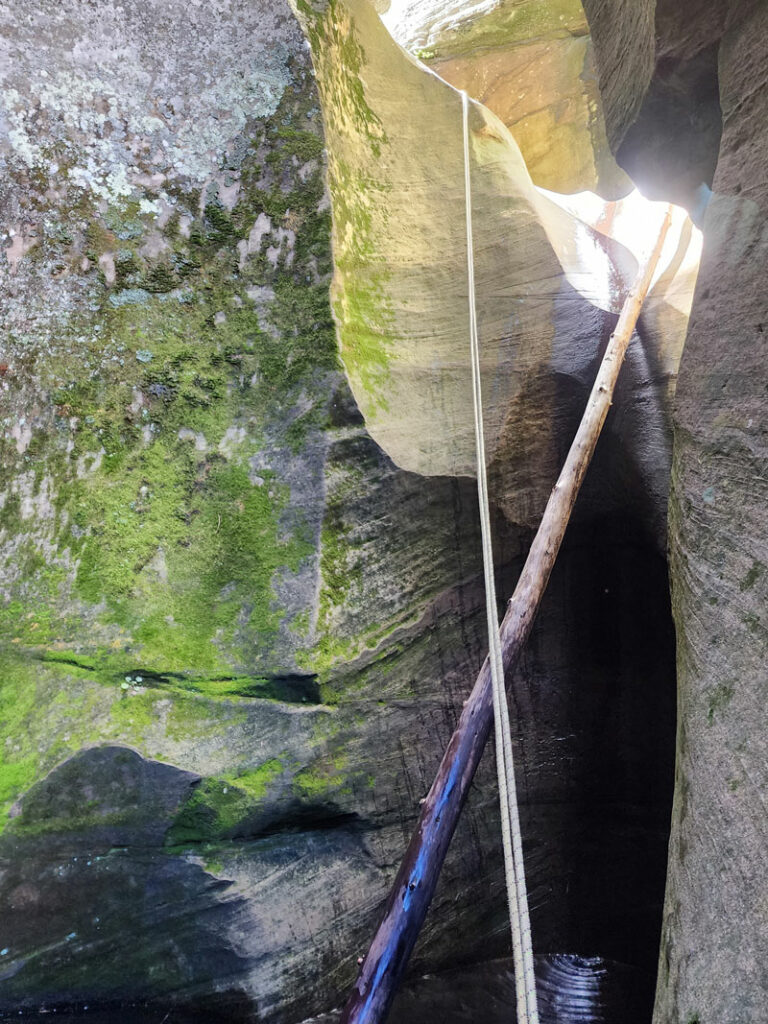 This rappel is completed in two stages. Turn the corner and rappel into a pool, then heave yourself up onto the lip of the next drop and rappel 10 more feet into another pool.
The pool at the bottom of stage I can become a keeper in low water. Be sure you know water conditions before attempting this canyon, and be ready with a pothole escape plan if the water could be too low.
Rappel 5 – The Big One
180 feet from three bolts
This is the big kahuna, the boss, the "holy crap, are we really doing this?" one. And yeah, you are. There's no going back.
The staging area is fairly small, so plan to have some people wait at the previous lip while you rig this rappel if you have a large group. There are three bolts here, though only two were in use when we went. I slung a third ring of fresh webbing just to give me the warm and fuzzies since I about had a panic attack last time I did this one.
Enjoy the ride!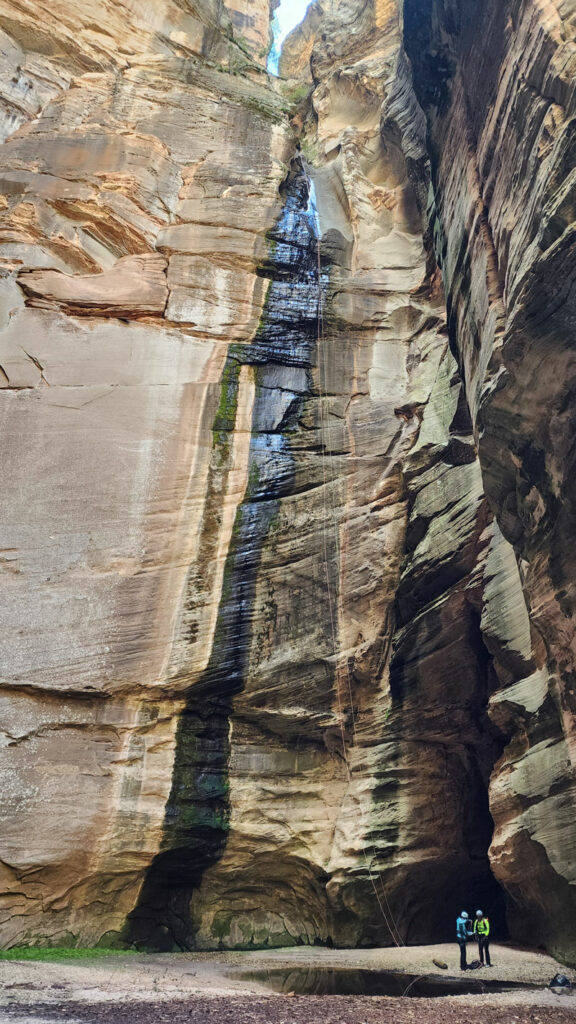 It's possible you'll have some onlookers since this is a popular spot in West Clear Creek. Make sure to give them a proper show.
The Exit
Exit the alcove and turn left to go up West Clear Creek for a short while to the exit canyon, which is the next spot that looks like you can get out. This is a well-worn path, so you should be able to find it fairly easily and make the climb back to your vehicle.
Now go get that burrito.
---
Map & Directions
Location West Clear Creek, Coconino National Forest
From Payson, head north on Highway 87 until the intersection with Highway 260 and turn left. Turn right on forest road 149, going left at the fork to stay on forest road 149. Turn right onto forest road 142 and then take a left onto forest road 142E and follow it to the end. Or just use Google maps to navigate to West Clear Creek Trailhead.
Fees/Passes None
Trailhead Facilities None
Preview this Hike
---