TRAIL STATS
Mileage: 1.8
Elevation gain: 712 feet
Time to complete: 2-4 hours
Stars: ★★★½
River crossing, rugged trail
A potentially adventurous river crossing will bring you to Sunrise Arch, a rarely visited gem right across the Salt River from where the crowds drop in for their tubing or kayaking adventures. The arch is visible from the Water Users day use area, but it blends in with the background, and most people have no idea to look for it. You can visit the arch from underneath or climb up on top for a fun rappel.
Sunrise Arch is located in the Bulldog Cliffs, which is closed seasonally from December 1st until June 30th each year for bald eagle nesting. Check the Tonto National Forest website for the latest closure orders and maps of the closed areas.
---
Trail Description
From the Water Users recreation area, follow the well-traveled path to the river.
Salt River Crossing
If you're lucky, the water will be low enough to simply walk across and only get your feet wet. But if you expected it to be low like it was last year and got caught off guard this year with a high flow, well, you'll be wading.
Here are pictures from last year and this year for comparison.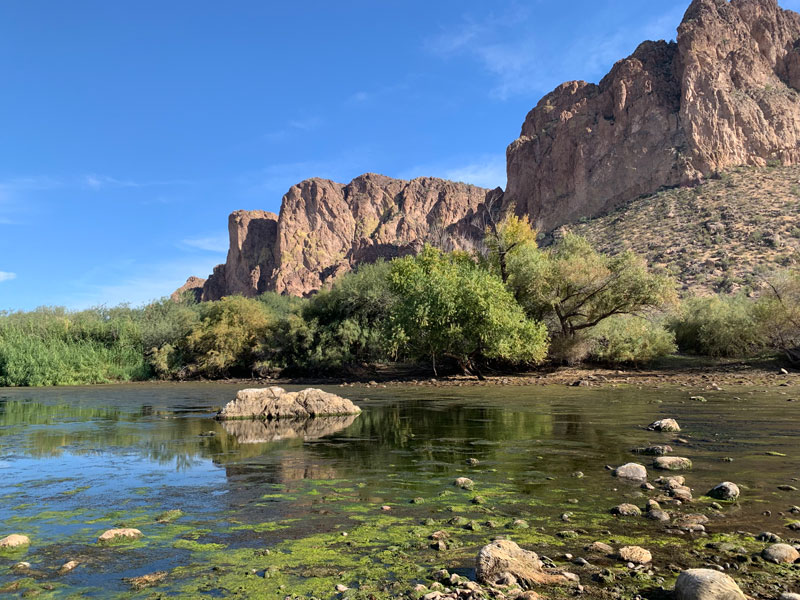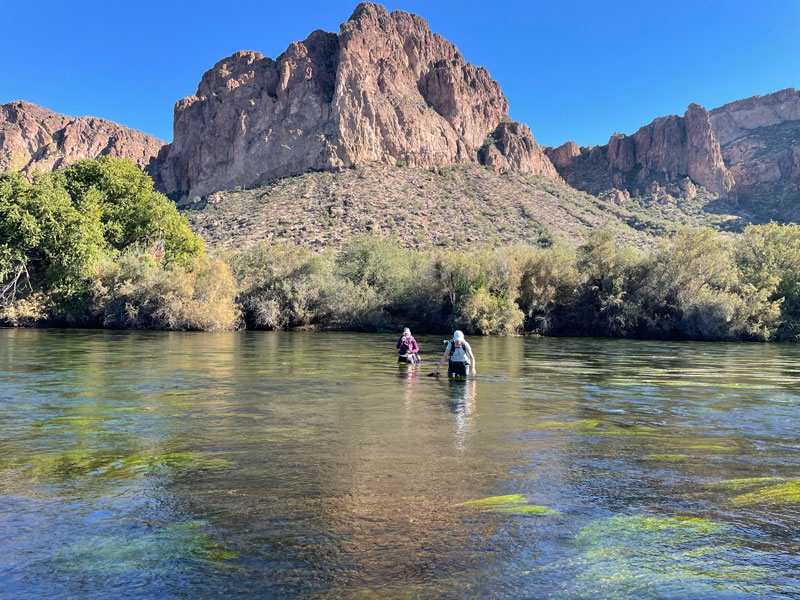 I thought this adventure was over when Heather told us it was getting up to her chest, but we persevered and found a slightly shallower place to cross where we only got in to our waists. In November! True friends right there.
You can check the current flow rate at the USGS website for Salt River below Stewart Mountain Dam.
Trail to Sunrise Arch
Once across the river, you can follow a series of use trails south into the big canyon straight ahead. The arch is in the right fork against the right wall, and there are some large new cairns marking the way.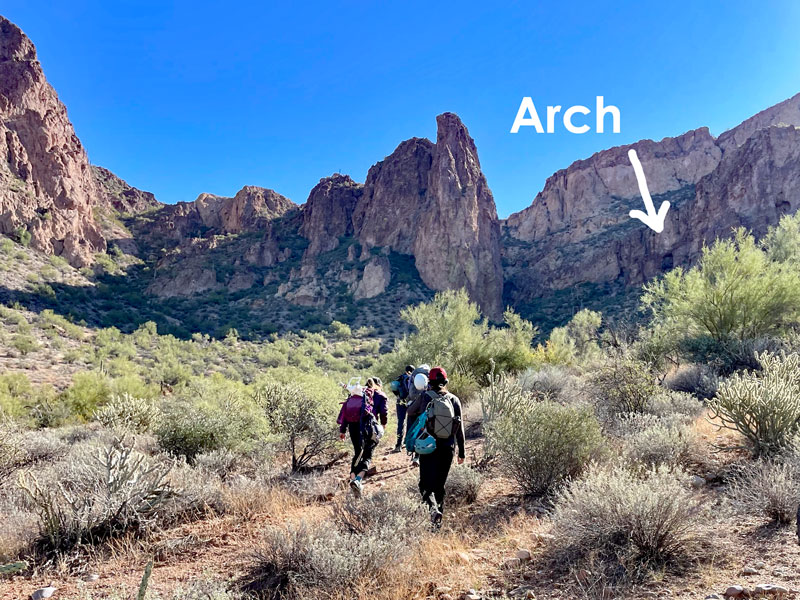 Sunrise Arch
The trail should lead you right up under the arch, but if you're wanting to get on top to rappel, you'll have to pass the arch and climb up the rocky slope behind it. There is a large boulder on the top that can be used as an anchor. We rapped off both sides this time and found the rap a little longer and the photo ops a little better when rapping down the side closest to the river.
If it's your birthday and you just got a new descender, it just might make you want to go upside down to celebrate another fun trip around the sun.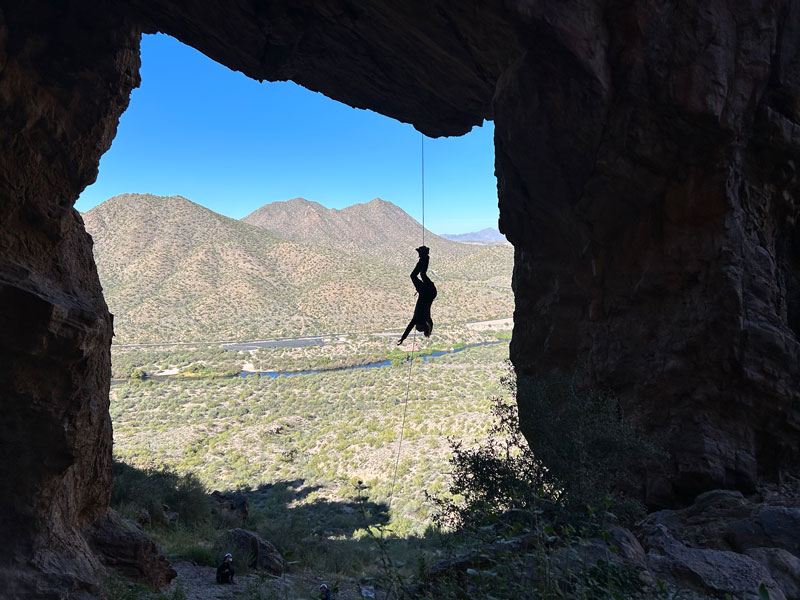 When you're done, just make your way down the rocky path in front of the arch back to the trail you came in on.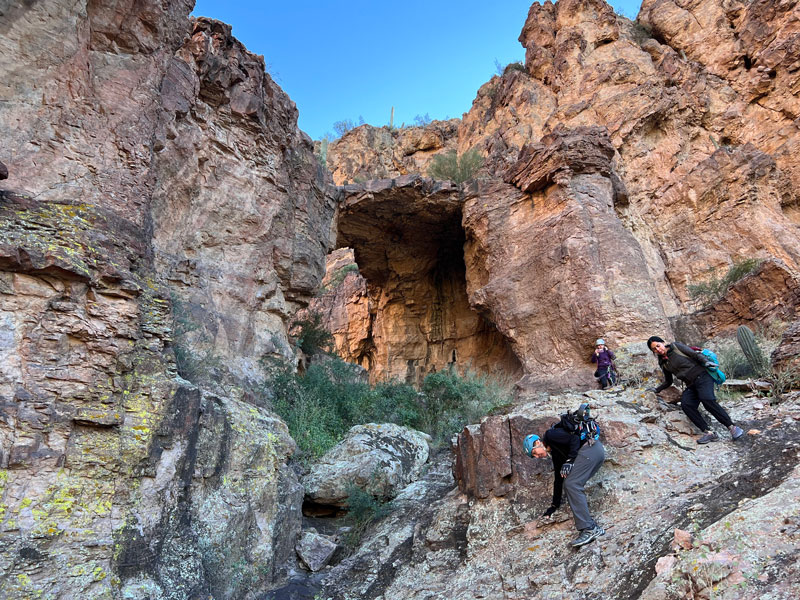 Now, you just gotta ford that river again.
---
Map & Directions
Location Water Users Recreation Site, Lower Salt River, Tonto National Forest, Mesa, Arizona
From Mesa, take Power Road north until it becomes the Bush Highway. You'll pass all the Lower Salt River recreation sites, and Water Users will be the last one on your right just before Saguaro Lake.
Fees/Passes A Tonto Pass or an America the Beautiful pass is required to park
Trailhead Facilities There are pit toilets available
Preview this Hike
---