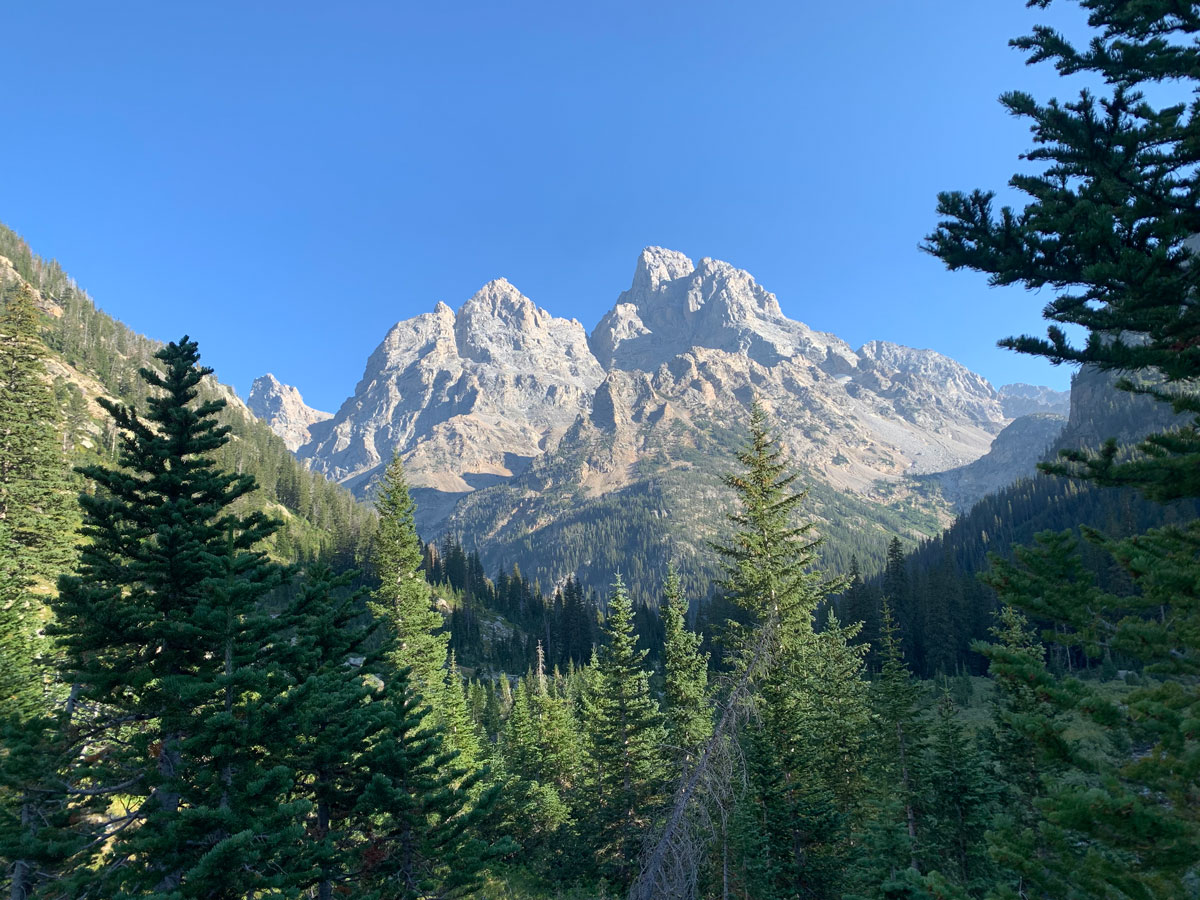 TRAIL STATS
Mileage: 35.5
Elevation gain: 6852 feet
Time to complete: 2-4 days
Stars: ★★★★★
High altitude, moderate grade
Okay, okay, we KNOW Teton Crest Trail is not in Arizona, but once in a while a hike is just so incredible that you have to share it anyway! Experience alpine lakes, rushing rivers, sparkling glaciers, impressive wildlife, and breathless heights as you make your way across the backbone of Grand Teton National Park on this 36-mile journey. Permits are required for backcountry camping, but there are still options if you're unable to get one in advance.
---
Trail Description
There are multiple ways to do this hike, but we chose to start at the aerial tram at Jackson Hole and hike south to north all the way over Paintbrush Divide to the String Lake trailhead. The reason to hike in a northerly direction is so you will be heading toward the peaks for most of the hike instead of having them behind you (and so you can take the tram).
Aerial Tram at Jackson Hole
The purists among us will call this cheating, but we felt like it was worth every penny for the views and the 4,000 feet of elevation gain that the tram cut off from the hike. There's a shop at the summit that reportedly sells famous Nutella waffles, so save your appetite if you're so inclined.
If you're determined to hike up to the Teton Crest Trail yourself, you have options:
Phillips Pass This is the starting point for the completionists who want to hike every single mile of the Teton Crest Trail. You'll begin outside the park in the Jedidiah Smith Wilderness.
WildFlower Trail If you want to get the Nutella waffles at the gondola summit or meet up with your lazy tram-riding friends, you can take the Wildflower Trail from Jackson Hole to the top.
Granite Canyon Trail This is for those who want to start and finish in the park while maximizing their distance on the Teton Crest Trail. The trailhead is just inside the park entrance on Moose Wilson Road.
Open Canyon Trail This shares a trailhead with Death Canyon but cuts over to Granite Canyon Trail. This might be a good option for those who don't have a shuttle and want to make a loop while maximizing their distance on the Teton Crest Trail.
Death Canyon Trail This will give you the best of the Teton Crest Trail, including Death Canyon Shelf, Cascade Canyon, and Paintbrush Divide. The trailhead is near Phelps Lake off of Moose Wilson Road.
There are many other trail variations and also trails that begin on the west side and link up with the Teton Crest Trail. Consult a map for the best route for you (hint: just take the tram).
Rendezvous Mountain
From the tram exit, start following the crowds down a dirt road to begin the hike. Keep an eye out for the trail marker off to the right. It's easy to miss! (We wouldn't know. Noooooo.)
Marion Lake
Just a few miles into the hike, you're already rewarded with beautiful Marion Lake. If you're the type to jump in an alpine lake, this might just be the warmest option along the trail.
YOLO!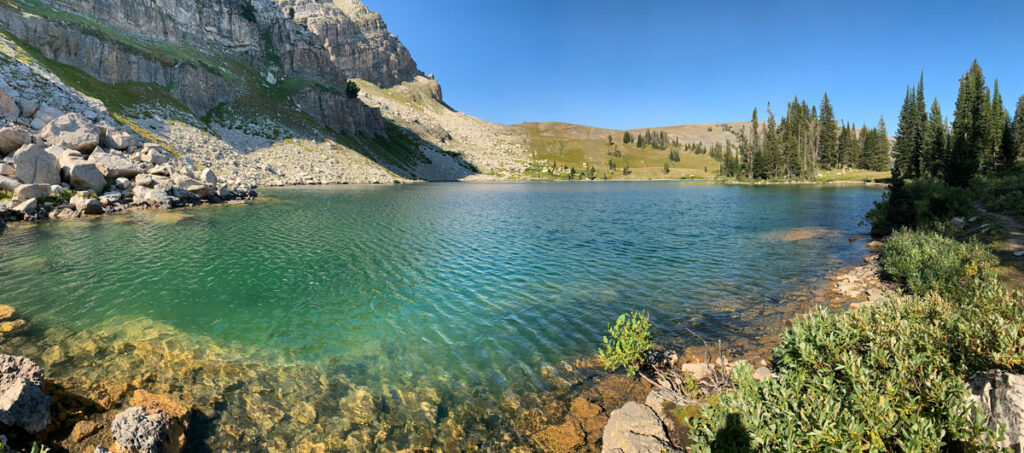 If you're planning to camp at Fox Creek, fill all your water reservoirs here because there might not be any other water available.
Fox Creek
Didn't get a permit when they opened in January? Didn't get your choice of walk-up permits? It's all good! Fox Creek is outside the park, and as such, doesn't require a permit. There aren't many trees here, but there are some fine places to camp, and you can see the Tetons in the distance.
Plus, the sunset was absolutely glorious! (Unfortunately, this was largely owing to a forest fire.)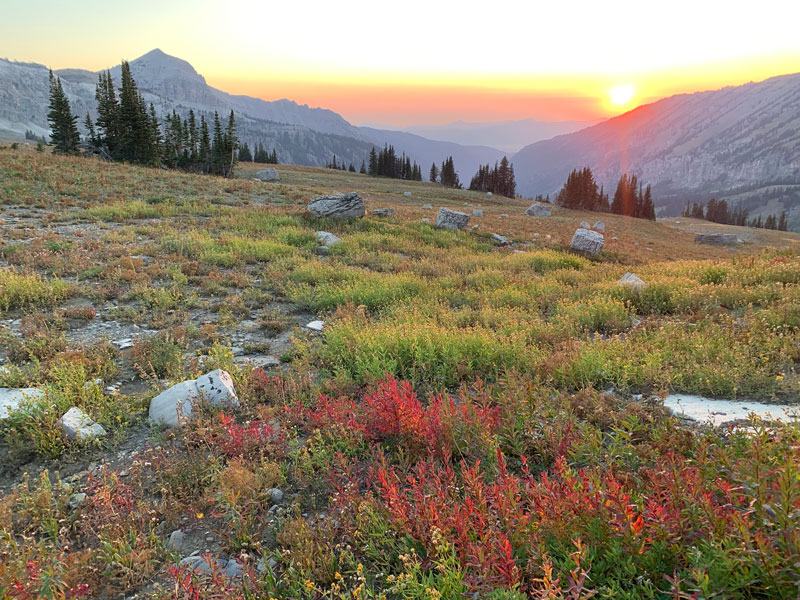 And… you just might be able to take a call up there. Just sayin'.
Death Canyon Shelf
One of the wonders of the Teton Crest Trail is the magnificent Death Canyon Shelf that traverses a narrow cliff situated between the ridges to the west and Death Canyon to the east. If you're lucky, a fighter jet will come whizzing through the canyon, amazing you with its death-defying precision. I know it disturbed the peace for a sec, but it's pretty amazing.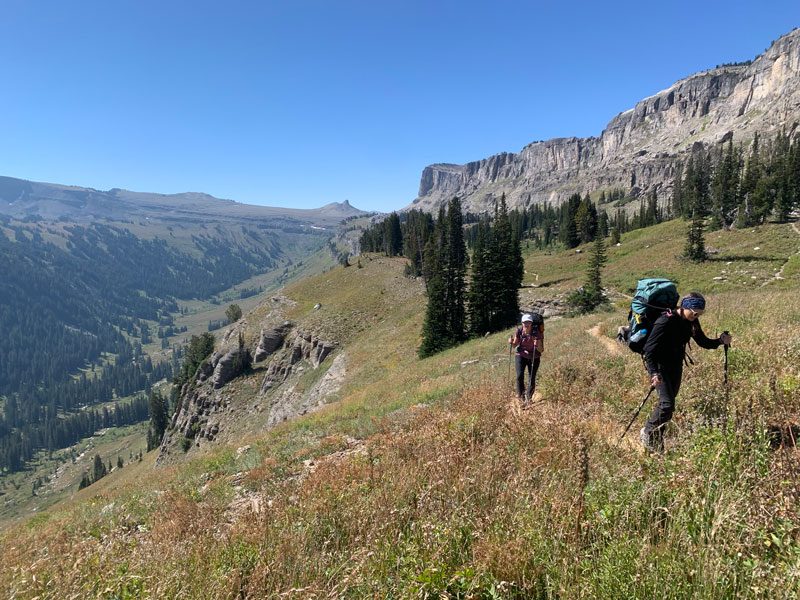 There may be some small running streams here, but check with a ranger before relying on them. I think this is one of the prettiest places to camp along the trail if you can snag a permit for it.
Alaska Basin
The Tetons that you could see in the distance now drop behind the horizon as you enter Alaska Basin. It starts out pretty barren, but there are lakes and streams available along this section if you just keep going.
Like Fox Creek, this area is outside the national park and doesn't require a permit.
A lot of people choose to camp at Sunset Lake, and for good reason. It has plenty of good camping spots for everyone, and relaxing at this lake in the evening was a highlight of our trip. Plus, it positions you close to Hurricane Pass for crossing into the park the next day.
Hurricane Pass
It's a bit of a climb up to Hurricane Pass, but it'll all be worth it when you take in your first close-up view of the Grand Tetons.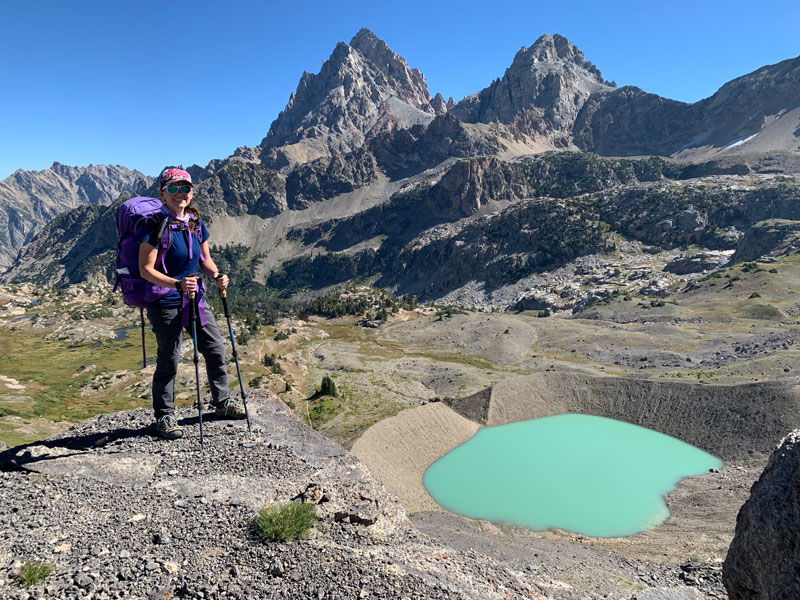 At this point, you'll cross back into Grand Teton National Park.
South Fork Cascade Canyon
The scenery only gets better from here. As you drop into South Cascade Canyon, you'll be greeted with glistening Schoolhouse Glacier and the south fork of the Cascade River rushing over waterfalls as it makes its way through the verdant valley.
And maybe even a moose.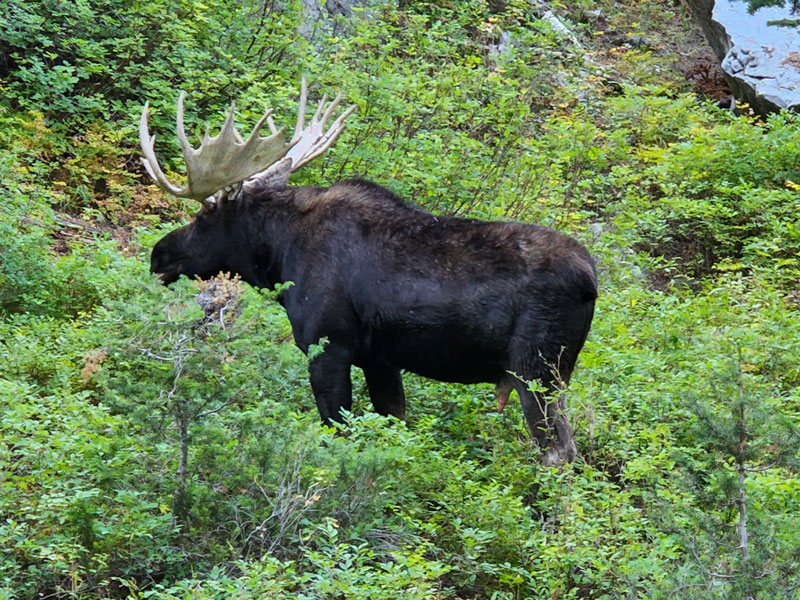 The campsites are thickly forested here and are blessed with the calming sounds of the river, but if I had to choose between them, I'd definitely go for. . .
North Fork Cascade Canyon
This was my absolute favorite section of the hike, mainly because of how dreamy it was to have dinner at the foot of the Tetons and watch them become bathed in alpenglow with the setting sun.
It's a little slice of heaven.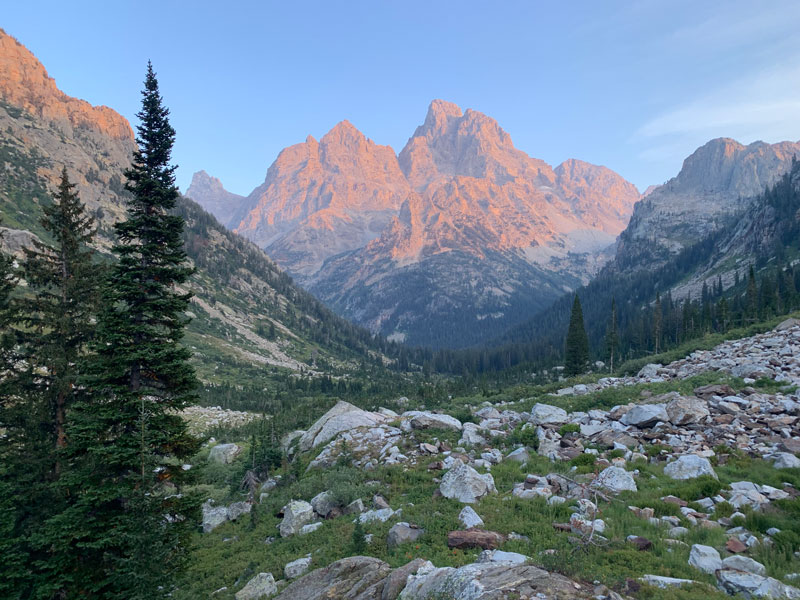 Relax and give those water reservoirs a break because there's plenty of water throughout both forks of Cascade Canyon.
Optional Cascade Canyon Exit
If you're not feeling up to the final push over Paintbrush Divide from here, you have the option to exit via Cascade Canyon Trail, which is located where the South Cascade and North Cascade Trails meet. But, come on! You've come so far!
Lake Solitude
Just before the heady climb up to Paintbrush Divide, you'll have one last stop at Lake Solitude. Be sure you have enough water to make it over the divide and down a little way before you'll get to the next water source.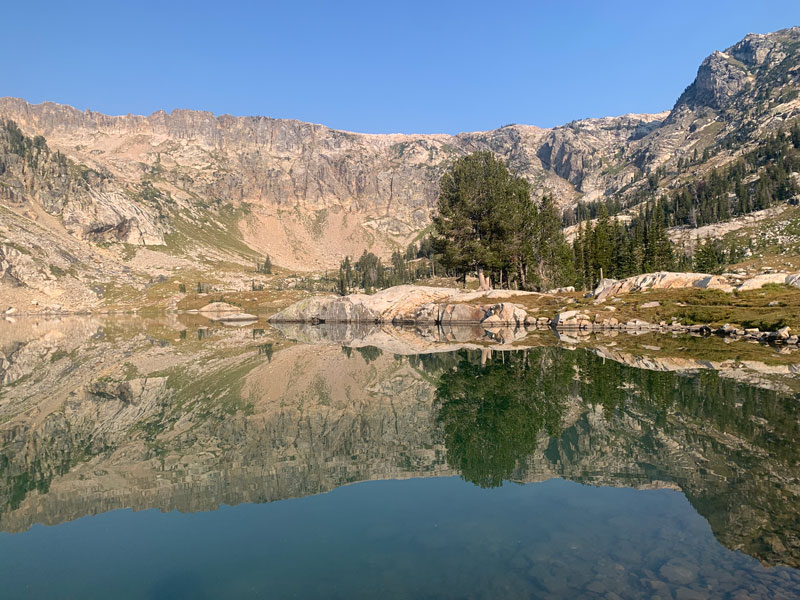 And so it begins. Two miles of a moderate but unrelenting climb up to Paintbrush Divide. Yes, you can. And when you think you can't, stop, look back and see how far you've come.
No, that first crest is not the top. Sorry.
Paintbrush Divide
The highest point of the Teton Crest Trail, this pass sits perfectly perched at 10,700 feet and provides epic views in every direction. You'll feel like you're on top of the world!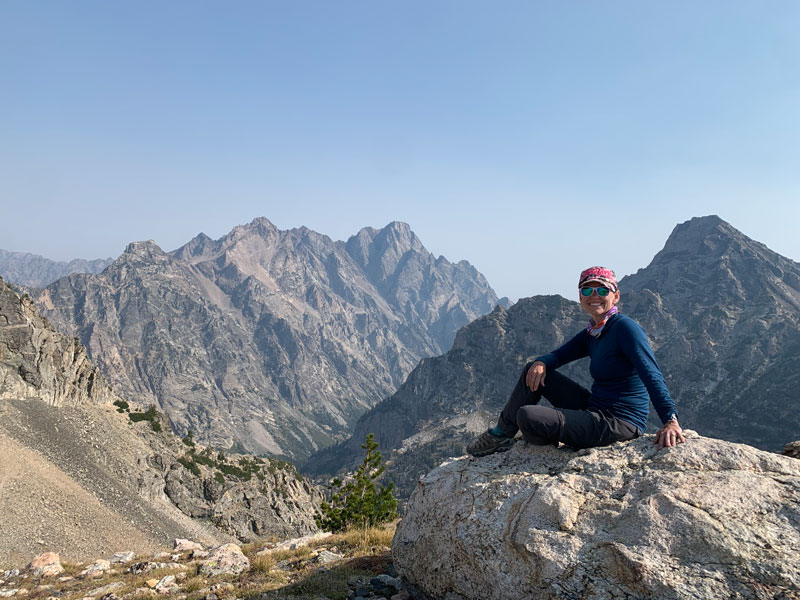 And, as they say, it's all downhill from here.
Paintbrush Canyon
The trail down starts out rocky, loose, and steep as you make your way past more glaciers to the thickly forested valley below.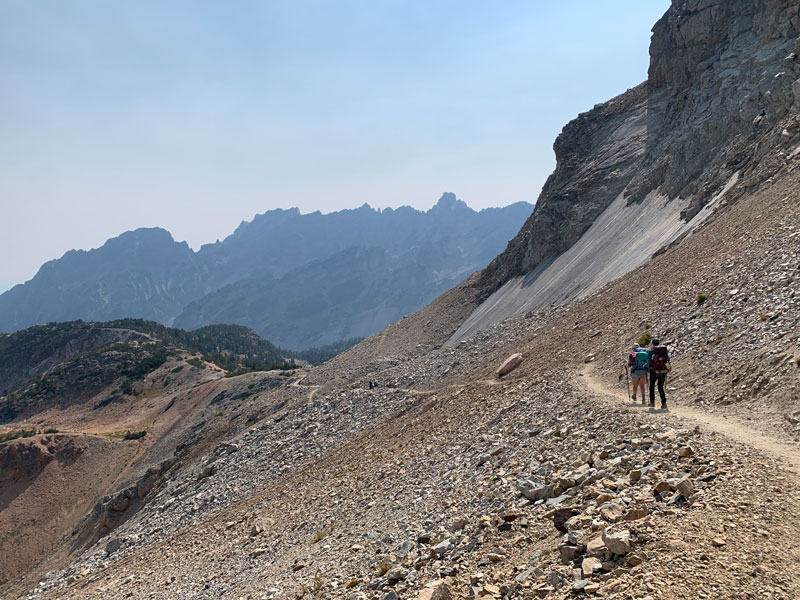 Holly Lake
If you haven't taken the opportunity to jump in an alpine lake, now's your chance! At a lower elevation, it's a bit warmer than Sunset Lake, and you know your tired feet and sweaty body could use a little refreshment. Go on!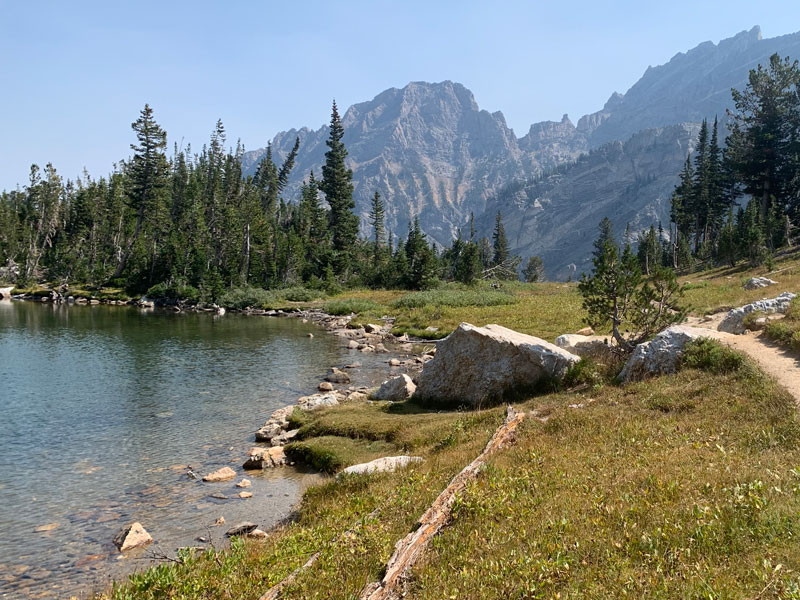 Once you leave Holly Lake, it's heads down time. The finish line is within reach!
String Lake
The last two miles are annoyingly long as you make your way around String Lake, but the scenery remains ever stunning to the very end.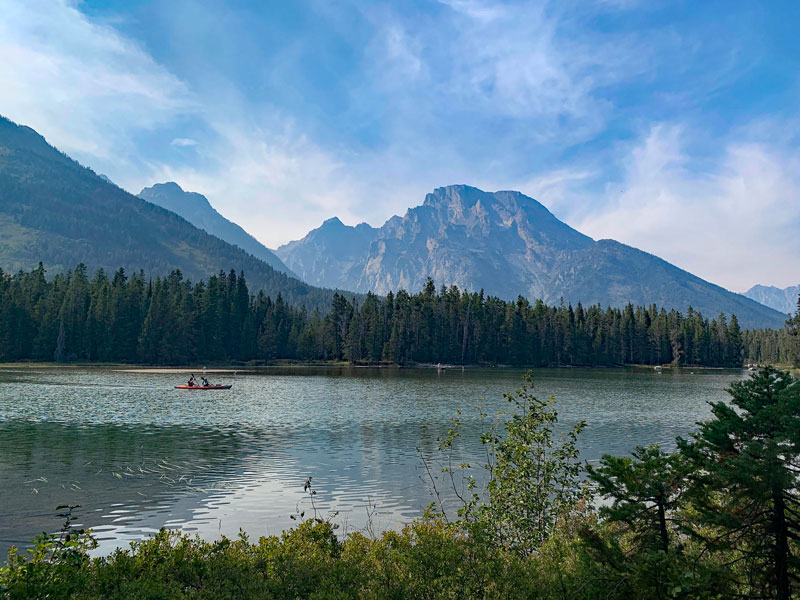 Congratulations! You did it! Now where are those Nutella waffles when you really need them?
---
Getting Permits
Grand Teton National Park makes 1/3 of its permits (and all of its group permits) available from January to May 15 each year on Recreation.gov (check with the park for the exact opening date), but word is that they sell most of them just as soon as they go on sale. That means you have to plan ahead and be ready to snatch them as soon as they're available. I've heard from frustrated people who were not able to link up an itinerary for completing the crest.
But I've got some pro tips.
Tip #1 Camp outside the park
One way to complete most of the Teton Crest Trail is to camp in Fox Creek the first night and Alaska Basin the second night. Rest assured there is plenty of space in both places, and you can totally make this option work if you need to. Exiting Cascade Canyon is what most people will choose to do on this itinerary, but if you're really hardcore, you can go for the whole 20-mile push to the Paintbrush Canyon exit on the last day.
Tip #2 Reserve one night beyond Alaska Basin
I went looking for my permits in early May, long after the permits went on sale. Not much was available, but I knew if I could just get one night somewhere between Alaska Basin and Paintbrush Canyon, I could make it the whole way. I wanted North Cascade, so I took the first available for that and filled the two days before with Fox Creek and Alaska Basin.
Tip #3 Go later in the season
Permits were more readily available after Labor Day, and the weather was absolutely perfect. Plus, it didn't seem like there were many other backpackers, and I'd be willing to bet most campsites went unused. Don't shy away from a September date!
Tip #4 Get a group permit
If you put in a party size of 6 or fewer, it won't show any permits available at the group sites. However, if you increase your party size to 7, it'll show you group camp availability. That's what I did, and that meant I could invite up to 11 other people to go with!
Tip #5 Get a walk-up permit
Because 2/3 of permits are reserved for walk-ups, your chances of getting an itinerary that works are pretty good. I've read a lot of reviews, and people seem to have good luck when they arrive at the ranger station a couple hours before it opens.
Good luck!
---
Bear Resistant Food Storage
Bear boxes
If you have all group camps reserved, you are very lucky because they all have bear boxes and you won't need to bring bear resistant food storage with you.
Bear canisters
You can borrow as many bear canisters as you need at the ranger station where you pick up your permit, and you can return them to any ranger station on your way out. If you are returning after hours, there is a drop-off box outside the Craig Thomas Discovery Center.
The canisters loaned by the park service are 8×10 (2 lbs.) or 8×12 (2 lbs 9 oz.) and require a quarter to open them.
Ursack
The Ursack is fully approved in Grand Teton National Park, and it's awesome because it is lightweight and folds up small. The reviews suggested some people had problems with bears and other critters breaking in, but when I asked the ranger about them, she seemed unconcerned. I used my Ursack without issue.
Note that you are not allowed to tie the Ursack to trees within the park, but you can tie them to trees in Fox Creek and Alaska Basin.
---
Map & Directions
Location Grand Teton National Park, Wyoming
String Lake/Leigh Lake Trailhead From Jackson, Wyoming, take Highway 26 north to Teton Park Road. Turn left and follow the road to Jenny Lake Road. Turn left and then turn right onto String Lake Road. Park at the loop at the end.
Jackson Hole/Teton Village From Grand Teton National Park, take the main Park Road to Moose Wilson Road, which branches off just north of the Craig Thomas Discovery center.
From Jackson, take Highway 191 west to Highway 22 and turn right. In Wilson, turn right onto Moose Wilson Road. The tram will be on your left. Ask the parking attendant where to park for overnight hikers.
Fees/Passes There is a fee to get into Grand Teton National Park, or you can use your America the Beautiful pass.
Trailhead Facilities Restrooms, water, and food available at the Jackson Hole resort. Flushing toilets and sinks available at the String Lake/Leigh Lake Trailhead.
Preview this Hike
---