TRAIL STATS
Mileage: 4.3
Elevation gain: 1372 feet
Time to complete: 2-4 hours
Stars: ★★★★
Steep trail with loose gravel
Even from far away, you can easily spot Tom's Thumb sitting on the ridge at the McDowell Sonoran Preserve. It's a cool granite spire that's popular with rock climbers and day hikers alike. The hike up can be steep and slippery at times because of the gravelly terrain (we call it kitty litter), but you can forget about all that while you marvel at the fun and interesting shapes of the giant boulders scattered about.
---
Trail Description
Tom's Thumb Trail
Starting from the Tom's Thumb Trailhead, you'll walk straight past the bathrooms onto the Tom's Thumb Trail (you went pee first, right? It's Hillary's rule). At first, the trail just kind of gently rolls past a couple of well-marked trail junctions, but eventually it starts getting steeper. Like, you're going to be real glad it has a lot of switchbacks. In the morning, the switchbacks are shaded, so that helps keep you cool as you climb.
Tom's Thumb will be visible off to the right as you make your way up.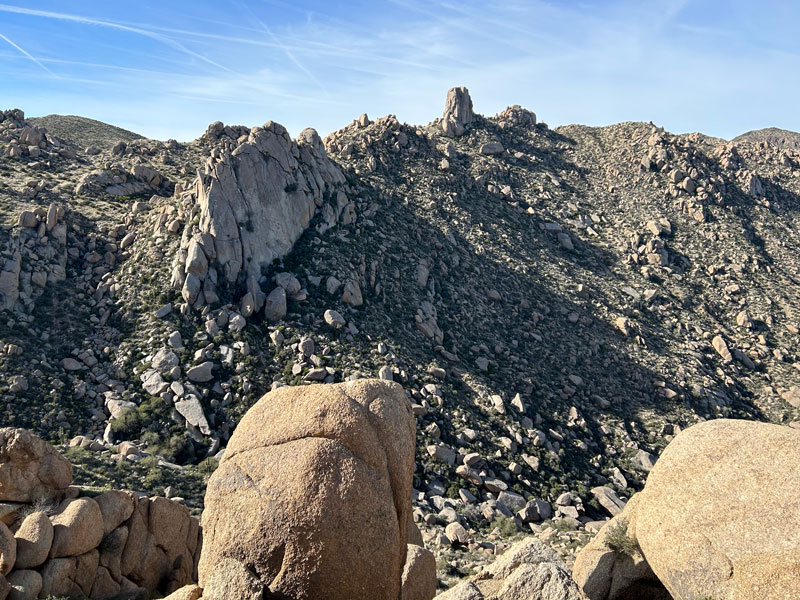 Overlooks
There are four marked overlooks along the way that provide a nice spot to take a breather, though there are several other unmarked places that offer nice views.
Harris's Hawk Vista
Raven Roost Scenic View
Vulture View
Prairie Falcon Overlook
I visited them all, and the Prairie Falcon Overlook is my favorite because it gives you a unique view of Tom's Thumb between two boulders.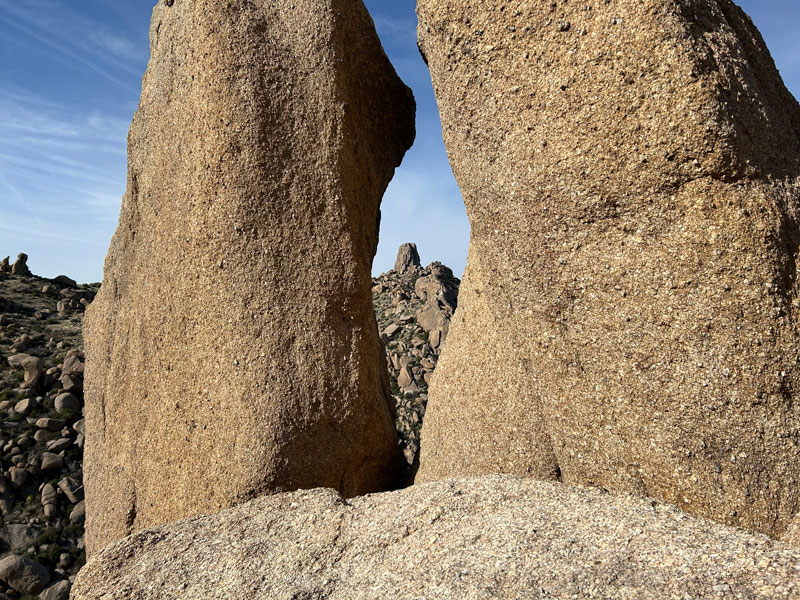 At this point, you will have reached the saddle, and it'll seem like Tom's approving thumb should be just around the corner. In truth, it's a little ways off still, but the trail flattens out a lot and you can enjoy the myriad of cool, giant boulders dotting the area.
Tom's Thumb
There'll be some false thumbs, but believe me, you'll know the real thing when you see it.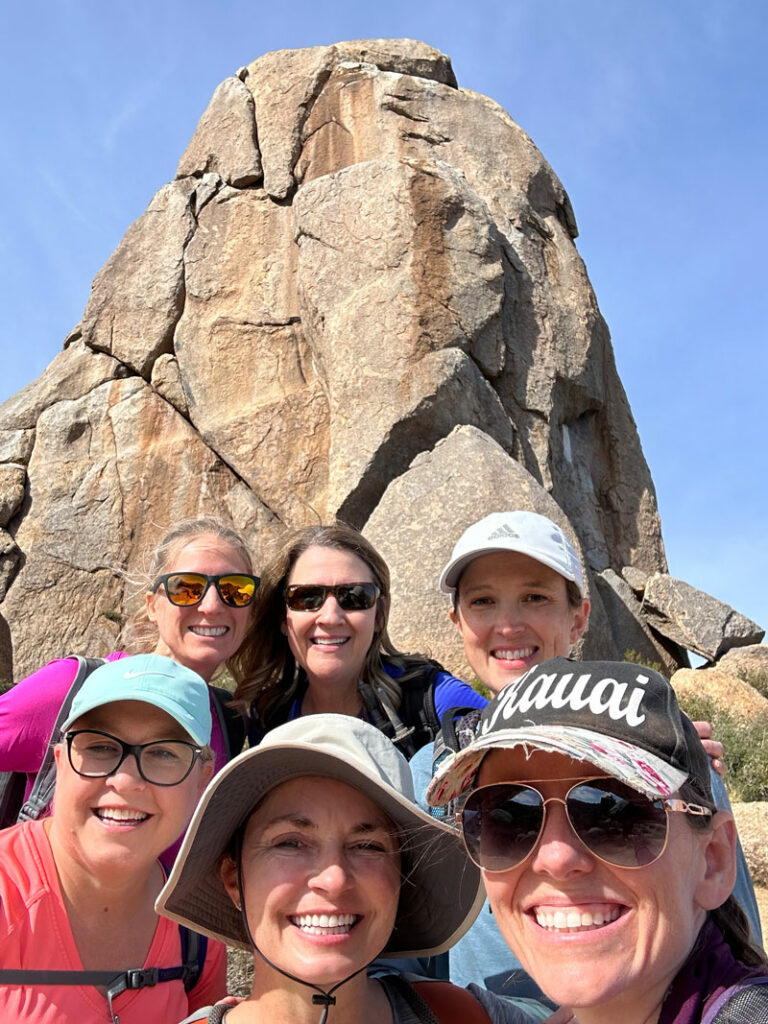 Take some time and explore a little. There are all kinds of fun boulders and cracks to check out around the thumb. Oh, and by the way, it's climbable!
I stood on top once upon a time.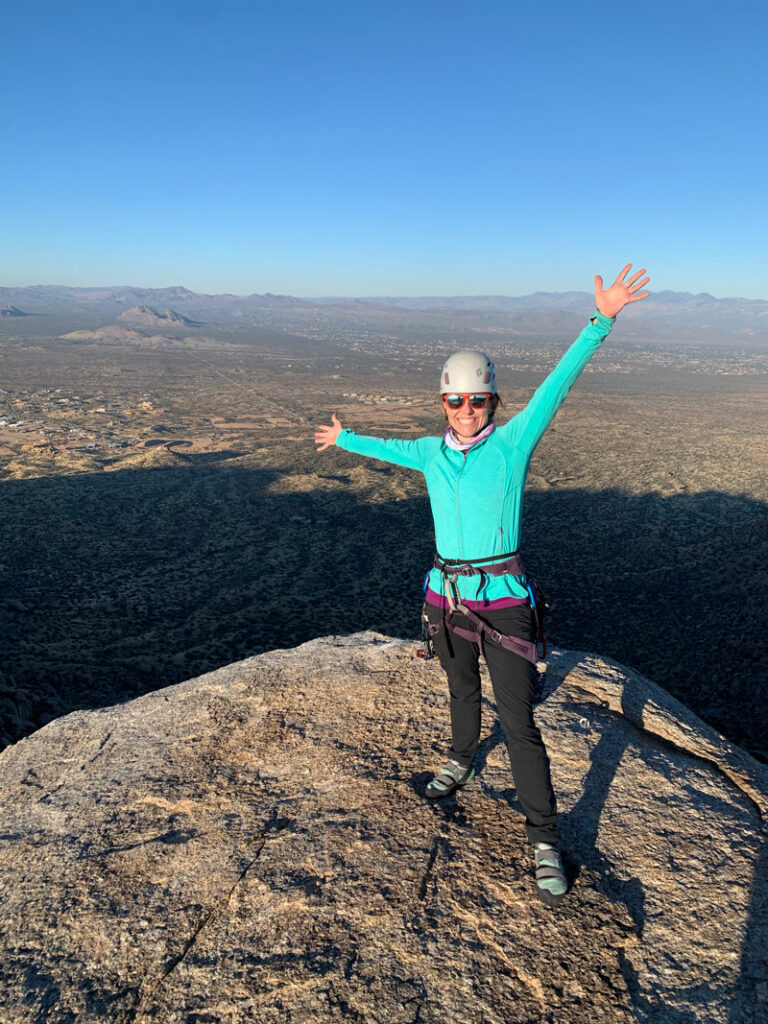 The climb is as easy as a 5.2 trad, though there are other routes to choose from. Plus, I'm just gonna say, it's a sweet rappel down.
The thumb is closed for climbing from time to time for falcon nesting, so check with the preserve for closures before attempting.
---
Map & Directions
Location McDowell Sonoran Preserve, Scottsdale, Arizona
From the loop 101, take the Pima Road exit. Go north to Happy Valley Road and turn right. Turn right on Ranch Gate Road and then right again on 128th street and follow the many signs to the trailhead. Trails close at sunset.
Fees/Passes None, though they do accept donations.
Trailhead Facilities Really nice pit toilets – the nicest you'll ever have. No water.
Preview this Hike
---
Recommendations for you
Share this