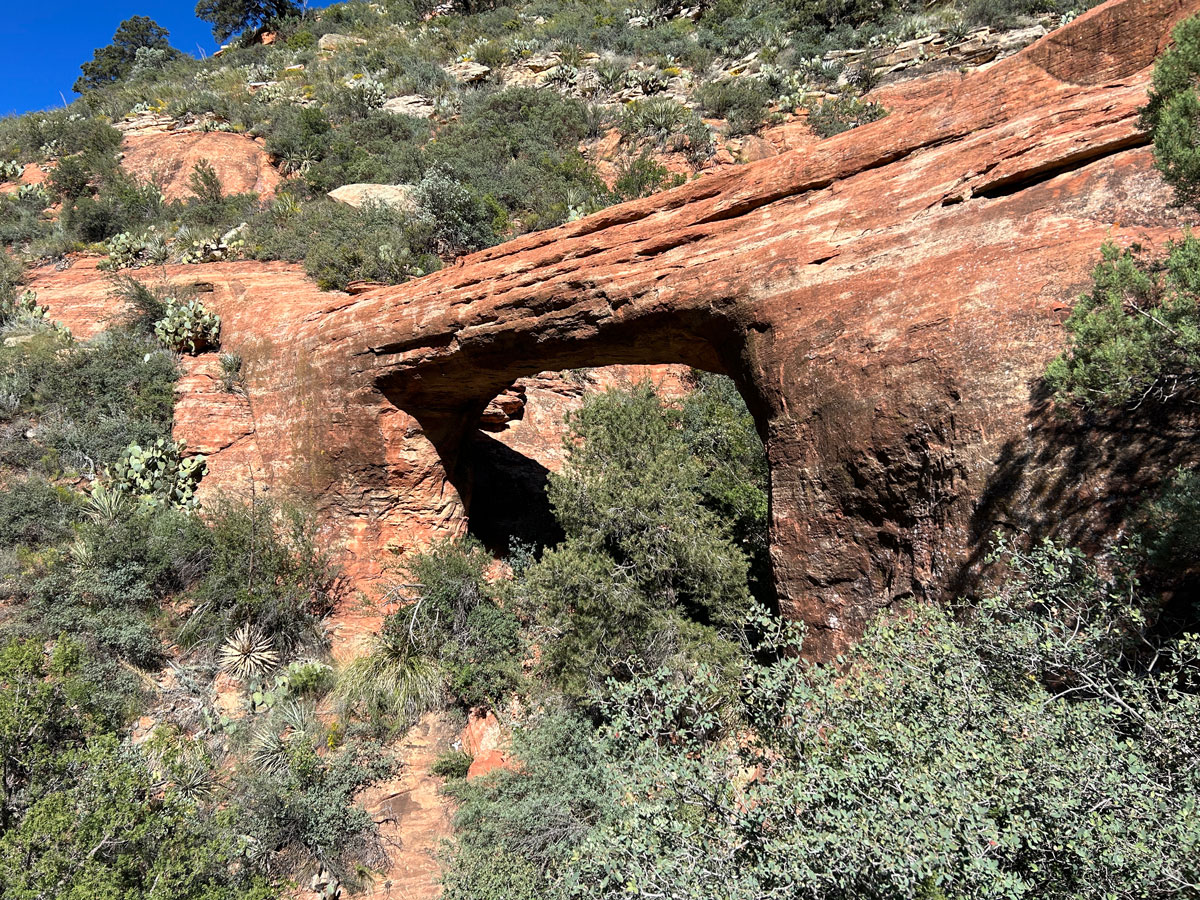 Vultee Arch via Sterling Pass
TRAIL STATS
Mileage: 5.1
Elevation gain: 2186 feet
Time to complete: 4-5 hours
Stars: ★★★★
Moderate incline with steep sections
If you want a picture on a cool Sedona arch, but you're dreading the crowds at Devil's Bridge, a hike to Vultee Arch might be the answer. Although you can get there from the west in a serious off-road vehicle, those of us without can still access the arch from Highway 89A via a pleasant trail over Sterling Pass. The trail is a bit overgrown due to its lack of popularity, but it's surprisingly shady, green, and. . . well, uncrowded. Beware of poison ivy!
---
Trail Description
Weekends in Sedona can be an absolute madhouse, and some of the trails are so overcrowded that they had to start a shuttle service to the trailheads. Forget all that, and get away on your own private Sedona adventure to Vultee Arch. You may encounter others along the way, but you'll also likely have long stretches of solitude, a rarity in Sedona.
Sterling Pass Trailhead
The parking for Sterling Pass Trailhead consists of pull outs along the side of Highway 89A, just south of the trailhead. Half a dozen cars may fit if everyone squeezes in nicely, but if you can't find a spot, there are other pull outs a little farther down the road. Walking along Highway 89 looks a bit treacherous, though, so use caution.
Sterling Pass Trail
I have to admit, when I read on a review that there was poison ivy, I was skeptical. Come on, it's just desert isn't it? I couldn't have been more wrong. The trail immediately immerses you into a lovely, dense forest populated with pines, gambel oak, maple, manzanita, and more.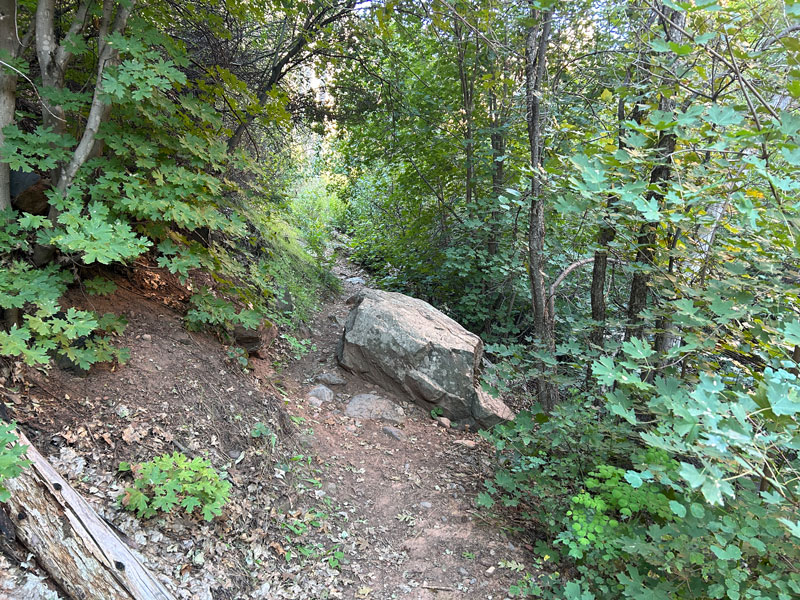 Oh yeah, and POISON IVY! For this hike, you'll definitely want to wear pants. I didn't, and I was constantly scanning the ground so I could avoid any contact. Even where there wasn't poison ivy, there was a lot of overgrowth brushing against my skin the whole time. PANTS!
WEAR PANTS! (In case you didn't read the last paragraph.)
Do your legs feel itchy just looking at it? Just me?
After the first half mile, you'll be heading up some steep switchbacks toward the pass. Google maps marked a rock formation called "The Chieftain," where you can look through a notch at some of the scenery on the other side.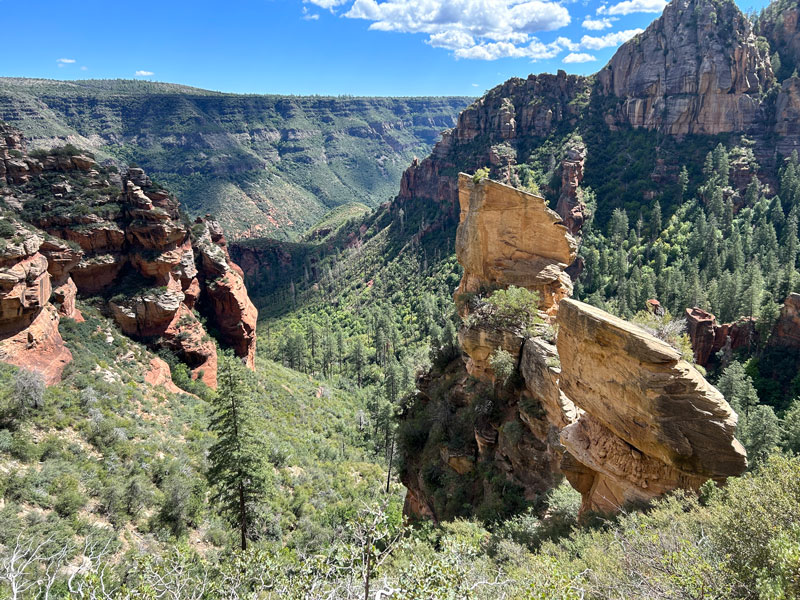 At the top of the switchbacks, you'll pass between two large rock formations. If you find yourself veering right toward one of them and staring up this steep path that looks like it goes to the top, no need to question your life decisions here. Just stop, go back, and find where you got off trail.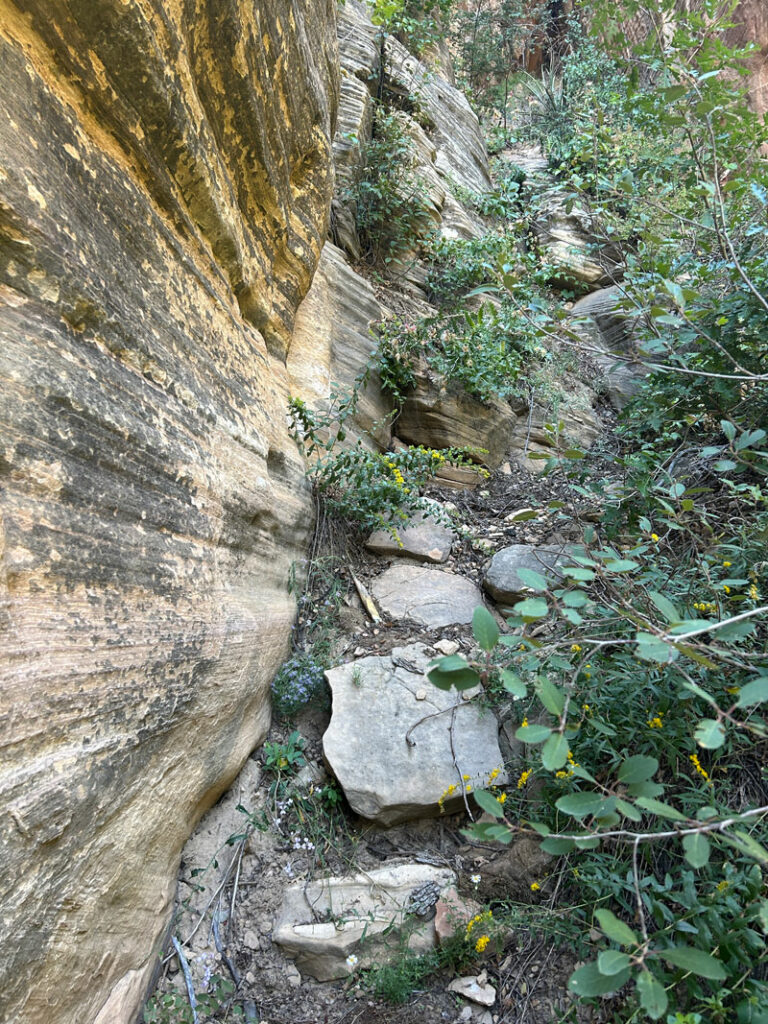 If you're on the correct trail, you'll be heading down the other side of the pass. More switchbacks take you steeply down through a pretty pine forest that will have ample shade if you're there in the morning. Remember that little factoid because you have to climb up these switchbacks on the way back. (Hint: start early if it's a hot day.)
If you keep a sharp eye out, you'll spot Vultee Arch above you to the right. Watch for a trail sign that points to the Vultee Arch Trail.
Vultee Arch Trail
As you start your climb up to the arch, you'll pass through a wash. This is the last of your significant shade before you emerge into an open, sunny desert landscape, so rest and grab snacks there if you're so inclined.
Several small social trails can make it a little bit confusing, but it looked like some good citizens helped out by blocking many of them. Watch for branches and rock barriers blocking off trails to help you stay on track.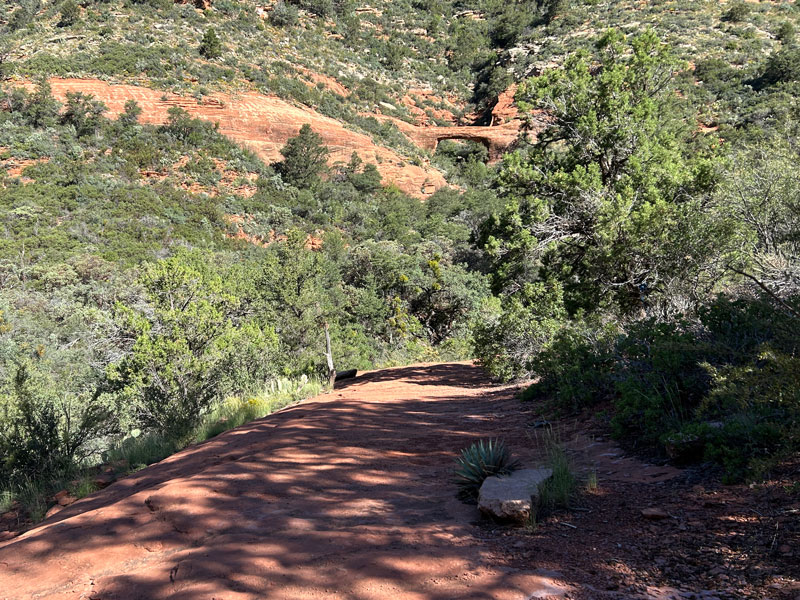 The trail goes up on the right of the arch and then over toward it. A lower path leads to a close view of the arch while a higher path leads to the top of the arch. It's very mildly sketchy to get down onto it, but I'd say it's worth it!
I wanted to go under the arch, but it looked steep, bushy, and dangerous. By my estimation, it was definitely NOT worth a trip. Just enjoy the walk along the top!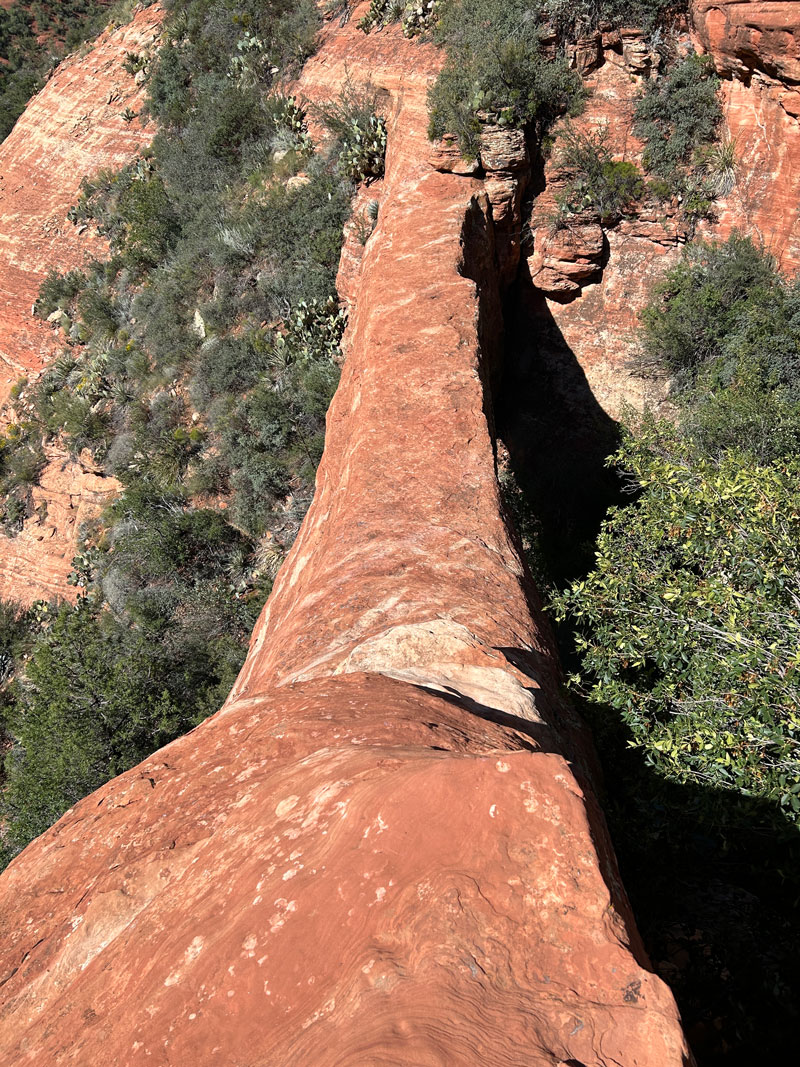 Sure, it's not quite the spectacular photo op that you might get at Devil's Bridge, but you didn't have to wait in a line, did you?
You're welcome.
---
Map & Directions
Location Red Rock Secret Mountain Wilderness, Sedona, Arizona
From Sedona, head north on Highway 89A. The trail will be on your left with limited parking along the side of the highway.
Fees/Passes None
Trailhead Facilities None
I think my GPS got caught in a Sedona vortex because the map looked all kinds of crazy when I first saw it. I tried to clean it up to make it easier to follow, but all I can really say is you might not want to trust it exactly – follow the trail!
---