TRAIL STATS
Mileage: 3.4
Elevation gain: 1072 feet
Time to complete: 2-3 hours
Stars: ★★★½
Recently cleared trail
Webb Peak itself is not much to look at and the views are just "meh," but when you make it a loop to Ash Creek, you also get deep forest, small streams, and wild raspberries in summer.
---
Trail Description
Okay, up front I have to say there's a lot of burn damage on this trail. The trees at Webb Peak are just skeletons, and there was a whole hillside of dead aspen I called "Forest of Death." However, the aspens are growing back nicely, there are a few unburned areas of dark forest, and with the streams and wild raspberries, it's kind of pleasant. The ranger told me the Arizona Department of Corrections recently cleared this trail, so it's in pretty good shape.
The happy ranger at the visitor center told us the parking area was right across the street, but it was still unclear to me where to park. We ended up parking in a pull out just south of the trailhead along the road to the Columbine Corrals Campground, and it seemed as good a place as any.
Webb Peak Trail #345
This trail starts out in nice forest, and you'll be thinking I lied to you.
Soon enough, you'll see. The good news is the aspen are flourishing, so you still have green stuff to look at. Webb Peak isn't actually on the trail, so be on the lookout for a stake with a pink ribbon tied to it. That's where you fork left to visit the peak.
Webb Peak
At the top of the spur trail, you'll be dropped off at Webb Peak. I know, it looks sad, and the dead trees impede whatever view you might have hoped to find.
Nevertheless, you hiked this far, so you have to go stand under the tower. There isn't an obvious trail up there, but just trust me when I say don't walking down the road looking for a fancy trail around the back side. Just make your way up.
On the tower is a sign with a few dog tags hanging close to it.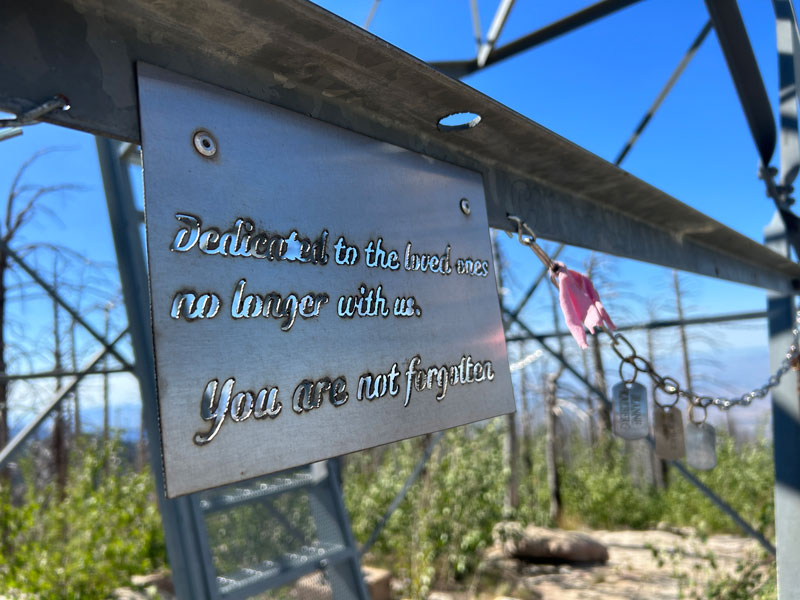 There appears to be some rusted rings and clips you could use to hang more dog tags.
When you're satisfied (or not), head back down the spur trail to rejoin the loop. A word of caution, though. Watch for the little pink ribbon or you'll be hiking your bootie back up there when you realize you passed it. Just sayin'.
Hang a left at the pink ribbon and continue on Webb Peak Trail. The topographical map shows a fork where you need to stay right to continue on the loop, but we never noticed the junction and just found ourselves naturally going the right way.
This section has some nice, darker forest (the cover photo), but it doesn't last long. Up ahead is the "Forest of Death."
There were a couple little streams to cross along this section of the trail when we went, some pleasant greenery, and even a bit of a view. It wasn't too bad, but also not amazing.
But my favorite part was when I suddenly noticed the raspberry patch! I was so excited that I marked the spot for you, which seemed silly later when I noticed wild raspberries all along Ash Creek. You'll see them! I think I added half a star to the rating just for these.
I feel bad because I made it sound so ugly with the "Forest of Death," but you actually start getting back into thick, living forest after this point, and it's rather enjoyable.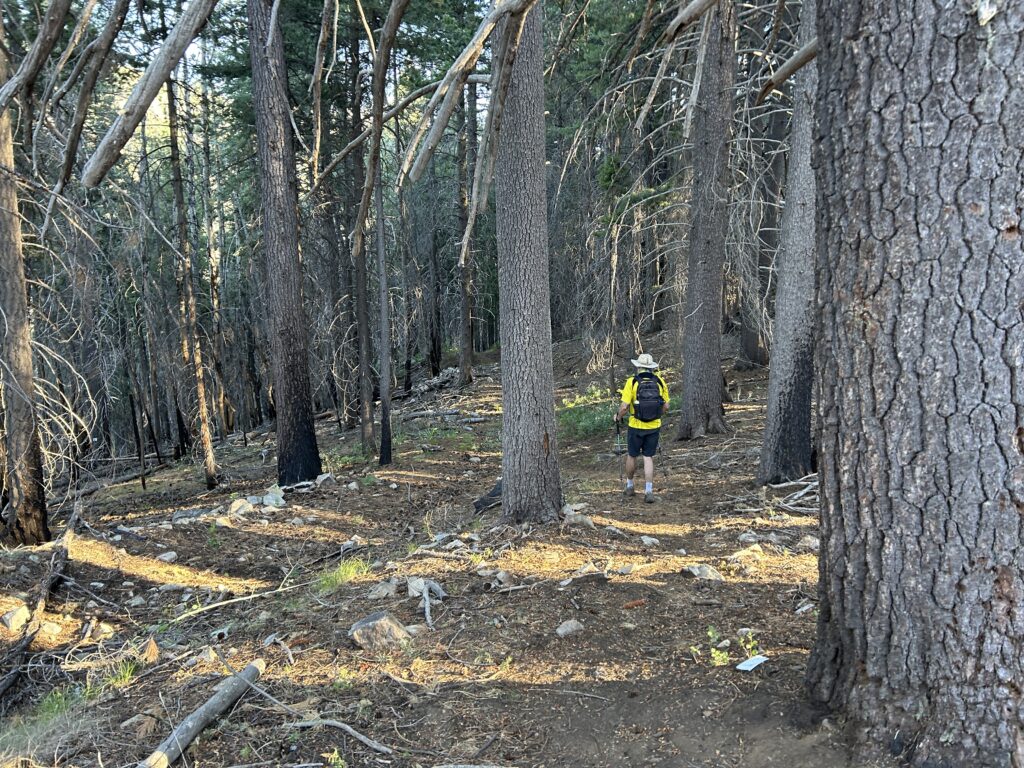 Ash Creek Trail #307
When you reach Ash Creek, you'll see an old trail sign marking the junction with Ash Creek Trail. Turn right, upstream, to continue the loop.
There was just a little water flowing when we went in a fairly dry August. Late in the day, you will enjoy complete shade on what might otherwise be a warm, sunny hike in the summer. Soon, you'll find yourself entering the Columbine Corrals Campground where you can follow the road to your car.
---
Map & Directions
Location Mount Graham, Pinaleño Mountains, Safford, Arizona
From Safford, take Highway 191 south. Turn right on the Swift Trail, which takes you up Mount Graham. The road eventually becomes dirt, but is probably passable in a passenger car if the road is dry. A little bumpy. Turn right toward the Columbine Corrals Campground and park along the side of the road near the trailhead.
Fees/Passes None
Trailhead Facilities Water and restrooms are available at the visitor center across the street, and there are pit toilets at the Columbine Corrals Campground.
---