TRAIL STATS
Mileage: 1.7
Elevation gain: 592 feet
Time to complete: 1.5-3 hours
Stars: ★★★
Mild bushwhacking, handline on exit
Wilson Seep is mossy and green with possible trickles of water and pretty canyon walls, but the rappels are unremarkable and there are lots of branches to negotiate. The real draw here is the place where you land in Pumphouse Wash, especially if you arrive in fall when the colors are popping. A short exit via a nearby climber's route is a little spicy because of a mandatory handline, but it makes this adventure a little more memorable. For these reasons, I caved into peer pressure to give this canyon 3 stars rather than 2. Go in autumn!
🪢 This is a technical canyon with three rappels up to 30 feet. You will need one 100-foot rope, plus all the required safety equipment for rappelling and knowledge how to use it. This guide is not intended to provide instruction on how to descend a technical canyon safely.
---
Trail Description
From the parking area on Forest Road 253, you'll make your way down a sometimes steep embankment into the drainage. The bushwhacking is light and easy.
Once in the Wilson Seep drainage, you'll encounter some short, interesting narrows that may have small pools of water that can be avoided.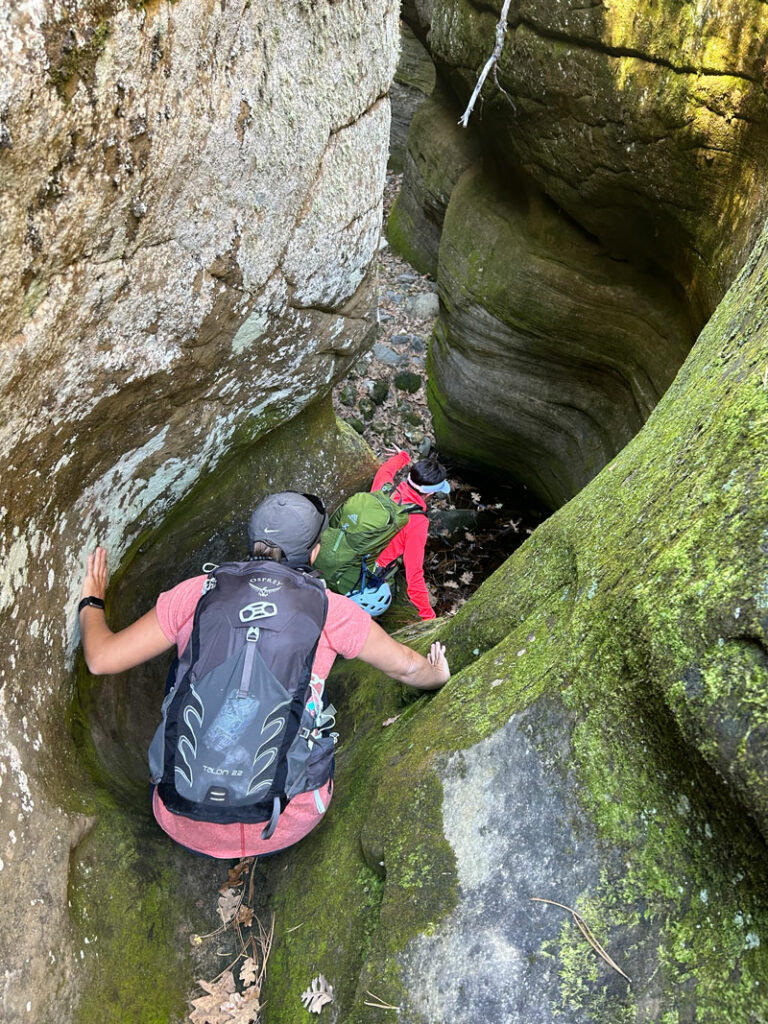 The Technical Section
Rappel 1
About 20 feet off a tree
Slick in spots and with one slightly tricky move, this rappel lands you in a pretty little alcove that might have a dripping "waterfall" if it's been raining.
Rappel 2
About 20 feet off a rock pinch
This is normally a straightforward rappel down a mossy chute. It's literally the perfect rappelling terrain, but for some unknown reason, we chose to rappel through the trees down an awkward and overhung crack RDC. I'm sorry if you're the next party down this canyon. Please bring webbing, cut our anchor, and rebuild the one in the rock pinch.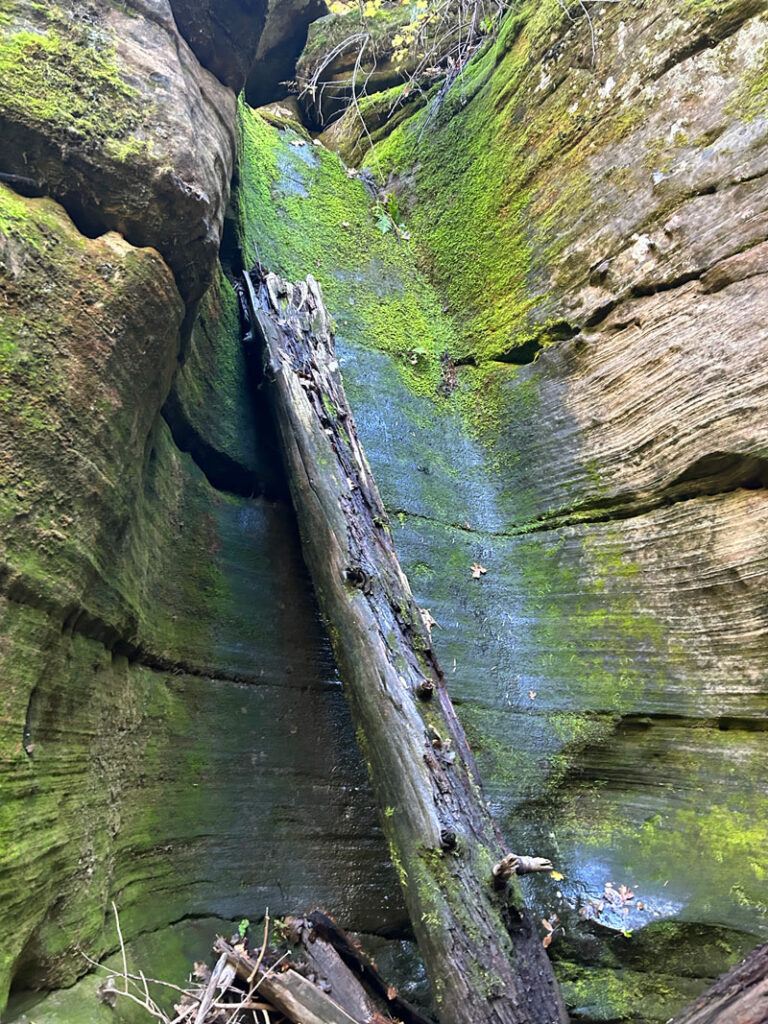 Rappel 3
The prettiest rappel of the canyon is about 30 feet down a mossy crack from a tree. We put our feet against the wall LDC, and when the opening got too narrow, used our right foot to hook around to the right and down next to a log.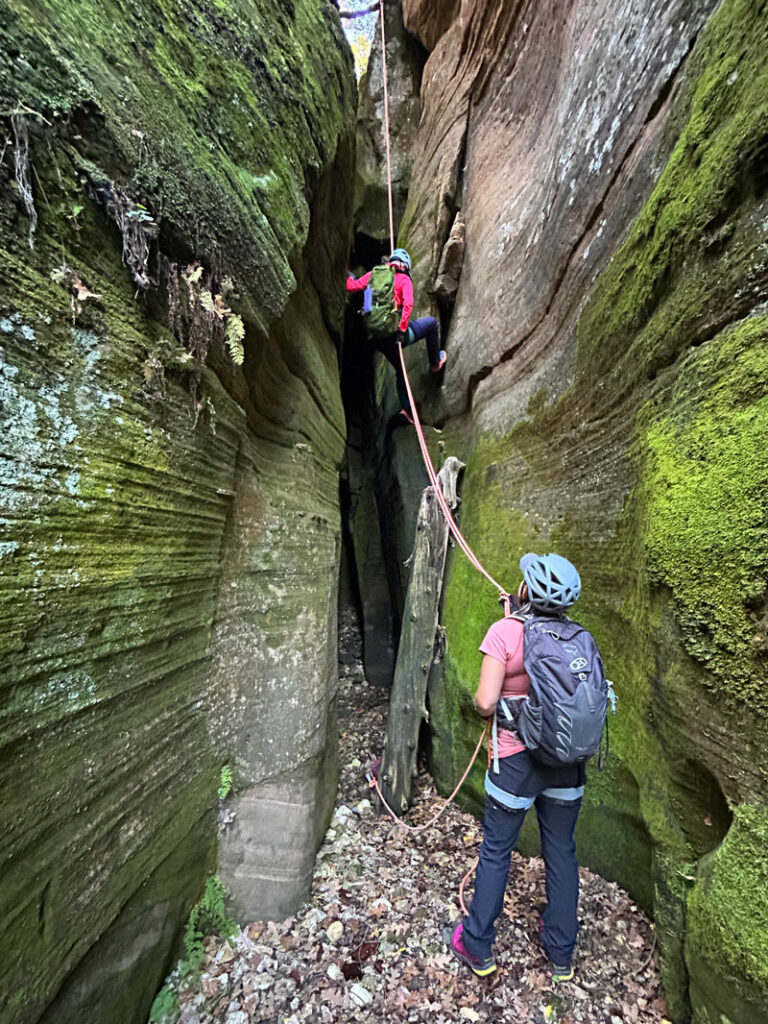 At the bottom, pack up your rope and head down canyon. A lot of branches and some downclimbing will soon land you in Pumphouse Wash.
Pumphouse Wash
Is it October? Oh, I hope it's October! You might have seen a few trees changing on the way down Wilson Seep, but you're about to get a real treat. I took about a hundred pictures, but I contained myself and am only sharing one.
Even if it's not October, Pumphouse wash is a beautiful place with a mix of pines, oaks, and maples set against tall canyon walls. The wash has large water-sculpted rocks and was filled with a lot of water when we were there because of recent rains.
You might not want to leave.
Especially when you take a look at that very vertical canyon wall and wonder how the heck you're getting out. Oh, did you forget about the climber's exit with a mandatory handline? Don't panic, it's not that bad.
The Exit
After you're done frolicking in the trees, go back to the same side of the wash where you popped out and turn right to find a pretty well-defined path that begins to climb the embankment.
As you go, this impossible route will become possible as you squeeze through little cracks you couldn't see from the bottom. Eventually you'll reach the handline.
Listen, Hillary can't even do one single pull-up, but she made it up no problem. Don't forget to put on your gloves.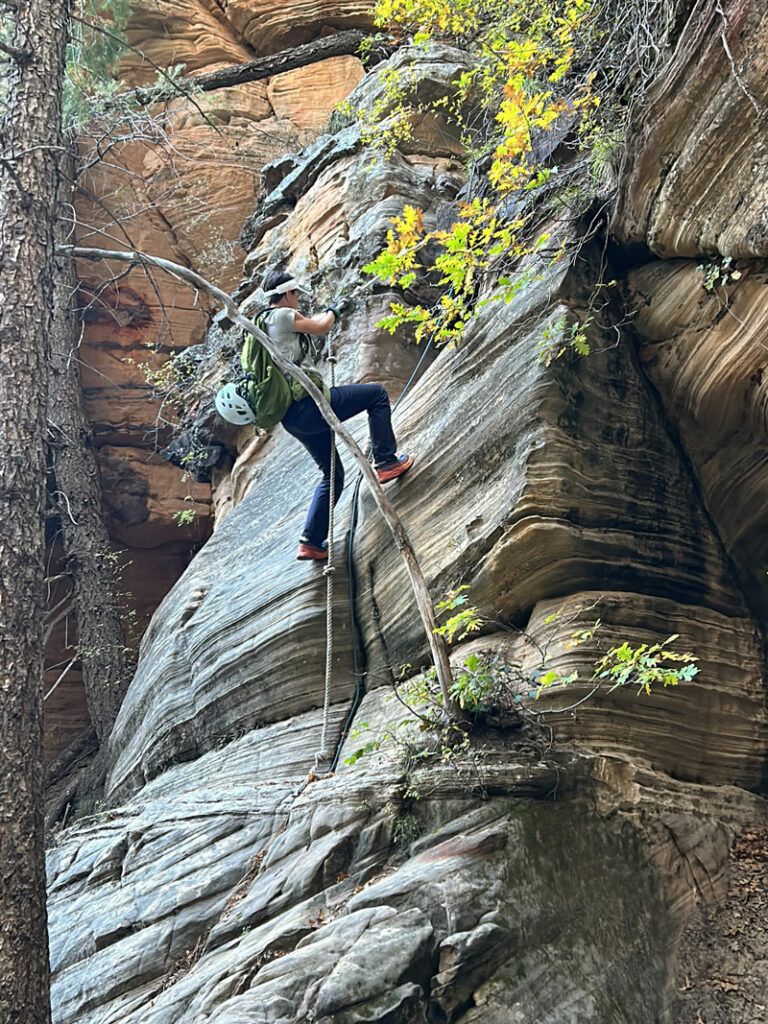 Keep following the social trail until you top out and reach the Forest Road 9486W, and then simply walk back to your car.
See? Not too bad. I'm gonna bet you still have time to eat at G's Burgers in Cornville on the way home. Go on, you deserve it.
---
Map & Directions
Location Pumphouse Wash, Coconino National Forest, Flagstaff, Arizona
From Camp Verde, head north on I-17 to the Newman Park Road exit and turn left onto Forest Road 253. Follow this to the intersection with Forest Road 9486W and park there.
Fees/Passes None
Trailhead Facilities None
---