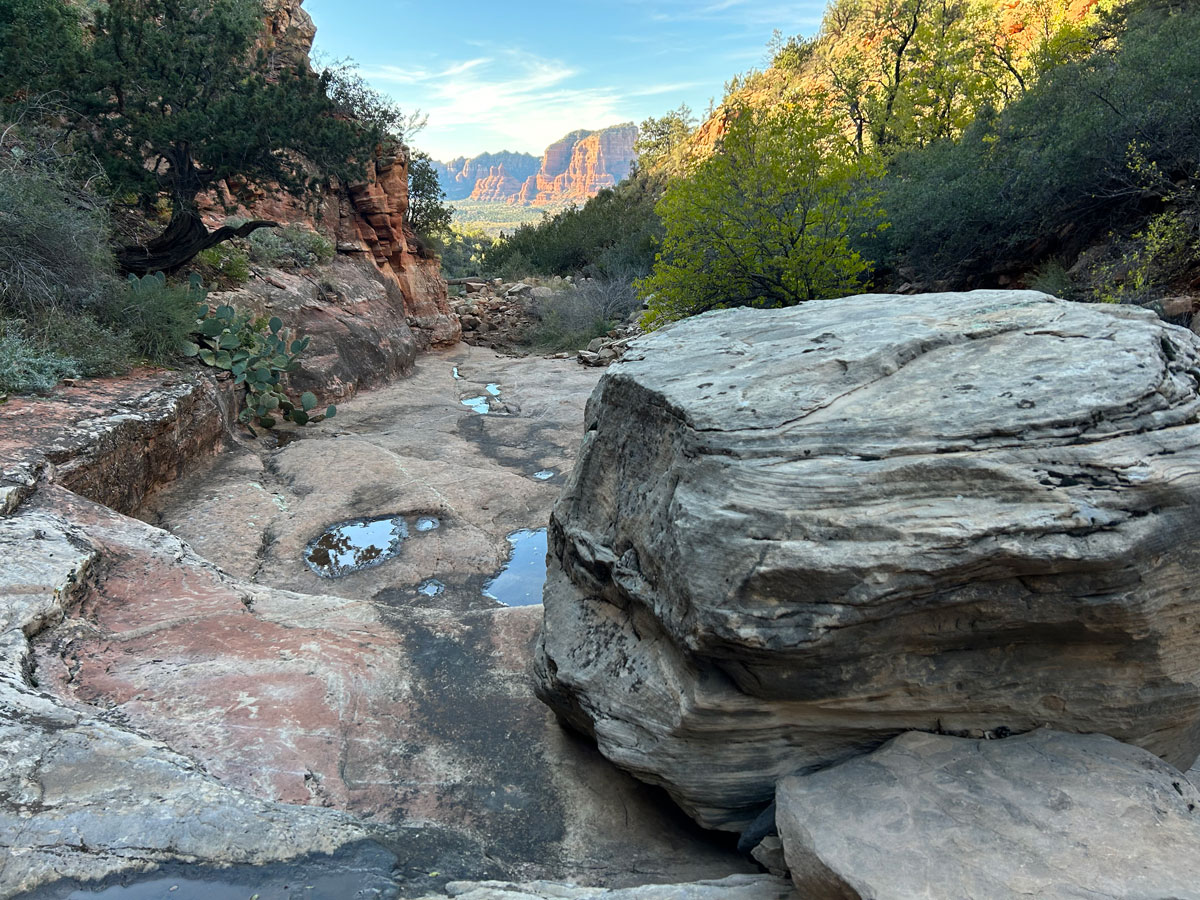 TRAIL STATS
Mileage: 3.7
Elevation gain: 945 feet
Time to complete: 3-5 hours
Stars: ★★★
Steep climb to the mesa
If it's the weekend and the line to get into Sedona is too long, Hot Loop Canyon might be the ticket you're looking for. Beginning just east of the Village of Oak Creek at the Jack's Canyon Trailhead, this hike ascends steeply up Horse Mesa and then descends a drainage on the northwest side. The "narrows" aren't that impressive, and the rappels are ordinary without any major tricky spots, but you can spice it up by taking the chimney option.
🪢 This is a technical canyon with 3-4 rappels up to 85 feet. You will need one 200-foot rope, plus all the required safety equipment for rappelling and knowledge how to use it. This guide is not intended to provide instruction on how to descend a technical canyon safely.
---
Trail Description
When you hit traffic going into the Village of Oak Creek, you know it's a busy day in the Sedona area. Fortunately, we know better than to visit Devil's Bridge on a day like this, and we settled on a canyon just outside the Village of Oak Creek.
The Approach
The Jack's Canyon Trailhead had just a few cars and was easy to access with a regular passenger vehicle. From the parking area, we went through a gate to begin the route, which is quickly confused with use trails forking every which way. As long as you're still heading toward the mesa, you're probably okay.
About that mesa, though. The summit ain't free—be ready for a really steep, but short, climb to the top. Enjoy the views because you earned them!
Once atop the mesa, you'll get a break with a flat, easy use trail that meets up with Hot Loop Trail and heads toward the drainage. When you get close, you'll break off the trail and go cross country for a moment to get down in it. Please watch your step because there is cryptobiotic soil here, so go around it and stay on rocks whenever possible. Tread lightly!
The Technical Section
You'll rock hop down the drainage, which may hold a few small pools of water, until you reach the top of the technical section. Be still, my heart!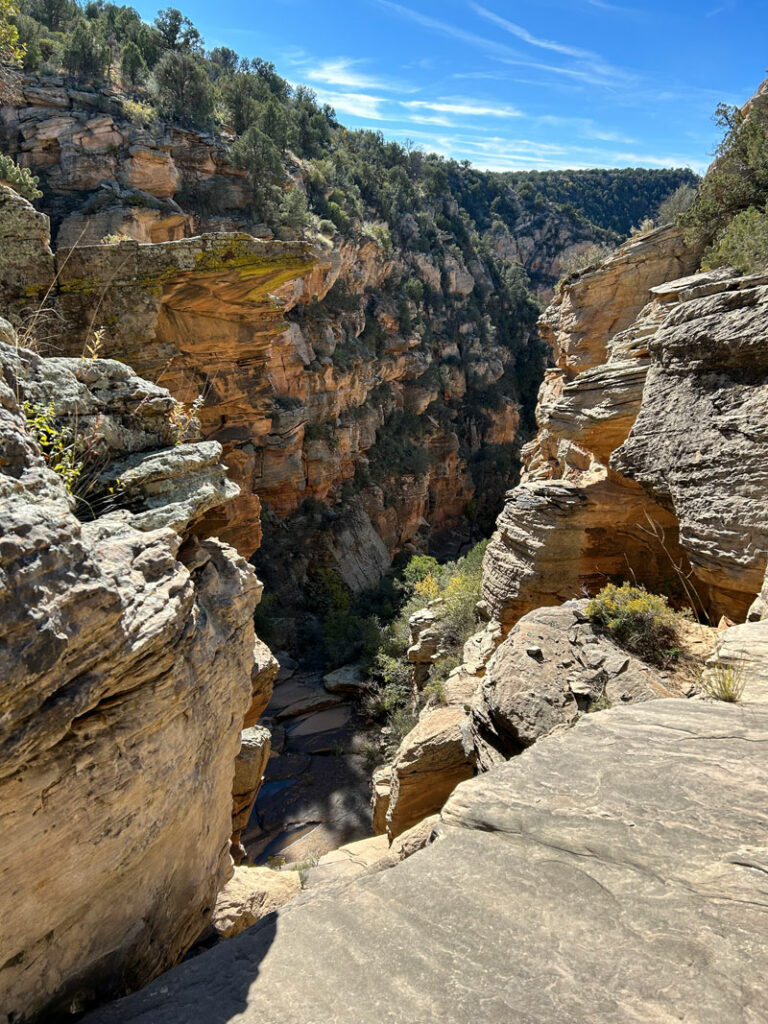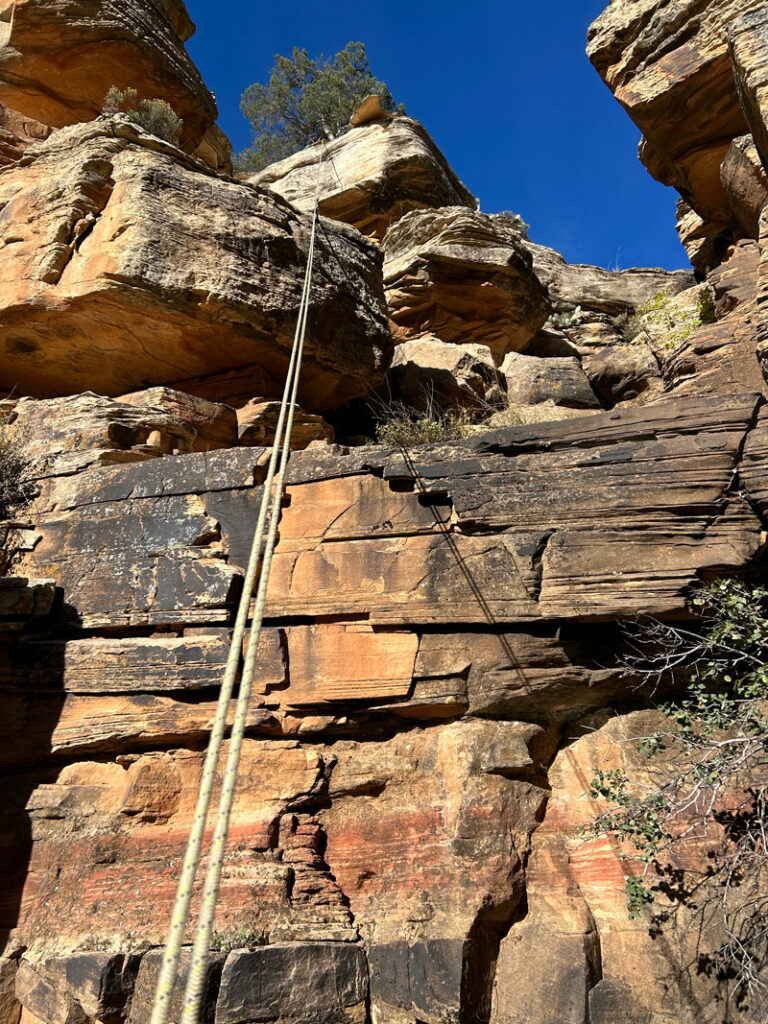 Rappel 1
80 feet from tree RDC
This rappel is chunky and straightforward with two stages and one short overhanging section.
Rappel 2
25 feet off pinch point set back RDC
This rappel is very short down an almost perfectly vertical wall, but if you look at the anchor and think (like I did) that you'd rather not trust your life with it, there is an optional downclimb RDC. Just walk along this pretty ledge.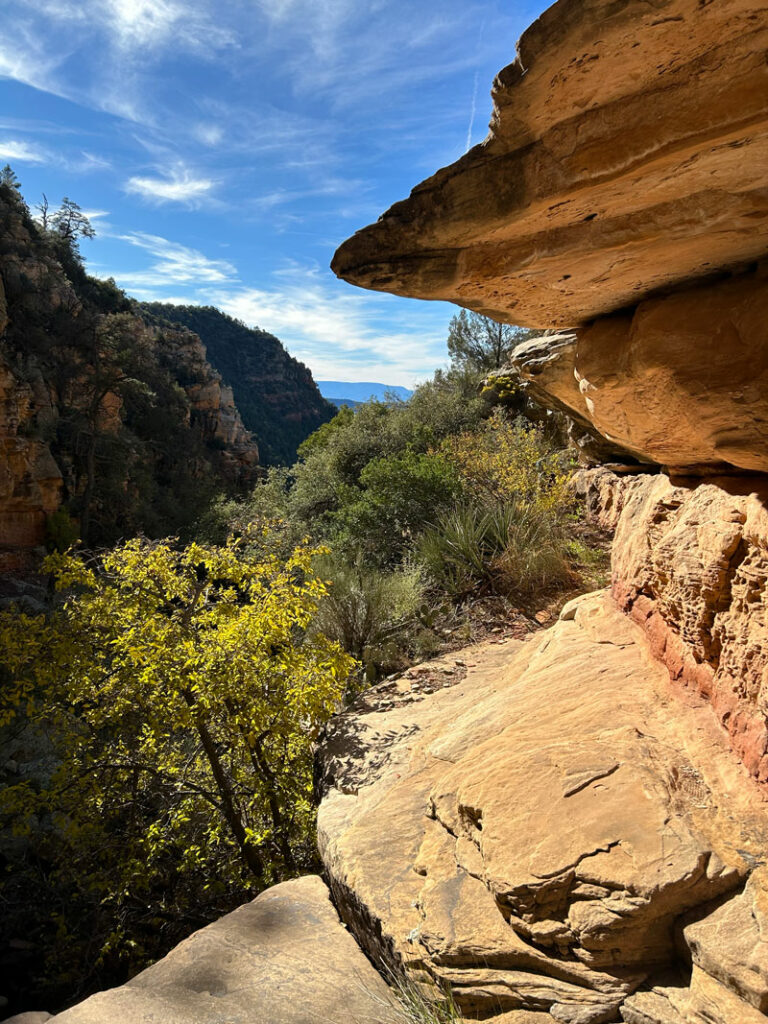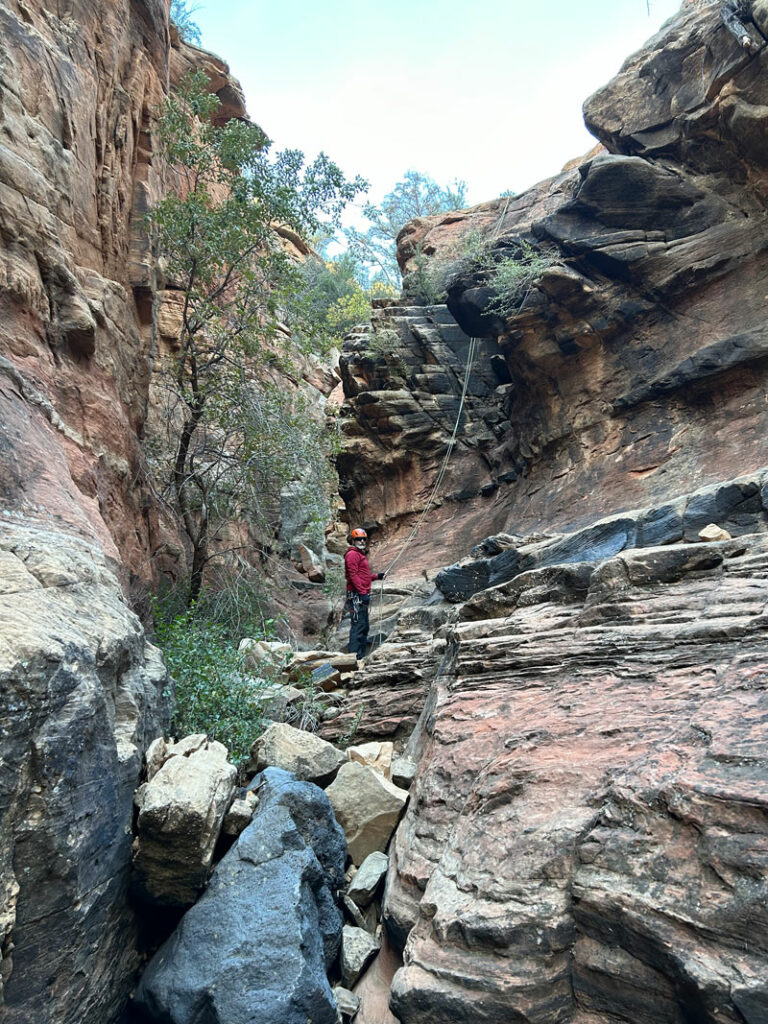 Rappel 3
50 feet off pinch point set back on the water course
This is an easy rappel that begins with a gentle slope and drops down into a section of narrows.
If you're feeling spicy, try the chimney RDC. That'll be a no from me, dog.
Downclimb
Next you'll walk through a pretty section with slickrock, small pools if it's been raining, and one spicy downclimb that was too spicy for me. I tried, I really did. I ended up hanging 3 feet off the ground and being rescued by my husband. Bypass RDC.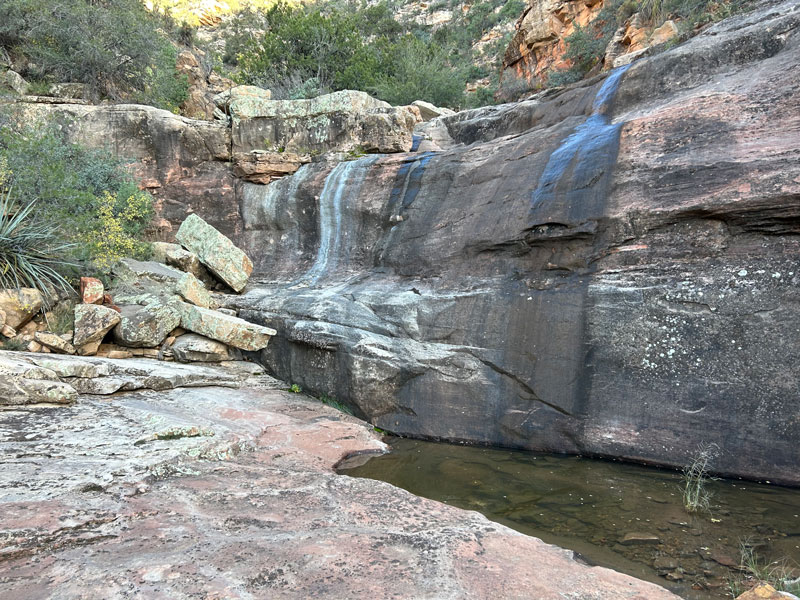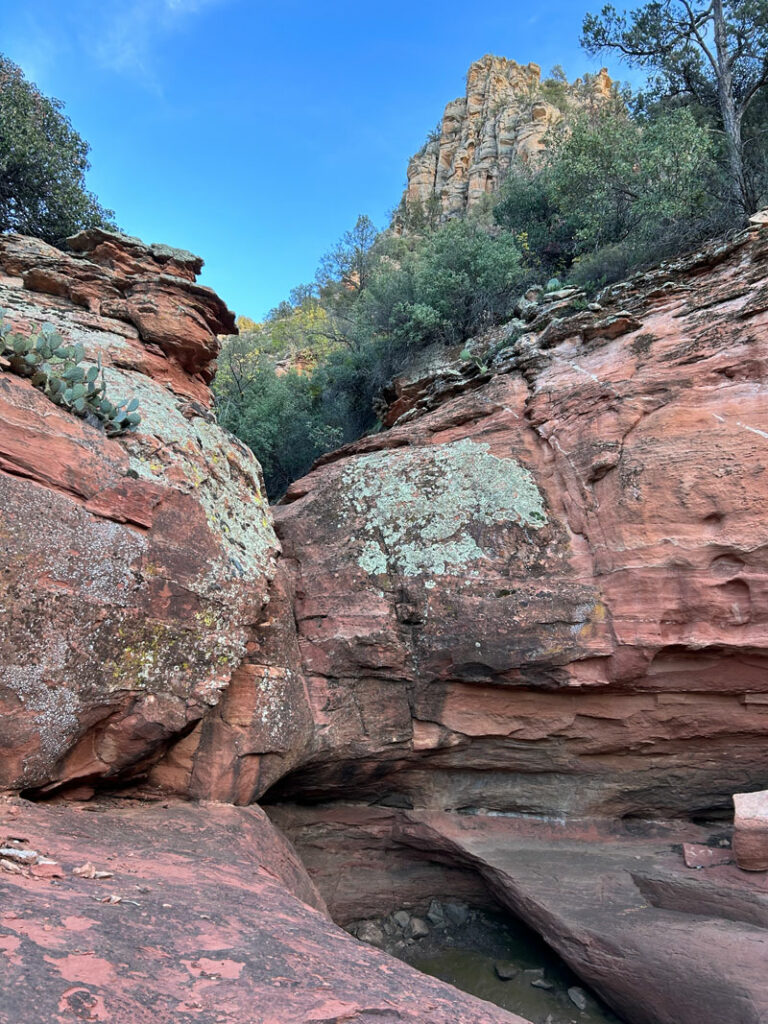 Rappel 5
30 feet off tree LDC
One of the prettiest rappels on the route goes down this little chute.
The Exit
At the bottom of the last rappel, take the time to find the use trail high LDC. It roughly parallels the drainage for a while on the left side, so it should not be that difficult to find.
Or, if you don't mind the extra distance, you can follow the drainage all the way to the road and then follow the road back to your car.
The catclaw gods are just waiting to ensnare you in their awful grip if you try to switch from the drainage to the trail later, but you have the key to defeating them. You have the benefit of learning from my mistakes. Take the trail or the drainage, but not both.
---
Map & Directions
Location Munds Mountain Wilderness, Coconino National Forest, Sedona, Arizona
From Camp Verde, take I-17 north to Highway 179. Go left toward the Village of Oak Creek. Turn right on Jack's Canyon Road. Turn right again to stay on Jack's Canyon Road. Turn right into the trailhead parking area.
Fees/Passes None
Trailhead Facilities None
Preview this Hike
---